Quem não conhece 10 Coisas que eu odeio em você? Se você tem uma televisão em casa é bem difícil que não tenha visto pelo menos uma cena do filme de 1999. Figurinha carimbada da Sessão da Tarde, essa adaptação do clássico de Shakespeare,
A Megera Domada
(como já
contamos aqui
), conta a história das irmãs Stratford, Bianca e Catherine, que no filme virou somente Kat.Pois a ABC Family decidiu apostar nessa história de suceso, e o filme virou série. Estreou ontem nos Estados Unidos
10 Things I Hate About You
, a série.Lembra da história? Bianca é uma garota com os hormônios em ebulição, ela quer namorar, quer se apaixonar, quer viver a vida que toda garota de sua idade tem direito. Mas ela tem um "pequeno" problema. Seu pai só lhe deixará namorar depois que sua irmã encontrar um par, o que pode se tornar um grande problema, já que Kat não tem o menor interesse em namorar. É então que Bianca se junta a Cameron, seu amigo que quer bem mais que a sua amizade, e eles contratam os "serviços" de Patrick Verona, um sujeito durão que deve terntar amolecer Kat.
No elenco da comédia estão Lindsey Shaw (mais conhecida como Claire, a irmã do protagonista de
Aliens in America)
como Kat, Meaghan Jette Martin
(Camp Rock
) como Bianca e Nicholas Braun (ponta em
The Secret Life of the American Teenager
) como Cameron.
Coube a Ethan Peck a responsabilidade de interpretar Patrick, que no filme que deu origem a série era vivido pelo inesquecível Heath Ledger. Tem como esquecer a performance de Heath cantando
Can't take my eyes off you
na arquibancada? Quer rever? O vídeo
está aqui
.Apenas um personagem será interpretado pelo mesmo ator do filme, Larry Miller, que fazia o pai de Bianca e Kat, o Dr. Walter Stratford, obstetra que morre de medo que as filhas engravidem antes da hora.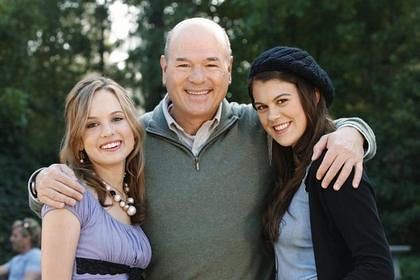 Como
10 things I Hate About You
estreou ontem lá fora, ainda hoje
você encontra aqui nossas primeiras impressões
sobre a série. Pessoalmente, embora eu adore o filme e acredite que ele seja uma das melhores comédias românticas teens, se não a melhor, tenho minhas dúvidas de que o material possa servir pra durar várias temporadas de uma série.Quer ver todas as estreias de comédia da nova temporada?
Basta ir no nosso
Guia
.