Spoiler Alert!
Este texto contém spoilers leves,
nada que estrague a série ou a sua experiência.
Estreia hoje na Netflix uma das séries mais premiadas de 2016: American Crime Story: The People v. O.J. Simpson. E se você ainda tem alguma dúvida de que vale a pena começar uma maratona agora mesmo, estamos aqui pra resolver esse problema!
Uma história real
Quem nasceu na década de 80 certamente já ouviu falar no "caso O.J.Simpson". O assassinato de Nicole Brown e Ronald Goldman aconteceu em junho de 1994 e se seguiu ao julgamento do século. Afinal, não é todo dia que um grande astro de futebol americano é perseguido em rede nacional e em seguida enfrenta uma acusação de duplo homicídio, sendo massacrado pela opinião pública. Mas o que parecia um caso de fácil resolução (com provas de DNA e registros prévios de agressão à ex mulher) se transformou num espetáculo de horrores com a mídia pautando o dia a dia no tribunal.
As acusações de racismo à polícia de Miami certamente tinham seu grau de fundamento (afinal, está pra nascer polícia que enxergue brancos e negros da mesma forma, certo?), mas é bem difícil duvidar da culpa de O.J. desde aquela época. Eram muitas as evidências que o apontavam como culpado e não levavam a nenhum outro suspeito. E, hoje, se alguém ainda não enxergava o ator de Corra que a polícia vem aí como assassino, o próprio acusado fez questão de deixar tudo às claras: em 2007 O.J. Simpson escreveu um livro intitulado If I did it, em que conta com riqueza de detalhes como "teria" acontecido o crime. Se isso não é confissão suficiente, I rest my case.
Pra quem se interessar mais pelo caso, o YouTube está recheado de vídeos como o documentário da BBC OJ Simpson the Untold Story, o julgamento do segundo crime de O.J., dessa vez por sequestro e assalto à mão armada, Khloe Kardashian lembrando o envolvimento de sua família com os acontecimentos, especiais da CNN, entre tantos outros.
Atuações brilhantes
A verdade é que todo o elenco de The People v. O.J. Simpson está fantástico, mas duas atuações vem ganhando destaque na mídia, principalmente pelas premiações: Sarah Paulson (Studio 60) e Sterling K. Brown (This is Us). Com o único papel feminino de destaque na série, Paulson não só mostra a que veio, como também transforma sua personagem, a promotora Marcia Clark, em uma mulher real, – pro bem e pro mal. Não é à toa que faturou os principais prêmios de 2016 pra cá: Emmy, Globo de Ouro, SAG Awards, e tantos outros. Já K. Brown nos dá um teaser do que ator que nos apaixonaríamos em This is Us, com uma atuação sensível e cheia de nuances como o promotor que, negro, é claramente convocado para o caso para "equilibrar" o lado da Promotoria e tentar angariar alguma simpatia do grande público, que acredita que a acusação à O.J. é puramente racista.
Também merecem destaque as atuações de Cuba Gooding Jr., como o próprio O.J. e David Schwimmer, como o melhor amigo do astro, Robert Kardashian. A performance de Gooding Jr. não lembra em nada suas comédias mais famosas e prova que aquele Oscar de 1997 (por Jerry Maguire) não foi em vão. Embora seu O.J. não remeta muito ao original, ele consegue lhe dar uma identidade totalmente crível, com uma personalidade problemática e, ao mesmo tempo, carismática. Já Schwimmer entrega uma de suas melhores atuações e em nada lembra seu personagem mais famoso (e igualmente irritante), Ross Geller (Friends). O carinho entre os dois é palpável ao vê-lo chamando o amigo de "Juice".
Completam o elenco: John Travolta, Kenneth Choi, Nathan Lane, Courtney B.Vance e Selma Blair.
 Críticas ao sexismo
Todo o escrutínio em cima da vida pessoal de Marcia Clark é só uma amostra do que vemos até hoje em relação à mulheres em posição de poder, diminuindo suas conquistas. Quem assistiu The Good Wife já viu Alicia Florick passar por isso inúmeras vezes, por exemplo. Toda vez que uma mulher ganha os holofotes, sua vida pregressa vem à tona, o que não é necessariamente verdade com os homens. Críticas à sua aparência e ao seu modo de se portar são outras formas bastante eficazes de desacreditá-la como profissional.
Em 2014, o apresentador australiano Karl Stefanovic usou o mesmo terno durante um ano e ninguém reparou. Seu objetivo era justamente chamar atenção para o sexismo na indústria televisiva. Agora imagine se uma mulher resolve fazer isso? Se você, leitor, é homem e não faz ideia do que eu estou falando, por favor, faça buscas  no Google como "repete roupa em premiação" ou, apenas, "repete roupa", e você vai entender.
Mas o que é ruim sempre pode piorar. Se uma mulher é assassinada, muitas vezes a primeira pergunta a ser é feita é "o que ela fez?". E foi assim com Nicole Brown: uma vítima do machismo ao morrer assassinada na cama e mais uma vez vítima durante todo o julgamento. As roupas que Nicole usava eram relevantes, os homens com quem Nicole dormia, tudo parecia importar no caso; como se a culpa, de quem quer que fosse o culpado (a), pudesse ser atenuada se ela fosse uma "mulher fácil", ou "puta", como se referem os jurados na série.
Isso sem contar a tensão racial presente ao longo de toda temporada, – já falamos sobre isso aqui.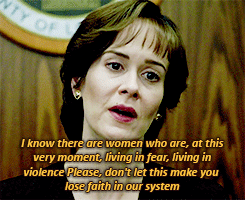 ---
A série é uma produção de Ryan Murphy (responsável por acertos e bombas como Popular, Glee e American Horror Story) que, depois de anos, enfim volta a entregar um produto de qualidade indiscutível.  Então se você gosta de histórias reais e dramas de tribunal, American Crime Story: The People v. O.J. Simpson é uma aposta certa.
Depois que começar a sua maratona, aproveita e confere nossas primeiras impressões sobre o primeiro episódio e todas as reviews da temporada.