Há um universo paralelo, do outro lado da TV, em que as séries coexistem. Às vezes, podemos percebê-lo claramente em crossovers promovidos pelas emissoras – como quando o casal de Mad About You provocou um blecaute em Manhattan, que repercutiu no episódio de Friends, exibido em sequência na grade da NBC. As duas sitcoms também dividiam uma personagem: Ursula, a irmã gêmea de Phoebe (Friends), era garçonete no restaurante frequentado por Paul e Jamie (Mad About You). Assim fica fácil notar o mundo comum. Outras vezes, simplesmente acreditamos que todos vivem no mesmo tempo e espaço: apesar de as personagens de Girls e 2 Broke Girls nunca terem se cruzado pelas ruas do Brooklyn, por exemplo, sabemos que elas estão lá.
A também nova-iorquina Sex and the City, porém, rompe este pacto quando é citada por outras comédias conterrâneas. A menção recorrente comprova que Carrie, Charlotte, Miranda e Samantha são reconhecidas como personagens fictícias e entretenimento televisivo nas demais séries – e não como pessoas pertencentes àquela Nova York. Ironicamente, a metrópole é tão importante para a série, que está até no título: sexo e a cidade. Na HBO entre 1998 e 2004, Sex and the City ainda teve dois filmes lançados e não exclui as chances de ganhar um terceiro longa-metragem em breve. O quarteto feminino sempre falou abertamente sobre sexo, moda e estilo de vida e faz jus à fama que leva até hoje, dentro e fora da TV. Vamos às referências.
30 Rock
A série de Tina Fey mencionou Sex and the City seis vezes, isto é, quase uma vez por temporada – o que provavelmente estabelece um recorde.
1×20 Jenna cita a série num restaurante: "Eu sou a Samantha, você é a Charlotte. E você [Liz] é a moça que fica em casa assistindo."
5×03 Regina diz que vai a uma turnê "tipo Sex and the City" com Rob Reiner.
5×13 Liz assiste à série e diz que quer o espaguete do Mr. Big.
6×04 Liz conversa com amigas no bar – e elas são uma paródia de Carrie, Charlotte, Miranda e Samantha.
7×03 Liz revela estar pronta para falar "besteiras" durante um brunch, bem como aconteceria em Sex and the City.
7×03 Ainda neste episódio, ela incorpora a Carrie e narra questões sobre o episódio, igual à personagem de Sarah Jessica Parker, Carrie.
E ainda tem uma curiosidade: Alec Baldwin, do elenco de 30 Rock, quase interpretou Mr. Big em Sex and the City. Já pensou?
Will & Grace
Will & Grace chegou perto do recorde de 30 Rock: quatro vezes.
4×01 "Sei lá, elas são um pouco Sex and the City," diz Rosario.
4×18 Grace culpa a série por ter de usar salto alto.
5×10 Jack conta que vão gravar um episódio de Sex and the City em seu apartamento.
6×19 O título do episódio, de 2004, é No Sex 'N' the City. Num diálogo, Jack e Karen conversam sobre o final de Friends (1994-2004).
Brooklyn Nine-Nine
1×06 Terry pensa que Boyle está fantasiado de Miranda, de Sex and the City, para o Halloween – mas ele é o chef de cozinha Mario Batali.
1×17 Jake e Boyle conversam sobre a série enquanto estão numa investigação.
3×22 Gina ensina tudo sobre Sex and the City para o Capitão Holt, que usa o conhecimento para distrair um recepcionista e pegar arquivos escondido. "Eu sou muito a Samantha," ela diz. Que danado!
2 Broke Girls
3×04 O celular de Luis toca com a música de Sex and the City.
2×24 Sophie pede um Cosmopolitan, o drink clássico de Sex and the City, e Max avisa que não estão mais em 1998. A atriz Kat Dennigs, que faz Max em 2 Broke Girls, participou da série em 2000.
Carrie, em Sex and the City.
Friends
5×12 No telefone com Chandler, com quem ainda mantém o namoro em segredo, Monica diz: "Você sabe qual é seu apelido, Mr. Big." A referência ao namorado de Carrie, em Sex and the City, é um trocadilho com o sobrenome de Chandler Bing. Do outro lado da linha, Rachel ouviu o diálogo e ficou chocadíssima:
Em tempo: quando Rachel está grávida, na oitava temporada, defende que pode criar Emma na cidade grande porque "até a Sarah Jessica Parker faz isso."
Girls
Girls é frequentemente comparada a Sex and the City. A série também traz quatro garotas em cena, uma protagonista que sonha com a carreira de escritora, sexo e a cidade. Não poderia faltar menção à colega da HBO.
1×01 Jessa chega à casa de Shoshanna, onde há um cartaz de Sex and the City. A novata não conhece a série e, pasma, Shoshanna define que Jessa é Carrie, com algumas características de Samantha e o cabelo de Charlotte – o que, segundo Shosh, trata-se de uma ótima combinação. O pôster ainda aparece em outros episódios.
1×09 Shoshanna compara a capa de um livro com Sex and the City.
How I Met Your Mother
2×19 As mulheres conversam sobre Sex and the City durante a festa de despedida de solteira da Lily.
The Mindy Project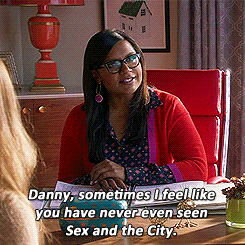 1×16 Danny responde à Mindy que já viu um episódio de Sex and the City, em que as quatro personagens caminhavam pela rua. Já pode entrar para o nosso time de reviews, hein, Danny?
Gossip Girl
2×23 Georgina pergunta se Poppy é uma Carrie e, em seguida, revela ser uma Charlotte. Com esta piada, encerramos a lista!
---
Vale lembrar que Carrie e suas amigas também estão no roteiro de muitas obras, como Gilmore Girls e The Office. Demos destaque às comédias nova-iorquinas, aqui, a fim de provar que a série foi extremamente absorvida pela cultura pop e "expulsa" da Nova York televisiva, em que as outras séries conterrâneas vivem. Tanto na idolatria quanto na paródia, é evidente que Sex and the City se tornou um ícone sem igual.