Game of Thrones chegou à sua 6ª temporada prometendo uma grande virada na história inspirada nos livros de George R. R. Martin – que neste ano completa 20 anos de lançamento. Por conta da demora do autor em lançar novos capítulos da sua saga literária, o épico drama da HBO agora navega por águas desconhecidas tanto para os leitores quanto para os espectadores. Isto cria uma expectativa ainda maior sobre o que será mostrado a cada domingo durante a exibição dos novos episódios pela emissora americana.
Devido a morosidade do autor e a complexidade da história – com inúmeras tramas e personagens que se emaranham entre si, era de se esperar que teorias sobre o futuro da história começassem a ser desenvolvidas para acalentar a incerteza de uma legião e de fãs indóceis. Com o estrondoso sucesso da série elas começaram a repercutir cada vez mais alto, vide os desdobramentos que estamos testemunhando atualmente em Game of Thrones.
Uma especulação crucial já foi confirmada no 2ª episódio de 2016 – Home – com o retorno de Jon Snow à vida, pelas mãos de Melisandre. Tendo em vista o tempo exíguo restante para o final da jornada dos Sete Reinos na HBO, sinais sobre os rumos das trajetórias de cada indivíduo nas tramas de Gelo e Fogo estão ficando cada vez mais concretos e, nada mais justo do que listar as principais possibilidades para que vocês possam se situar sempre que surgir um novo indício na tela. Me dê a mão que eu te ajudo a subir no Drogon e voar por essas abstrações!
R + L = J – A verdadeira filiação de Jon Snow:
Essa é certamente a teoria que mais gera comoção entre os fãs de Game of Thrones e da qual a série dá indícios de que desvendará o enigma sobre a verdadeira identidade de Jon Snow em breve. Todos esperavam que a confirmação sobre uma possível linhagem Targaryen do bastardo de Ned Stark fosse confirmada em Oathbreaker (exibido no dia 8 de maio), mas para sofrimento  geral da nação, o Corvo de Três Olhos deu uma de João Kleber e nos fez esperar por mais um tempo.
O que significou aquela visão de Bran Stark? O que estava acontecendo naquela torre, que o finado príncipe Rheagar Targaryen (irmão de Daenerys) deixou os seus melhores homens para cuidar?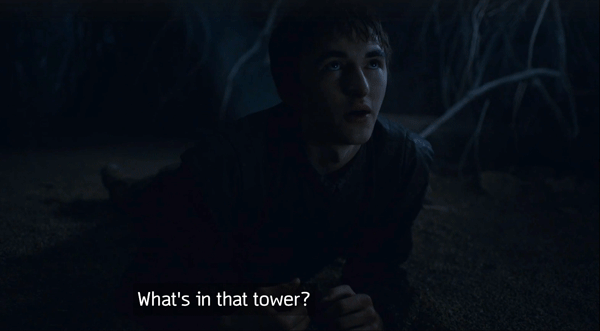 A visão foi a experiência que deixou Game of Thrones à beira de provar algo que os leitores dos livros vêm defendendo há anos: o querido Jon Snow, vivíssimo e não mais Lorde Comandante da Patrulha da Noite, não é só um bastardo de Ned Stark – mas sobrinho (e também de Daenerys) – fruto do romance proibido entre Rhaegar Targaryen e Lyanna Stark.
Pistas sobre isso estão espalhadas por todos os livros de George R.R. Martin e, devido a maneira mais dinâmica da adaptação para a TV, de alguma forma as coisas ficaram muito mais claras na série da HBO. Não há espaço para gastar com histórias irrelevantes e, o fato dos roteiristas optarem por mostrar o duro embate de Ned para conseguir entrar na Torre da Alegria, é um claro sinal de que algo de muito importante aconteceu ali.
A possibilidade de Jon Snow pertencer à linhagem Targaryen é muito significativa. Para os iniciantes na palavra de George R. R. Martin: caso isso se confirme, ele tem legitimidade para reivindicar o Trono de Ferro, bem como Winterfell – uma reivindicação que ganharia ainda mais força em função de uma eventual união com Daenerys, uma perspectiva bem conveniente (e repleta de shippers na internet) que uniria os mocinhos da trama em um futuro não muito distante, contra toda a podridão de Westeros.
Adicionando-se à isso, os livros fazem uma extensa referência à profecia cultuada pelos seguidores do Senhor da Luz – onde um herói prometido, Azor Ahai, voltaria para salvar o mundo das trevas com a sua sagrada espada Luminífera. Melisandre acreditava que este escolhido era Stannis Baratheon, mas em um dos capítulos, quando ela busca por eles nas chamas tudo que ela vê é Snow (escrito da versão em inglês com um S bem maiúsculo). Essa visão se repete na série, onde ela afirma ter visto Jon lutando em Winterfell.
Se, de fato, o pai de Jon for Rhaegar Targaryen, significaria que o jovem nortenho tem tanto o sangue Stark quanto o de dragão em suas veias, resumindo nele a figura do herói da série chamada As Crônicas de Gelo e Fogo.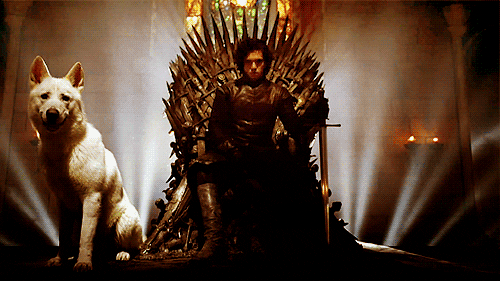 – Espera aí, quem são mesmo essas pessoas?

A maioria dos personagens chave está morta há anos, inclusive antes mesmo da história de Game of Thrones começar a ser contada. É compreensível que os espectadores fiquem confusos. Mas nós estamos aqui para deixar tudo mais claro:
Ned Stark: No começo da série ele é o lorde de Winterfell e Protetor do Norte. Escolhido como Mão do Rei por Robert Baratheom, sendo deposto por Cersei depois da morte do amigo – para terminar executado pelo herdeiro ilegítimo do trono, Jofrrey. Como mostrado na sequência da visão de Bran, antes de tudo o que vimos desde o princípio, Ned era um aliado chave de Robert durante a rebelião contra a dinastia Targaryen, liderada pelas casas Stark, Baratheon e Arryn(Lordes do Vale).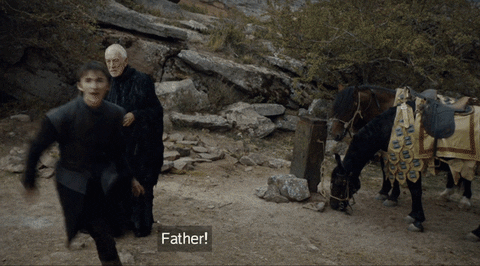 Robert Baratheon: Rei de Westeros no início da série, que ascendeu ao trono depois de liderar uma rebelião contra os Targaryen, cujo último nome a ocupar o Trono de Ferro foi o Rei Louco Aerys (pai de Daenerys). Robert e Ned foram criados como irmãos por Jon Arryn, que mais tarde serviu como Mão de Robert, cujo assassinato deu início aos eventos que assistimos em Game of Thrones.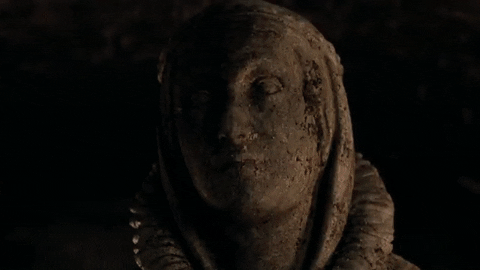 Lyanna Stark: Irmã de Ned, que nunca havia aparecido na série até o episódio Home (onde Bran vê o pai e os irmãos crianças em Winterfell). Prometida em casamento à Robert antes da rebelião contra os Targaryens que, anos depois ainda fala sobre o seu amor. O evento que levou a eclosão da rebelião foi o sequestro (ou quem sabe a fuga) de Lyanna por Rhaegar. Os líderes das casas Stark e Baratheon tentaram a diplomacia com o Rei Louco, sendo mortos com requintes de crueldade. Desta forma, Robert, Ned e Jon rebelaram-se contra o seu soberano.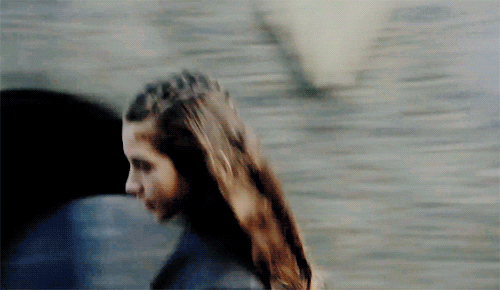 Rhaegar Targaryen: Rhaegar era o filho mais velho e sucessor de Aerys. Ao contrário do Rei Louco, ele era estimado e respeitado por àqueles que o conheciam, o que faz a sua decisão de fugir com Lyanna muito controversa. Durante a Rebelião de Robert, Rhaegar deixou Lyanna na Torre da Alegria, sob vigilância da Guarda Real, para combater os rebeldes no Tridente – onde acabou sendo morto em um combate corpo a corpo contra Robert.
– O que tudo isso significa?
Ned Stark, junto com alguns companheiros nortenhos, foi mostrado lutando para entrar na Torre da Alegria contra alguns membros da Guarda Real – inclusive o lendário cavaleiro Sor Arthur Dayne. O objetivo deles era resgatar Lyanna, que estava sendo guardada pelos melhores homens do rei que, por algum motivo, não foram lutar ao lado do seu príncipe contra os rebeldes.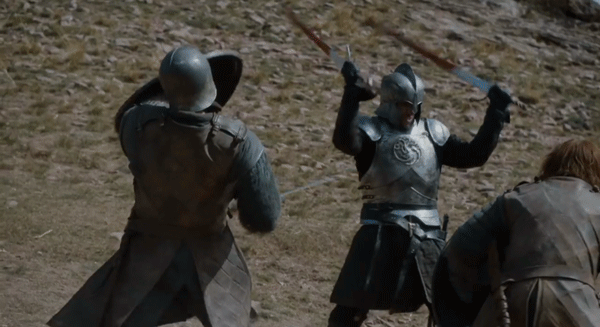 A guerra neste ponto já havia acabado. No momento em que Ned vai à Torre da Alegria, ele e Robert já haviam derrotado o exército leal aos Targaryen – Tywin Lannister já havia mudado de lado e auxiliado na tomada de Porto Real e Jamie, um dos principais nomes da Guarda Real, já havia matado o seu rei Aerys.
Arthur Dayne não tem mais nada à perder e a presença de cavaleiros muito bem treinados na guarda de apenas uma mulher, que em tese não corria perigo nas mãos dos rebeldes, é no mínimo questionável. O que poderia ter tanto valor ali dentro? A resposta automática é um bebê – filho de Rhaegar, potencial herdeiro do Trono de Ferro e uma ameaça à legitimidade de Robert.
– Onde Jon Snow entra nessa história?
A teoria – R+L=J – diz que Lyanna estava naquela torre por causa de uma gravidez do filho de Rhaegar e que, esse bebê nada mais era do que Jon Snow. Nos livros, Ned conta ter encontrado a irmã em um leito de sangue, onde ela fez com que ele prometesse algo antes de morrer.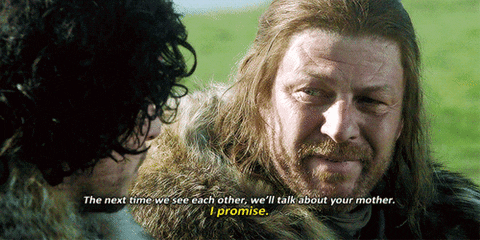 Ou seja, isso dá a entender que Ned encontrou Jon, reivindicou a sua paternidade e o levou para ser criado bem longe da politicagem de Porto Real. Mas por que ele faria isso? Bem, voltando na primeira temporada, vemos Ned e Robert – que eram amigos próximos e aliados – debatendo sobre a necessidade de matar Daenerys, que está viva na longínqua cidade de Essos. Robert acredita que qualquer remanescente Targaryen é uma ameaça ao seu regime e Ned rebate dizendo que matar jovens é algo muito errado e que eles devem deixar Daenerys estar.
Lembre-se ainda que, como mencionado diversas vezes no arco de Dorne, depois de juntar-se aos rebeldes e saqueado Porto Real, os Lannister imediatamente assassinaram a esposa de Rhaegar, Ellia Martell (irmã de Oberyn) e seus dois filhos ainda pequenos, provenientes do seu casamento. Ned e Lyanna sabiam, em outras palavras, que o filho de Rhaegar nunca sobreviveria no novo regime. Ele, sem querer deixar o sobrinho e único laço ele teria da irmã que encontrou no leito de morte, reivindica Jon como sendo fruto de um relacionamento com uma mulher durante a rebelião, levando-o para ser criado junto à sua família em Winterfell.
Mas agora, anos depois, o sangue de Jon pode fazer com que ele tenha alguma conexão com os dragões de Daenerys, bem como vislumbrar o lugar no Trono de Ferro. Tudo isso parte de uma missão maior, onde ele será o responsável por salvar todo o reino com sua espada matadora de Caminhantes Brancos.
– Quais outras implicações da confirmação desta teoria?
Contemplando o cenário provável em que essa teoria se confirme, é também um lembrete de que tudo o que conhecemos sobre a recente história de Westeros foi escrito pelos vencedores. Os Starks, Lannisters e Baratheons lutaram contra a dinastia Targaryem. Daenerys era muito nova para ter qualquer lembrança. A casa Tyrell lutou ao lado dos Targaryens na guerra, mas nós nunca tivemos a perspectiva deles sobre os acontecimentos.
Nas palavras dos vitoriosos, o reino estava ameaçado não só pelo Rei Louco, mas também pelas ações irracionais do seu filho – que, por nenhuma razão aparente raptou a filha de um dos mais proeminentes senhores da época, enquanto ela estava prometida à outro respeitado nobre.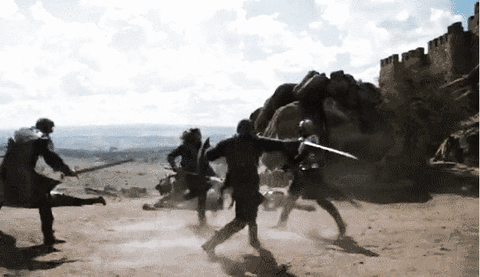 Mas e se tudo isso estiver errado? Se Lyanna realmente fugiu para viver uma paixão com Rhaegar, apesar de prometida em casamento a Robert? Isso mudaria a narrativa em gênero, número e grau. Qual explicação haveria além do fato de casamentos arranjados serem um costume da nobreza, para os Starks preferirem um casamento com um Baratheon sobre uma união com o herdeiro do trono de ferro?
Pode ser que a rede formada pelas casas Baratheon, Arryns, Stark e Tully conspirassem para depor os Targaryens, mesmo antes do suposto sequestro – tendo em vista a sanidade de Aerys, que estava levando os sete reinos para o colapso. Essa trama é muito menos consistente do que R+L=J. Mas vou falar rapidamente sobre ela aqui.
Nesta ficta articulação, que recebeu o nome de Ambição Sulista, o Rei Aerys era menos louco e brutal do que o seu retrato oficial e combatia uma ameaça genuína ao seu reinado – muito antes de qualquer crise envolvendo Lyanna. Para os poucos que defendem esse posicionamento, só porque uma pessoa é paranoica, não significa que os seus temores sejam infundados.
Voltando para o nosso prometido Azor Ahai (explicarei mais sobre ele daqui a pouco), toda a teoria ainda reafirma que Ned sempre se manteve fiel aos seus votos para com a sua amada esposa Catelyn – que, por conta da suposta traição nutriu uma ojeriza à criança trazida pelo marido depois da batalha. Ned não só quis proteger o legado vivo da irmã, como também não envolveu os seus nesta complicada situação onde o conhecimento deste segredo poderia implicar consequências ainda mais trágicas das que acometeram os Starks.
Sendo otimistas, tudo deve ser confirmado em breve. Graças à descrição do 5º episódio – The Door – que menciona, entre outras coisas, o fato de Bran aprender algo muito importante, podemos esperar que a linhagem de Jon nos seja mostrada exatamente na metade da temporada.
Uma usuária do Facebook fez um extraordinário serviço à comunidade, ao compilar os momentos em que Game of Thrones – durante as suas 5 primeiras temporadas – fez referências à essa possibilidade. Confira:
Azor Ahai :
Diversas evidências apontam que Melisandre esteve errada em gastar a sua beleza com Stannis Baratheon. De acordo com a profecia defendida pela Mulher Vermelha, depois de um longo verão, quando a estrela vermelha sangrar no céu, Azor Ahai vai retornar como o príncipe prometido, nascido em meio ao sal e a fumaça, para empunhar a espada Luminífera e enfrentar o nêmesis de R'ollor, o Grande Outro.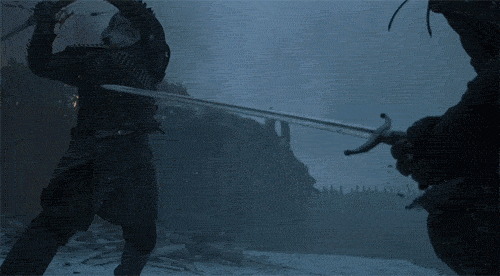 Com a morte de Stannis e o retorno de Jon à vida, esse indício de que o "bastardo" de Ned seja o prometido está cada vez mais claro. Ainda mais depois de Hardhome, onde tomamos conhecimento que as espadas de Aço Valiriano – como a Garralonga de Jon – também são efetivas contra os Caminhantes Brancos, bem como a obsidiana/vidro de dragão. A Luminífera pode muito bem ser uma espada feita deste material.
Na lenda de Azor Ahai, o escolhido forjou a sua espada que era quente como o fogo e, com o sacrifício da amada Nissa Nissa, ele conseguiu fazer dela efetiva contra os Outros.
Jon Snow reúne estas características, pois:
• As lágrimas de Bowen Marsh ao matar Jon seriam o sal do qual a profecia fala.
• Quando Melisandre procura Azor Ahai em suas chamas, ela vê apenas neve (snow).
• Jon tem um sonho no qual luta contra os Outros usando uma espada de fogo.
• Se Jon for filho de Rhaegar Targaryen e Lyanna Stark, ele tem sangue de dragão. Também viria da linhagem de Aerys e Rhaella.
• Jon escolheu seu dever na Patrulha da Noite ao invés do amor de Ygritte, e acabou sacrificando-a de certa forma depois. Isso faz lembrar a história de Azor Ahai e Nissa Nissa.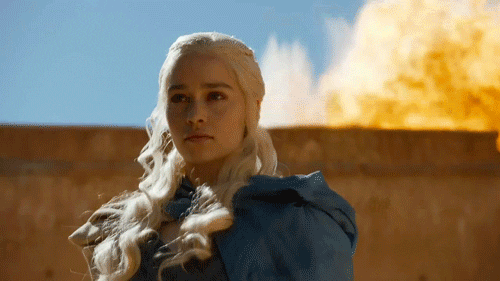 Porém, alguns acreditam que Daenerys pode ser a pessoa que está destinada salvar Westeros da ameaça dos outros:
• Meistre Aemon acredita que Daenerys seja o Príncipe Prometido. Nunca ninguém havia esperado por uma garota mas, segundo ele, a profecia pode ser aplicar tanto a um príncipe quanto a uma princesa devido à fluidez da língua. Nascida em Pedra do Dragão, Daenerys teria o requisito do "sal e fumaça".
•Daenerys nasceu em Pedra do Dragão, e renasceu como Mãe de Dragões no Mar Dothraki, data de quando o cometa vermelho surgiu no céu. A profecia de Azor Ahai também afirma que, devido à forja da Luminífera, os dragões surgiram no mundo, assim como ocorreram com os dragões de Daenerys.
• Nos livros, uma bruxa dos bosques afirmou para Aegon, o Improvável que o Príncipe Prometido surgiria da união de Aerys Targaryen e Rhaella Targaryen.
• Quando Dany despertou os dragões, apareceu o cometa vermelho no céu.
•Foi a própria Daenerys quem matou o marido, Drogo, o que pode ser considerado uma referência à Nissa Nissa.
Tyrion é um Targaryen?
Todo mundo está careca de saber sobre a teoria envolvendo a ascendência de Jon Snow – onde ele seria fruto do trágico amor de Rhaegar Targaryen e Lyanna Stark. Com isso, os fãs deslocaram os seus pensamentos para outra suposição que é remoída há muito tempo: Seria Tyrion Lannister um Targaryen?
Durante uma bonita cena em Home, Tyrion realizou um sonho de infância ao chegar perto dos dragões de Daenerys – conseguindo, inclusive, uma bela interação com Viseryon e Rhaegal. Com isso, a possibilidade do querido anão ser um familiar da sua Khaleese ficou muito mais em voga do que antes.
Como já foi mencionado na série e nos livros, o falecido Tywin Lannister foi a respeitada Mão do Rei louco Aerys, o pai de Daenerys – morto por Jamie durante o cerco a King's Landing. Aos que leram os livros e conhecem a mitologia de George R.R. Martin é sabido que Aerys nutria um desejo doentio por Joanna Lannister, a esposa de Tywin e mãe de Tyrion, sendo até indiscreto com ela na noite de seu casamento.
Acredita-se que tal ânsia perdurou durante o reinado, quando Joanna esteve na corte por ser uma das damas de companhia da irmã do rei – que, fora de si, pode muito bem ter continuado com as suas investidas à esposa de Tywin e até gerado um filho desta malfadada relação.
No livro A Dança dos Dragões, existe um diálogo enigmático entre Daenerys e Sor Barristan:
"Havia alguma mulher que [Aerys] amasse mais do que a sua rainha?"…
"Não… amar não. Talvez querer seja uma palavra melhor…
O Príncipe Aerys… quando era jovem, ele se sentiu atraído por [Joanna].
Quando ela e Tywin se casaram, seu pai bebeu vinho demais na festa do casamento e ouviram-no dizer que era uma pena que o direito do rei à primeira noite houvesse sido abolido.
Uma brincadeira de bêbado, nada mais do que isso, mas Tywin Lannister não era o tipo de homem que se esqueceria dessas palavras ou das… das liberdades que seu pai tomou durante os rituais do casamento"
Outro indício é que como Jon e Daenerys, a mãe de Tyrion também morreu no parto – sendo o caçula Lannister e a rainha dos dragões constantemente acusados pelos irmãos de amaldiçoar a família. Caso essa teoria se confirme, bem como a paternidade de Jon Snow, os três representariam as cabeças de dragão presentes no estandarte da família Targaryan – destinados à trazer uma nova era para Westeros, como seus antepassados.
---
E você? Acredita nisso tudo ou tem suas próprias teorias? Fique a vontade para complementar e comentar com as suas impressões!