Spoiler Alert!
Este texto contém spoilers pesados,
siga por sua conta e risco.
Os fãs de Game of Thrones mais uma vez terminam uma noite de domingo inconsoláveis. Em The Door exibido ontem (22), nos despedimos de um dos mais queridos personagens da série e, ao mesmo tempo, desvendamos um dos maiores mistérios também.
Hodor disse seu último Hodor. O companheiro de longa data e protetor de Bran Stark pereceu depois de heroicamente salvar a vida do menino e de Meera. Hodor finalmente segurou a porta ("Hold the Door") e cumpriu o seu destino. A sequência foi duplamente emocional e impactante pois nela também descobrimos que a condição de Hodor foi causada por Bran, que voltou ao passado e ordenou que ele segurasse a porta – isto causou um dano cerebral tão grande, que o fez repetir a palavra Hodor (Hold the Door = segure a porta) pelo resto da vida.
Infelizmente os fãs de GOT aprenderam mais sobre ele, para logo depois se despedir e mais, que tanto a sua condição quanto a sua morte foram causadas pela mesma pessoa: Bran, por quem o gigante se importava mais que tudo no mundo. O EW conversou com Kristian Nairn sobre o seu personagem e a melancólica despedida dele da série.
Voltando um pouco para antes da última temporada. Qual foi sua reação ao descobrir que ficaria de fora dela?
Não foi uma surpresa. Eu meio que esperava que isso acontecesse. Nossa história estava muito mais avançada que as demais. Elas tinham que nos alcançar. Também foi desapontador pois somos uma grande família e foi bem estranho não estar com eles parte do ano. Eu moro em Belfast, então sempre vi as pessoas indo e vindo. Nos encontrávamos para jantar. O elenco é muito próximo.
Como você descobriu que esta seria a sua última temporada?
Eu recebi a ligação. Os produtores me ligaram. Eu sabia que aconteceria. Alguns dos meus amigos receberam o script antes, então eu já tinha noção do que ia acontecer. Em Game of Thrones nada é certo e eu cheguei até esse ponto. Ned Stark durou apenas 9 episódios.
No geral, o que foi único sobre gravar esta temporada?
Ver as crianças crescendo tem sido interessante. Isaac não é mais um menininho. Ele é intenso e um adolescente agora – um doce de jovem, mas não o menino que gostava de me seguir por aí. Ele ainda me segue um pouco. Vê-lo se desenvolver como ator, ele é um ator superbe. O set foi bem confinado este ano, conosco dentro da arvore. Nós tivemos momentos de silêncio onde vemos o quão os personagens são intrincados, fazendo também coisas bem emotivas. Então pudemos nos focar nos personagens dessa forma.
Você deve ser o único personagem na história da TV a fazer 5 temporadas dizendo apenas uma palavra. Isto deve ser um tipo de recorde.
Sim, deve ser! Não consigo pensar em mais ninguém. Fico pensando se alguém contou quantas vezes eu disse "Hodor" durante as 5 temporadas.
Eu aposto que existe uma contagem oficial.
Eu deveria saber, mas não sei.
Como os fãs reagem à você? Mesmo sendo um jornalista que cobre a série, quando você me mandou o email, tudo que eu queria era responder Hodor todas as vezes.
Depende. Varia de acordo com o país. Game of Thrones está em todos os lugares agora e você tem todos esses Hodors sendo gritados por aí. Eu tendo a fazer compras no meio da noite pois agora é meio esquisito. Mas é divertido. As pessoas amam a série e nos identificam como os personagens. As pessoas sempre perguntam "Qual foi a sua pior interação com fãs?" – não tenho nenhuma. Todos são bem tranquilos, até os que são um pouco mais chatos. Os fãs de Thrones tendem a ser respeitadores.
Como você acha que Hodor se saiu?
Eu amei. Divertido o bastante. Eu assisti a cena hoje pela primeira vez. Eu não poderia estar mais feliz com a despedida dele. É interessante porque foi meio deixado em aberto. Você não o vê concretamente morrer. Está implícito. Então quem sabe? Ele pode voltar como um White Walker, ou talvez ele tenha escapado. Mas foi uma forma realmente boa de fazer. Eu não poderia ter pedido por despedida melhor. Minha parte favorita foi como se amarra com a explicação do motivo de Hodor ser Hodor. Por que ele fala a palavra Hodor. Apenas George R.R. Martin, David ou Dan poderiam ter criado algo como isso. É incrivelmente triste. No momento que você aprende algo sobre ele, eles o matam!
A história dele é muito triste, o que faz de Hodor uma figura trágica.
Eu tinha lágrimas nos olhos. Eu não me vejo na tela, eu vejo Hodor. Eu sempre falo dele na 3ª pessoa. Eu vejo o personagem morrer e é muito triste. Eu acho que as pessoas vão a)enlouquecer, b)ficar muito tristes…
Os fãs não esperam pela explicação e nem perdê-lo, vai ser um choque duplo.
Na 4ª temporada há uma cena da Fortaleza de Craster onde as pessoas acharam que eu fosse morrer. Então as pessoas ficaram "Se Hodor morrer, nós nos rebelaremos". Será interessante ver, mal posso esperar pela exibição. É estranho falar sobre isso quando você não pôde fazer isso durante tanto tempo.
E agora ele nunca vai poder se sentar no Trono de Ferro.
Novamente, não sabemos. Mas eu nunca esperei que fosse desta forma, para ser justo. Não acho que ele seria um rei muito bom, querendo ou não, teríamos diálogos limitados. Eu considero o final em aberto – pois você nunca sabe de nada dentro desta loucura que é Game of Thrones.
Qual sua melhor memória de fazer a série?
O Piloto. Joffrey e os Lannisters chegam em Winterfell. Foi meu primeiro dia no set. Foi certamente uma das maiores reuniões de elenco. Todos estavam vivos entre Starks, Robert Baratheon, os Lannisters. Tirando Daenerys, o elenco todo estava por lá. Foi neste dia que eu realizei o quão grande a produção seria e do que eu fazia parte. Esta é uma das minhas melhores memórias.
De todas suas leituras de roteiro, qual foi o seu Hodor favorito?
Na verdade, há um que eu realmente gostei nesta temporada, onde Meera e eu estamos conversando sobre comida. Este cara ama comer, claramente. O seu rosto se ilumina ao falar sobre comida. Eu também gostei na 3ª temporada, com Osha. Ela reclama sobre ter que montar acampamento e ele meio que fala algo no sentido de "Por que você está me contando isso?". Este foi um engraçado. E nem acredito que eu tenha conseguido isolar dois Hodors entre todas essas vezes.

Eu não acho que você tenha o menos favorito? Essa é difícil.
Não. Cada "Hodor" é como um dos meus filhos. Amo todos.

Como foi seu último dia no set?
Quando terminaram as gravações da temporada, eles permitiram que Isaac fosse quem se despedisse de mim. Foi um momento muito emocional. Esta foi uma jornada incrível, que virou minha vida de cabeça para baixo e me deu muita esperança para o futuro. Mal posso esperar pelo que vem agora. Eu tenho muito mais palavras do que apenas "Hodor".
Isaac Hampstead lamenta morte de Hodor.
Não são apenas os fãs de Game of Thrones que receberam um golpe com a trágica despedida de Hodor. Isaac Hempsted e os produtores, David Benioff e Dan Weiss, contaram que perder um personagem tão querido e a despedida de Kristian Nairn foi duro para eles também.
"Ele não é alguém que você pensa como protagonista, mas ele lentamente, na surdina, virou algo completamente associado com a série" opinou Weiss ao EW. "Hodor é única palavra que você pode dizer para alguém que evoca imediatamente à série ou os livros. Ele só esteve quietinho dentro do arco de Bran, sendo amável e entregando vários Hodors. Eu acho que as pessoas vão se surpreender com o baque emocional que sentirão" adicionou Benioff. "É sempre interessante quando lidamos com a morte, mas a de Hodor foi uma particularmente dura.".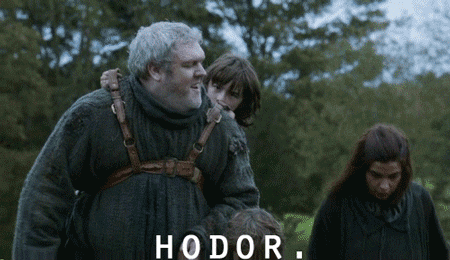 O companheiro de longa data de Bran pereceu neste último domingo (22), no episódio The Door, morto por uma horda de Walkers – depois de heroicamente salvar a vida de Bran. O menino ficou muito submerso na visão do exército do Rei da Noite, propiciando que este descobrisse a sua localização e atacasse. Mas antes que Hodor se despedisse em definitivo, os fãs puderam aprender o motivo dele falar apenas uma palavra durante todos esses anos: Bran inadvertidamente corrompeu a mente do jovem Hodor, colocando sobre ele a urgência do comando para segurar a porta durante o ataque que aconteceria anos mais tarde.
Hempstead Wright disse que ficou abalroado com esta virada e por seu personagem ser o responsável por tanta tragédia. "É tão triste! Nós aprendemos que Hodor é realmente esta alma tão vulnerável, que tinha um grande potencial para uma vida feliz. Primeiro, pelas ações egoístas de Bran indo aos White Walker, já ferrou tudo. Ele não compreendeu que ele deveria ter saído daquela visão. Então Hodor se sacrifica. Ele já passou por tanta coisa e ainda teve que fazer isso."
O jovem ator, agora com 17 anos, lembra de conhecer Naim quando eles gravaram o Piloto. "Kristian é um dos meus melhores amigos. Para quebrar o gelo quando nos conhecemos, ele me deu o Iphone dele para brincar. Eu joguei com o aplicativo de feitiços do Harry Potter. E apenas disse "faça o que quiser, só não quebra o meu telefone" e então eu (acidentalmente) fiz dele em pedaços."
Enquanto os atores de GOT procuram saber sobre as reações dos fãs, Hempstead assumiu estar um pouco tenso sobre como serão as respostas para The Door. "Ele resume bem o universo de Game of Thrones – os caras de bem que merecem um final feliz nem sempre consegue. Será algo mortificante quando for exibido. Bran literalmente não estaria em nenhum lugar se não fosse por ele.".
---
Fique ligado no Apaixonados, pois estamos acompanhando de perto as novidades de Game of Thrones!