Mais um domingo e mais uma semana começando com a comoção causada por Game of Thrones. The Broken Man (exibido em 05 de junho) trouxe mais um punhado de acontecimentos interessantes que, muito certamente, serão relevantes na reta final – faltam apenas 3 domingos para o final da temporada.
Como a história está se revelando em frente aos nossos olhos, nada mais justo do que os atores e produção utilizarem os seus respectivos espaços de fala para ajudar os fãs à situarem-se no que está acontecendo. Quer saber tudo e um pouco mais sobre as mais recentes circunstâncias da adaptação da HBO? Se joga aqui na leitura conosco!
A missão do Peixe Negro:
O Peixe Negro está de volta à Game of Thrones.  Depois de ser citado nos últimos episódios da série, o tio de Catelyn finalmente deu neste último domingo (5), depois de ter sido visto pela última vez saindo para ir ao banheiro durante o Casamento Vermelho. Clive Russel bateu um papo com o IGN sobre este retorno  – que pode ter diversos desdobramentos importantes para a história.
Você sabia na 3ª temporada que seria trazido de volta em algum momento ou foi uma surpresa?
Eu esperava que ele fosse voltar, pois ele volta também nos livros. Mas eles não estão fazendo como nos livros – já que não há mais livros para seguir. Eu esperava que acontecesse, não acho que fiquei surpreso pois eles trazem todos os tipos de pessoas o tempo todo. Mas é bom estar de volta, eu preciso dizer.
Você está ciente que o Peixe Negro é um dos personagens favoritos dos fãs e as pessoas ficaram animadas pelo fato dele reaparecer na série?
Eu meio que cometi o erro de  – quando ganhei o papel – procurar o que as pessoas falavam sobre. Foi bem engraçado, pois algumas diziam "Eu sei quem pode fazê-lo: Jeremy Irons!" "Não, eu que sei: David Bowie!". Foi basicamente: "Quem diabos é Clive Russel?". Isso foi o que rolou. Insisti no erro – depois de alguns episódios, havia um elemento forte que foi afrontado pela forma que eu retratei o Peixe Negro, de que ele não era muito de família – mas eles sentiram que ele estava sendo mostrado equivocadamente como um estúpido – o que não concordo. É muito interessante como as pessoas se envolvem tão passionalmente. Naquele ponto eu parei, pois era um ponto muito pequeno e eu estava me envolvendo muito, apesar das pessoas poderem perfeitamente colocar os seus pontos de vista. Mas eu sei que, para as pessoas que conhecem os livros e nos seguem de perto, ele foi muito esperado.
Agora que ele está de volta, você acha que ele está no ponto em que será leal aos filhos remanescentes de Catelyn ou ele somente está na própria missão de proteger o nome Tully
Acho que na verdade ele está em um fantástico conflito sobre isso. Ele obviamente quer defender a sua casa, mas também obviamente sente-se responsável pelo que resta da sua família. Isso definitivamente está acontecendo, um conflito dentro dele.
No que você está mais animado em retornar para Game of Thrones?
Pela chance de, se assim for, terminar a história do Peixe Negro ou indicar onde ele pode ir no final. É bem mais satisfatório do que o mistério dele ter saído para fazer pipi no Casamento Vermelho. Nós sabemos o que aconteceu agora "Com licenças, senhoras e senhoras, eu só vou achar uma árvore para me aliviar" foi uma fala engraçada, mas não é a forma que se quer concluir o seu envolvimento com a trama.
Mas também o faz o cara mais sortudo do Casamento Vermelho..
Isso é discutível, não? Um desses outros elementos é o senso de culpa do sobrevivente e eu acho que o Peixe Negro se arrepende de ter fugido. Ele fala "Eu não fugirei novamente. Ele é um soldado. Normalmente você fica e luta. Mesmo que pareça que você vai morrer, você se levanta e luta – o que ele não fez. Por outro lado, alguém tinha que sobreviver. Ele tinha que sobreviver para trazer a sua família novamente para o centro das coisas, mas creio que há um elemento de culpa do sobrevivente com o pobre e velho Peixe Negro.
Ian Mcshane abre o jogo sobre a sua breve participação:
Um dos nomes mais comentados durante a produção da 6ª temporada foi o de Ian Mcshane, que fez a sua estréia em Game of Thrones – bem como a sua saída – em The Broken Man A história do ganhador do Emmy incluiu o retorno de um queridinho dos fãs: Sandor Clegane, o Cão  de Caça. Toda sequencia representou um freio na ação usual para colocar uma reflexão sobre a vida violenta e brutal que acomete os moradores de Westeros. Desde o início do episódio, a narrativa foi única: introduzida em uma rara sequência de abertura, antes dos créditos iniciais.
Vimos o Irmão Ray servindo de norte espiritual para o Cão de Caça, colocando para ele uma nova perspectiva de vida – para, logo depois, ser morto por um ataque da Irmandade sem fronteiras. O EW entrevistou McShane, onde ele falou tudo sobre o personagem e experiência em Game of Thrones.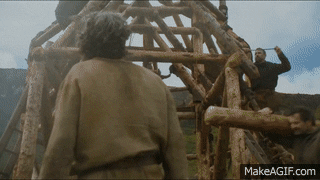 Como você se envolveu com Game of Thrones?
Bom, ele escreveram um discurso de duas páginas – então foi por isso que eles me convidaram. É um monólogo grande, como em Deadwood. Eles precisavam de alguém que pudesse fazer aquilo. Foi muito bem escrito. É um deleite poder trabalhar com Rory e também com o diretor. A experiência completa foram 5 dias em Belfast, onde eu aproveitei muito.
O que você admira sobre o Irmão Ray? Ele parece ser um papel diferente dos outros pelos quais você é conhecido.
Foi um episódio, para começar, esse foi o motivo de querer fazer. Obviamente ele iria morrer. Mas quando eu li, foi bom. É como se ele estivesse responsável por uma reunião improvisada – não dos Alcoólicos Anônimos, mas os dos Assassinos Anônimos. Ele é um ex-guerreiro que ficou cansado da vida de matanças, tentando seguir um ritmo diferente. Mas acho que a minha serventia foi reintroduzir um personagem que todos achavam que tinha partido há muito tempo e que precisava de alguma humanidade. O Cão de Caça não mostrou muita humanidade em sua vida e ganha um pouco disso com o Irmão Ray, carregando consigo para sempre – o que faz dele ainda mais interessante de se assistir. Além disso, minha filha, que é uma expectadora ávida da série ficou "Oh, o Cão de Caça! Isso vai ser bom!"
Uma mensagem que Ray reiteradamente dá ao Cão de Caça é de que nunca é tarde para mudar, começar de novo. Você acha que essa lição vai colar?
Eu não sei o que vai acontecer nos próximos episódio. Se eles seguirem o código do velho oeste, ele vai buscar vingança por mim e então continuar com a vida de uma forma diferente. Você tem que se vingar e um expediente para a vingança. Não acredito em pena de morte, mas entendo a vingança pessoal. Como você concilia isso na vida real? Em filme, você consegue ter muito facilmente. Você mostra que alguém andou fora da linha e depois que a sua moralidade está no lugar certo.
Como foi filmar a cena em que você é enforcado? Deve ser diferente ficar lá e se fingir de morto.
É bem fácil. Você precisa segurar a sua respiração por 10 segundos e aparentar estar morto o suficiente para eles filmarem.
Foi peculiar entrar nesse hit internacional para o que foi – essencialmente – uma performance "entre e sai"? Alguma pressão?
Nenhuma pressão! É a série mais popular do mundo, não? Eu gostei de conhecer os produtores David Benioff e Dan Weiss – ninguém nunca espera a reação que isso teve. É como Deadwood quando começamos, mas eles conseguiram fazer isso por mais 3 temporadas. É interessante porque você faz parte da série, mas você não é parte dela. Eu só precisei de Rory para as minhas cenas, então eu não conheci mais ninguém nelas.
Tudo na produção é tão secreto. Uma vez que foi noticiado que você estaria na série, você foi censurado de alguma forma, em falar sobre o papel?
É  a extensão natural da internet. Não prestei muita atenção nisso – não estou nas mídias sociais. Então constantemente me surpreendo quando ninguém diz nada – quando alguém solta um pum em Belfast todo mundo enlouquece. É como um efeito borboleta multiplicado por 20! Pequenas coisas acarretam grandes efeitos. Você sabe que é mais publicidade para a série – as pessoas estão fascinadas por ela. Jon Snow vai voltar? Ou será o Cão de Caça? Os fãs estão envolvidos neste mundo e eles o entendem, o que é ótimo. É tudo sobre publicidade, e é por isso que estou falando com você, não? Eu fiz os comentários para o DVD com o produtor de roteiro e Natalie Dormer, que pareceu ser amável. É tudo protegido, você entra na sala e eles dizem "Podemos pegar o seu celular?". A tela se acende e possui uma marca d'água em preto e branco. É como ver um plano de guerra da Marinha.
Falando sobre as suas dicas sobre o que vai acontecer na série, você notoriamente descreveu Game of Thrones como "tetas e dragões". Qual foi a reação que isso causou? Os produtores ou o canal falaram algo?
Eu estava fazendo uma entrevista separada para a minissérie Doctor Thorne, que está sendo exibida atualmente. O entrevistador perguntou sobre a comoção que as minhas declarações tiveram (sobre o retorno de Clegane), mesmo que eu não tenha dito nada sobre isso. E então eu falei… bem, você sabe o que eu disse. De repente eles ficaram em polvorosa e eu pensei "Oh, eles provavelmente amarão isso na HBO" e foi o que aconteceu. Apesar das reticências sobre os fãs dizendo "Oh, você entregou algo". Eu achei tudo muito engraçado.
Produtor comenta retorno do Cão de Caça:
O Cão de Caça também está de  volta! Sandor Clegane (Rory McCann) fez o seu retorno à série da HBO neste domingo (5). Apesar da expectativa, a sua reaparição não foi nada como os fãs esperavam: Foi revelado que ele esteve em um tipo de rehab em um septo remoto e liderado por um filosófico ex-guerreiro – o Irmão Rey. "Violência é uma doença, você não cura uma doença espalhando-a para mais pessoas." Ray conta para o ex-guardião de Arya, que responde: "Você também não cura morrendo". Abaixo, Bryan Gogman – co-produtor executivo e roteirista de The Broken Man – respondeu para o EW algumas perguntas sobre a volta de um queridinho da audiência.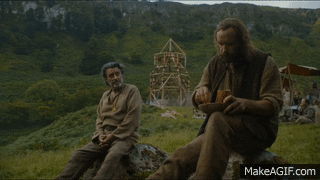 Para o retorno do Cão, é uma história única nesta série. Você fez algumas cenas de ação, mas foi mais como um pequeno drama particular…
Foi a minha semana favorita de Game of Thrones, pois é uma linda peça em três atos. O tom das cenas não tinham nada haver com a série, a não a do final, onde todos foram assassinados. Ian Mcshane é um ex-guerreiro com uma dolorosa história de violência e ele se encontrou tentando reconstruir a sua vida. Ele vê em Sandor um candidato – reconhece nele um pouco dele mesmo. O Cão, além de ser grato, começa a se abrir para ele. Ele é o primeiro e único amigo que ele teve na vida e esse é um relacionamento interessante de explorar. As cenas tiveram uma pegada leve, além de cavalheirismo, humanidade e humor que você não encontra no restante da série – e então os salteadores aparecem. O Cão estava um pouco longe e eles voltam para chacinar todos, colocando-o de volta no ciclo de violência.
Você ou os produtores executivos já consideraram deixar o Cão morto?
Ele sempre ira voltar, era só uma questão de como.
Haviam outras ideias?
Sim, algumas. Seria algum personagem que já conhecemos que o encontraria? É difícil de falar sobre pois esse arco é algo que foi adaptado dos livros, mas não totalmente igual. Nos livros, Brienne encontra esses septões, não o Cão. Nós tiramos a ideia de um septo remoto e inserimos a historia de Sandor nisso. Rory é um ator incrível e a audiência têm muito carinho por ele. Nós realizamos que ele poderia ser o próprio gancho para o seu retorno. Nós poderíamos cortar e ter um mini episódio próprio para ele, que Rory seguraria.
O título também tem relação com os livros, certo?
O personagem de Ray é a combinação de alguns personagens dos livros, com algumas características adicionais. Um deles faz um discurso no livro 4, referindo-se à ele como "The Broken Man". O discurso, por si só, não entrou no episódio, mas inspirou o personagem e algumas partes do seus diálogos. Então o título é uma homenagem aquele discurso – algo como fizemos com 2×05 The Ghost of Harrenhal, mesmo que o termo não fosse dito em alto e bom som na série.
Foi um movimento interessante para uma série onde os personagens estão tipicamente focados em problemas urgentes
Ray tem essa filosofia maravilhosa, que eu desejava que mais personagens tivessem – "Eu não sei se o meu deus é real, mas eu só sei que nós precisamos acreditar em algo maior que nós mesmos". Foi um discurso filosófico maravilhoso
De um lado, isso parece um pouco com o que aconteceu com Arya ao conhecer Lady Crane – a pessoa que está comprometida com a violência encontrando alguém que mostra que uma vida diferente é possível.
É, eles são meio que reflexos um do outro. Ambos são expostos à um mundo diferente e então tiram as suas próprias conclusões.
Falando nisso, Arya está com sérios problemas pelo que parece.
Sim. Ela desobedeceu o Homem de Muitas Faces  antes, e agora ela o faz pela 2ª vez. Ela foi bem treinada, mas está enfrentando assassinos profissionais. Esse é o arco contínuo de Arya batalhando om a sua própria humanidade e as suas razões para fazer parte de tudo isso. Ela sente que o Homem de Muitas Faces defende uma coisa, mas as coisas não são tão pretas no branco, me perdoe o trocadilho, mas é isso. É também uma oportunidade desta temporada fazer da história dela algo mais bombástico.
O episódio começou diferente, o que é fora do usual, particularmente no meio da temporada. Por que fizeram daquela forma?
Nós chegamos à conclusão de que faria da revelação mais impactante se a audiência não visse o nome de Rory McCann nos créditos de abertura.
Faz total sentido! Outra questão temporal: Sentimos que nós estamos pulando entre as narrativas que possuem uma extensão diferente de lapso temporal?
As linhas temporais das várias narrativas não necessariamente precisam estar de acordo nos episódios. Para constar, o Tour Nortista de Jon e Sansa provavelmente levou algumas semanas, mas a história de Arya se deu em alguns dias. Nós realizamos há algum tempo que se ficássemos presos tentando contar os dias entre os personagens, o timing acabaria se perdendo.
---
Fique ligado no Apaixonados, pois estamos acompanhando de perto as novidades de Game of Thrones!