#ItsAllConnected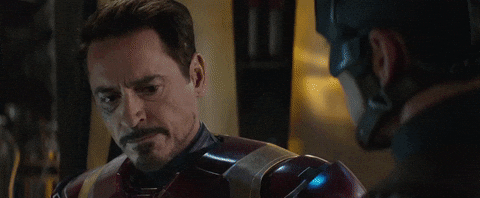 Nascida do Universo Cinemático Marvel – mais especialmente de Os Vingadores (2012) – Agent's of S.H.I.E.L.D. vem, desde então, amarrando-se com a maioria dos filmes de formas até significativas (leia-se a queda da S.H.I.E.L.D. em Capitão América: Soldado Invernal) ou de pequenas ( Limpando a bagunça que o Thor fez em Londres depois dos eventos de O Mundo Sombrio).
Para aqueles que ainda não assistiram Capitão América: Guerra Civil: Parem de ler! Vão assistir! Spoilers daqui para frente! – O Homem de Ferro e o Capitão América se estranham depois da introdução do Acordo de Sokovia, que legisla sobre a necessidade das pessoas com habilidades especiais se registrarem.
Com os inumanos ganhando cada vez mais espaço na TV, as conexões com Guerra Civil vieram facilmente. Resumindo, depois que o terrígeno se espalhou por meio de olho do peixe pelo mundo, inúmeros inumanos começaram a aparecer – possibilitando construir inclusive um novo time de super-heróis: Os Guerreiros Secretos. Apesar disso, nem todos os inumanos penderam para o lado do bem, levantando a questão sobre o que fazer com eles, trazendo o acordo de Sokovia para a tela da TV.
"O Acordo de Sokovia tem seu propósito específico dentro da Guerra Civil, envolvendo as pessoas com poderes que conhecemos em Os Vingadores" revelou Clark Gregg ao EW. "É representativo como o nosso show funciona no Universo Marvel onde, de alguma forma, está tudo conectado. Isso invade a série pois, de repente, todas aquelas pessoas próximas que são inumanas precisam se registrar  e alguns sentem que isso é o primeiro passo para eles serem sequestrados, presos e exterminados."
Diferente da última conexão – quando vimos Phil Coulson prover seu porta aviões à um time desesperado de Vingadores contra o vilão do título de A Era de Ultron – a ligação com Guerra Civil será de uma maneira mais filosófica, tocando em um tema que Agent's of S.H.I.E.L.D. vem trabalhando desde a chegada dos inumanos. "Eu sinto como nós estivéssemos lidando com a grandiosidade dos assuntos da Guerra Civil em uma proporção menor, mais pessoal, por um tempo considerável" dividiu Chloe Bennet. "Vem sendo construído. Nós estamos tendo nossa própria versão mini da Guerra Civil".
Na Guerra Civil, o time da S.H.I.E.L.D. está dividido pelo Acordo de Sokovia e o que ele significa para o futuro das pessoas com poderes. "A Marvel é tão boa em colocar assuntos políticos e filosóficos grandes em um prisma onde você pode formar sua opinião, mas também olhar de uma distância onde dá para entender os dois lados." adicionou Elizabeth Henstridge. "Os personagens escolherão lados diferentes. Não é tão preto no branco. Não há um personagem na série que forçará o outro para um lado. É realmente legal conectar-se filosoficamente, com a gente questionando a política e as morais ao mesmo tempo. Podem duas coisas diferentes, de algum modo, que dividem tanto mas são díspares, viver lado a lado pacificamente?"
A resposta: Não será fácil. "A Marvel sempre trabalha melhor quando a coisa é comentada no mundo real. É seguro dizer que não será difícil encontrar atualmente momento em que a tolerância das pessoas chegou à um limite bem sensível, seja por conta de raças, gênero ou religião. Nós não conseguimos saber ao certo como acertamos os pontos. A Guerra Civil está acontecendo a nossa volta. Em nosso mundo, isso é traduzido para a problemática de ter ou não poderes. Para muitas pessoas, é muito assustador quando alguém é diferente." concluiu Jeph Loeb, produtor executivo da série.
Tendo dito isso, você pode ficar surpreso com alguns membros da S.H.I.E.L.D. quando chegar o momento de debater os argumentos do #TeamCapitãoAmérica versus #TeamHomemdeFerro – particularmente Simmons. "Ela começou sentindo medo das pessoas com poderes, e quase teve uma atitude bem esnobe para com eles, com uma arrogância de superioridade em termos de inteligência e de como as pessoas com poderes estavam dispensando cedo demais uma solução quando ela achou que tinha ganhado o direito de resolver o problema. Mas ela definitivamente se acostumou com a ideia. Mas eu ainda penso que ela está do lado do Homem de Ferro e confiando em suas qualidades científicas, ou seja, documentando, escrevendo tudo e tendo certeza de que está tudo registrado e guardado em um escaninho." concluiu a intérprete da biomédica.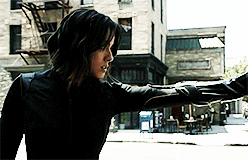 Simmons não está sozinha nessa. "May está muito dividida, pois por um lado ela entende a necessidade de tê-los como aliado e oposta à tê-los como inimigos, especialmente com a Hive na mistura e sendo capaz de controlar inumanos" disse Ming-Na Wen. "Mas é aí que está o dilema, pois por mais que a gente queira confiar nos inumanos, eles são instáveis, um elemento desconhecido. Para ela, o desejo é que as coisas pudessem voltar a ser como eram antes, onde estava muito claro que a S.H.I.E.L.D. existia para ajudar e proteger os cidadãos."
Essa não é a primeira vez que o time da S.H.I.E.L.D. enfrenta uma situação como essa. Durante a 1ª temporada, houve uma discussão sobre o Index – a lista de pessoas com potencial de se tornarem ameaças pela S.H.I.E.L.D./HYDRA. "Nós estivemos nesse lugar onde tínhamos tudo documentado, e não funcionou. É estranho discutir isso novamente, mas é isso que o humanos fazem: Você não percebe mas a história começa a se repetir por si mesma." filosofou Henstridge.
O time pode não ter muita escolha em seguir ou não as ordens, vide o status atual da agência. "Nós estamos fincando nossos pés na ideia da S.H.I.E.L.D. ser uma organização legitimada novamente. Mas com isso viriam quaisquer regras e regulamentos que vêm com os gorvernos. Não é coincidência  que quando começamos a aproveitar a ideia na série, foi ficando cada vez mais complicado dentro do contexto que tempos atualmente." explicou Jed Whedon.
Com isso em mente, Coulson está bem reticente em registrar seus recursos superpoderosos, especialmente quando um destes – Daisy Johson – é como uma filha para ele. "Ele termina escolhendo o Team Cap. De algumas formas, penso que Coulson teria imaginado que ele estaria reforçando qualquer interação mais recente do Conselho Mundial quisesse ele em termos com – mas seu relacionamento com Daisy e os outros inumanos o empurra para o oposto disso. Ele é muito do Time Capitão América." sentenciou Gregg.
Desta vez, então, ninguém dos Vingadores sabe como os efeitos das ações deles refletirão no futuro. "A conexão está lá, mas é um ponto muito tênie, pois a S.H.I.E.L.D. ficou cada vez mais isolada do que estava acontecendo com os Vingadores e eles não sabem ainda que Coulson está vivo." disse Wen.
É claro que o acordo de Sokovia não é a unica conexão que a série faz com o filme. Coulson vai também ficar sabendo da morte de Peggy Carter durante o episódio desta terça, 10 de maio – o que vai ser difícil de digerir, considerando a ligação entre eles. "S.H.I.E.L.D.nasceu de Peggy Carter e Howard Stark. Sempre que podemos fazer uma conexão com ela, seja em um flashback ou lidando com a sua felicidade, isso faz com o que o universo fique ainda menor.
Agent's of S.H.I.E.L.D. foi renovada para próxima temporada e é exibida às terças nos Estados Unidos. No Brasil, o canal pago Sony exibe a 3ª temporada todos os domingos às 19h10. A 2ª temporada de Demolidor foi disponibilizada pela Netflix no início de abril. A próxima série da parceria da Marvel com o serviço de streaming – Luke Cage – chegará dia 30 de setembro.
Fique ligado conosco para mais novidades sobre o universo Marvel!