Spoiler Alert!
Este texto contém spoilers pesados,
siga por sua conta e risco.
Mais um domingo e mais uma semana começando com a comoção causada por Game of Thrones. The Blood of my Blood (exibido em 29 de maio) trouxe mais um punhado de eventos impactantes, que estão fazendo desta temporada uma das melhores da série até então.
Como a história está se revelando em frente aos nossos olhos, nada mais justo do que os atores, produção e o próprio George R. R. Martin utilizarem os seus respectivos espaços de fala para ajudar os fãs à situarem-se no que está acontecendo. Quer saber tudo e um pouco mais sobre as mais recentes circunstâncias da adaptação da HBO? Se joga aqui na leitura conosco!
Noivo do Casamento Vermelho comenta sua inesperada reaparição:
Surpresa! Edmure Tully está de volta. No episódio de domingo, Tobias Menzies fez uma inesperada – e não anunciada – reaparição em Game of Thrones, depois de quase 3 anos de ausência. O EW  conversou com o ator, que atualmente também está dando show em Outlander e The Night Manager, sobre essa volta dos que não foram. Confira: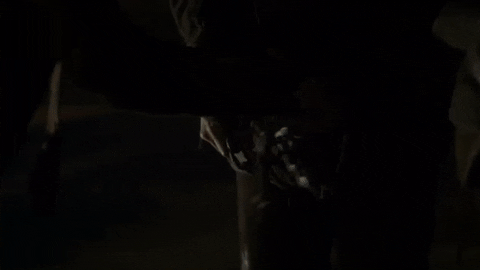 Você não teve nenhum diálogo!
Pois é, sim. Somente foi revelado que ele ainda está lá, que os Frey ainda o têm.
Os produtores te contaram que seu personagem retornaria algum dia?
Não e eu não estou certo que eles sabiam. Creio que eles meio que encontraram o caminho deles e escolheram quais partes do livro fazer. Eles entraram em contato pouco tempo antes de gravarmos para saber se eu estava disponível, se eles poderiam me encaixar. Foi uma questão de encaixar em meio aos meus outros compromissos. Mas eu sou um grande fã da série e eu estava querendo fazer acontecer se eu pudesse.
Ficou surpresou com esse contato?
Sim, claro. Já se passaram algumas temporadas e eu não tinha grandes expectativas de voltar. Foi uma surpresa muito gostosa.
Quando você gravou as suas cenas.
Eu não estava em Outlander. Durante o outono passado e eu creio que estava ocupado fazendo um filme em Praga. Estava fora de Outlander por alguns meses.
Então Edmure esteve preso por dois anos e meio?
Eu acho que eles não fazem esse tipo de controle temporal. É possível que não tenha se passado tanto tempo. Eu poderia estar cativo por apenas um ano e alguma coisa. Não é claro quanto tempo se passou.
Você passou fome para o papel?
Não, eu não passei. Ele não está recebendo pouca alimentação. Ele está somente, você sabe, meio que sendo mal tratado.
Você pode dar uma dica para onde as coisas vão se encaminhar com o seu personagem?
Ele ainda é prisioneiro dos Freys e os Freys tentarão usá-lo como isca para reclamar Correrio, que é a sua casa. E então Jamie Lannister vai se envolver e Edmure vai virar uma parte de uma grande luta política. Ele vai ter que fazer uma escolha muito difícil sobre trair ou não sua família.
Quando você conseguiu gravar The Night Manager para a AMC?
Março do ano passado.
Este é seu melhor ano ou há algum outro que o ultrapasse?
O momento é bom e muito ocupado. Estou aproveitando. Eu gosto do que faço e muitos destes projetos têm um material e pessoas muito interessante de se trabalhar. Eu me sinto com sorte.
Espera aí, quem são os Tully mesmo?
Devido a complexidade da história e a enorme quantidade de personagens de Game of Thrones, muitos espectadores ficaram boiando quando o Peixe Negro – Bryden Tully – e Edmure foram trazidos novamente à baila neste domingo. Que tal relembrar?
Durante as três primeiras temporadas de Game of Thrones, a Casa Tully teve um grande papel no conflito que se sucedeu pelo trono depois da morte de Robert Baratheon. Eles eram os principais aliados de Robb Stark, por ser a casa de origem de sua mãe, Catelyn. Entre os muitos guerreiros dos Tully estava o irmão dela, Edmure, um homem pedante que foi convocado á se casar com Roslin Frey em uma tentativa de solidificar a aliança com o pai dela, Walder. Este enlace acabou por se transformar em um dos momentos mais chocantes da série: O Casamento Vermelho.
Desde aquele casamento e das consequentes mortes de Robb e Catelyn, a Casa Tully restou em segundo plano, latente aos acontecimentos da série. Mas em The Blood of My Blood, eles retornaram, sendo representados por dois membros: Edmure e seu tio, o Peixe Negro. Estes dois homens provavelmente serão peças chaves no futuro confronto entre os Starks e Ramsay Bolton pelo controle de Winterfell, e nada mais justo do que lembrarmos um pouco mais sobre eles.
Brynden, o Peixe Negro, é um homem combativo no que tange a paz, mas disciplinado nos assuntos de guerra. O seu irmão mais velho – pai de Catelyn – Lord Hoster Tully, constantemente tentou lhe arranjar casamentos, sendo todas as pretendentes prontamente recusadas. Hoster o chamava de ovelha negra e, já que o símbolo da Casa Tully é um peixe, ele foi apelidado de Peixe Negro.
Em suas aparições na 3ª temporada, Peixe Negro mostrou-se frustrado com o seu teimoso e emotivo sobrinho, Edmure, que – durante o funeral de Lord Hoster, falhou em acertar a flecha em chamas no bote que seguia com o corpo. Irritado, Bryden o tirou do caminho e ateou fogo ao irmão.
Edmure atacou impulsivamente os Lannister, custando à Robb centenas de homens – ao passo que Brynden proveu ao primogênito dos Starks valiosos conselhos de guerra, alguns destes infelizmente ignorados. Ironicamente, foi o Peixe Negro que convenceu Edmure à aceitar i casamento que quase levou a destruição da sua própria casa pelas mãos dos Freys. Por um acaso do destino, a bexiga dele o salvou de ser morto com o restante dos seus aliados durante a cerimônia.
Seu sobrinho, por outro lado, foi levado aos seus aposentos, supostamente para a sua noite de núpcias – desde então sendo mantido cativo. Mais tarde, o Peixe Negro lutou com o que restou da sua casa e aguardou pelo momento certo de atacar. O arrogante Walder Frey ignorou o fato de que Brynden conseguiu fugir, se vangloriando por Edmure ter passado a noite do casamento preso.
Agora Frey está pagando por isso, já que Brynder retomou Correirio e mais : Sansa Stark tem ciência disso, graças ao Mindinho. A ruiva enviou Brienne para requisitar a ajuda do tio-avô ao seu irmão Jon em uma eventual batalha contra os Boltons.
Walder Frey, claro, nunca admitirá a sua falhá. No episodio desta semana, ele culpou seus homens por perder o castelo e por ter deixado Peixe Negro escapar. Mas ele ainda possui Edmure de refém, e isso certamente será utilizado como trunfo contra a insurgente Casa Tully.
Os Starks e os Tullys estão lutando contra os Boltons e os Freys desde a 2ª temporada. Agora esta luta se prepara para alcançar um novo patamar, com a chance da vingança pelas mortes de Robb e Catelyn.
---
Fique de olho no Apaixonados para ficar por dentro de tudo sobre a eletrizante temporada de Game of Thrones!