Como nós explicamos aqui , havia uma grande expectativa sobre o possível retorno de um personagem há muito sumido em Game of Thrones. A longa ausência de Benjen Stark terminou em Blood of my Blood, exibido no último domingo (29).
Recapitulando: Ele era irmão mais novo de Ned Stark e Primeiro Patrulheiro da Patrulha da Noite – desaparecido no início de tudo, depois de sair em expedição pelo norte da Muralha. Tecnicamente, nós vimos Benjen na atual temporada, durante uma das sessões warg de Bran, quando o menino pôde ver seu pai e o tio ainda crianças. Além de marcar o retorno de uma importante figura, os espectadores descobriram que ele não é mais o mesmo – ele é um morto vivo criado pelas Crianças da Floresta para combater os White Walkers, transformando-se em um paralelo do misterioso Mãos Frias, muito relevante nos livros de George R.R. Martin.
Os leitores da saga original esperavam que o Mãos Frias fosse aparecer para guiar Bran ao Corvo de Três Olhos há algumas  temporadas, mas Isaac Hampstead Wright gostou mais da abordagem da série. "Eu acho que é muito mais legal tê-lo aparecendo agora ao invés de servir de guia para Bran na caverna, pois ele já contava com Jojen e Meera para isso. Ao invés disso, ele está lá para catar os cascos quando o abrigo é destruído, dando a Bran uma conexão familiar novamente – depois da morte de Hodor." opinou o jovem ator ao EW.
O site americano entrevistou o co-produtor executivo – Bryan Cogman – que escreveu Blood of my Blood. Ele respondeu perguntas quentíssimas sobre os acontecimentos (ignorando outros questionamentos sobre pontos sensíveis de Game of Thrones). Confira: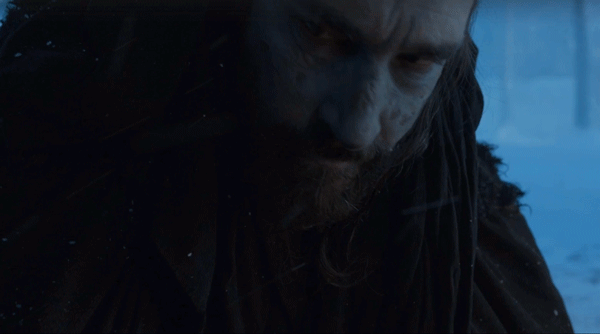 A reação com pela morte de Hodor surpreendeu vocês? Houve também uma especulação de que ele poderia voltar, teoricamente, como um tipo de morto vivo – como Benjen. Estou certo em assumir que nós o vimos pela última vez, salvo por potenciais visões, flashbacks e etc?
Eu não posso falar por David Benioff e Dan Weiss, mas eu concluí que a sequência de Hodor teria esse tipo de reação. Primeiro, simplesmente porque ele foi amado pelos fãs – segundo, pois a sequência toca a história e a mitologia em uma nova e instigante direção. Estou agradecido que isso tenha sido bem recebido. Eu assisto a série todas as semanas em uma sala de exibição com um punhado de amigos, foi realmente animador ver as reações deles com aquela cena.
Sobre ver ou não Hodor novamente… Como você sabe, eu não posso comentar sobre nada que pode ou não acontecer no futuro.
E então há o retorno de Benjen Stark. Talvez nenhum personagem na história da série tenha ficado tanto tempo fora, saindo nos primeiros episódios da 1ª temporada e voltando agora no meio da 6ª! Isso foi algo que vocês sempre planejaram? Isso foi uma vitória dos Starks em uma série que é notória por matá-los?
É difícil para mim falar sobre o retorno de Benjen sem tocar no difícil processo de adaptação. Mas sim, a 6ª temporada está preenchida de reuniões para os Starks! Essa é outra coisa que tem sido muito emocional para os fãs. A série é tão complexa e há tantas tramas, mas – no seu cerne – é muito sobre esta boa família que foi despedaçada. Então ver alguns deles se reconectar (Jon e Sansa; Benjen e Bran) é muito satisfatório de escrever e filmar. É ótimo ter um ator como Joe Mawle de volta para nós – deve ter sido louco para ele entrar no personagem depois de tanto tempo – mas ele definitivamente não é o Benjen da 1ª temporada. Isso é divertido de explorar.
Outra decisão que causou uma grande comoção foi a morte dos lobos gigantes, Cão Felpudo e Verão.  Alguns concluíram que o motivo é de orçamento, ou simplesmente questão de narrativa e até aqueles que disseram que isso faz parte de uma profecia (Verão foi morto pelos demônios do inverno, Jon foi ressuscitado e tem um Fantama…). Você pode dar alguma posição sobre isso?
Para mim, a sequência da caverna foi muito sobre os protetores de Bran dando tudo o que eles tinham para que ele pudesse continuar a sua jornada. Meera sobreviveu, mas sacrifícios dolorosos tiveram que ser feitos – Hodor, as Crianças, o Corvo de Três Olhos…e, sim, infelizmente, Verão.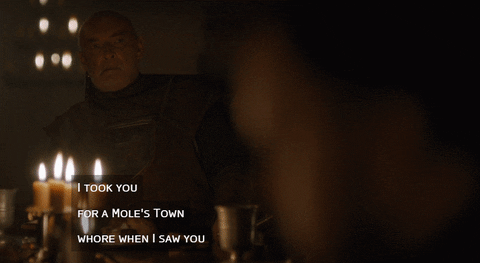 Falando sobre reuniões, vimos aquela cena do jantar com Sam e Gilly, que foi muito mais esquisita do que esperávamos.
Eu não sei como isso acontece, mas eu tenho várias cenas de banheira e jantares estranhos! Foi muito divertido pois Sam talvez não tenha tanto tempo em tela nesta temporada, mas ele tem uma boa parcela delas tentando passar o pequeno Sam como seu bastardo. Pelo tanto que Sam já passou, eu amo explorar essa dinâmica familiar. A sua mãe e irmã são pessoas decentes, mas seu pai tem um coração de pedra no que toca o seu filho mais velho. Há uma parte dolorosa da sequencia onde o pai descarrega nele e diz coisas odiosas, não dando a Sam a oportunidade de se defender. Nós achamos fascinante – Sam matou um homem, um White Walker, emergiu como um grande herói – mas ele ainda não consegue enfrentar o pai.
Existem muitos pais ruins nessa série.
Sim, bem, há muitos pais ruins na vida! Uma forma de lidar é ter Sam dizendo "Eu não vou aturar mais isso, Pai. Eu sou um homem agora". Mas essa coisa ainda o machuca profundamente. Ele decide então não partir sem Gilly e o bebê, pois eles são as pessoas mais importantes. Ele não vai viver sobre regras. Quando ele rouba a espada da família é um verdadeiro "foda-se".
A cena do teatro foi bem divertida também. É como se vocês estivessem pseudocomentando sobre a forma da série ser mostrada.
Eu venho do teatro e, ser capaz de comentar a série e as reações à ela pelos atores foi muito divertido. A série é acusada constantemente de ser gratuita das mais diversas formas – violência e a exposição física dos personagens. É uma história operacional enorme. Nós podemos amavelmente tirar sarro de nós mesmo, mas também brincar com as idéias de como o espectador nos vê – boas e ruins – e como a perspectiva da história muda. Além disso, há o drama delicioso de Arya assistir a sua própria vida nos palcos.
Cersei também manda Jaime embora. Esse parece ser um novo lado dela, menos reacionária que vimos no passado. Sinto que há algumas temporadas ela iria ter aceitado a oferta de Jaime para matar o Alto Pardal.
O Alto Pardal jogou um longo e paciente jogo, o fazendo muito bem. Sim, penso que Cersei nunca enfrentou um personagem como ele antes, fazendo com que ela mude a estratégia de certa forma.
Sei que você não pode falar sobre os futuros episódios, mas você tem alguma dica para o de semana que vem, The Broken Man? (confira a sinopse abaixo)
Tudo o que eu posso dizer é que semana que vem vai conter uma sequência/narrativa em particular que levou uma semana para ser gravada.  Ela foi a minha semana favorita no set nestas 6 temporadas de Game of Thrones.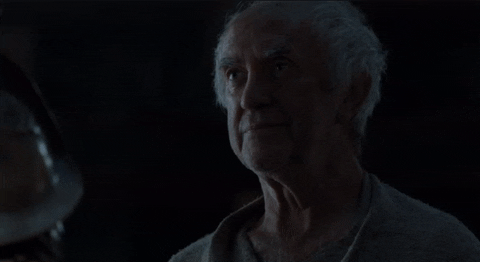 – Sinopse – 6×07The Broken Man: (5 de junho)
O Alto Pardal mira seu próximo alvo. Jaime confronta um herói. Arya tem um plano. O Norte é lembrado.
---
Game of Thrones é exibido todos os domingos, às 22hrs, pela HBO.