Olá pessoas! A partir de agora eu vou acompanhar Limitless juntinho com vocês! Primeiramente já aproveito para pedir desculpas pelo atraso da review – eu tive que fazer uma maratona sinistra para ficar em dia com a série. A notícia boa é que eu gostei bastante, então espere por análises bem detalhadas e prolixas dos episódios (é o meu jeitinho).
Antes de começar a falar do retorno, que foi ao ar semana passada, gostaria de recapitular com vocês um pouco do que já vimos até aqui. Eu simplesmente adoro o filme de 2011, assisti no cinema e Sem Limites é um daqueles que sempre que eu vejo que está passando eu vejo. Acho que essa minha fascinação pode ser explicada pela catarse e reflexão que a película inflige em nós: Imaginem só poder utilizar 100% da sua capacidade cerebral? Quantas coisas se poderia alcançar com isso? Pois é, queria muito um NZT ou genérico às vendas por aí (como ninguém nunca inventou isso). Outra coisa, gente, eu sou completamente louca pelo Bradley Cooper. Então amo ele no filme e bem, qualque oportunidade de ver os olhos azuis maravilhosos dele em uma série, já me fazem doar o meu valioso tempo para ela.
Sobre Limitless, o mais legal dela é o fato dela ser despretensiosa e tentar tirar o peso de não possuir dimensões cinematográficas com outros artifícios como o humor e um protagonista super carismático! Quem acompanha minhas reviews sabe que eu não gosto de histórias procedurais, mas aqui elas são todas um segundo plano para os personagens, logo não me incomodam. Pois bem, se você está aqui lendo a resenha do 12º episódio é porque no mínimo você também acha agradável ficar 40 minutinhos acompanhando as aventurar e agruras de Brian Finch dentro do FBI.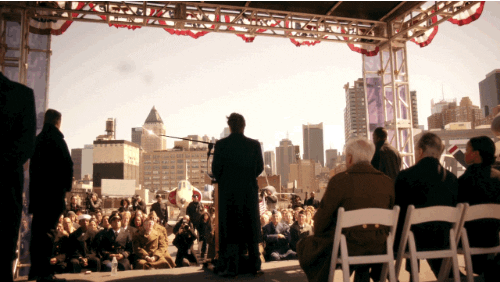 O título The Assassination of Eddie Morra já me deixou meio cabreira, pois não estou nem um pouco satisfeita de ver o senador pontualmente embelezando minha tela da tv. Mas ok, por ter lido uma notícia de que Cooper que fazer muito mais dentro do show em que é produtor, fui assistir o retorno do hiato de coração aberto.
O episódio começa e encontramos Brian fronte à possibilidade da sua mentira sobre a imunidade aos efeitos colaterais do NZT cair por terra. Durante um discurso do Senador Maravilhoso Morra, acontece também uma tentativa de assassinato – mas, graças ao bom Odin, a bala atinge apenas seu ombro. Isso também só se deu por conta do NZT pois, sem a droga, ele nunca seria capaz de calcular a rota da bala disparada de quilômetros de distância. É a primeira vez que vemos Ed usando suas habilidades desde o filme, ou seja, bem legal.
Brian, que já está preocupado com a sua situação, já que perdeu sua fonte de injeções, é avisado por Sands para manter os contatos dentro do CDC, principalmente de uma ex-empregada de Morra, uma tal de Piper. Quando ele finalmente encontra a mulher, ela diz que o Senador tem mentido para ele, que ele ficando mais forte, ele vai se transformar uma força de destruição sem qualquer chance de ser evitada.
Como resultado disso, Brian se depara em um dilema sobre sua lealdade, deixando a história do episódio bem interessante. Durante a temporada, vimos o consultor lutando contra ele mesmo para manter a sua personalidade e não se entregar ao Brian "bad ass", mas este finalmente precisa tomar conta para tomar uma decisão bem importante. Isso se dá depois que ele conhece Piper, que faz parte do time que inventou as injeções com a enzima que impede os efeitos do NZT e que, por algum motivo obscuro, foi incriminada por Morra pela morte do namorado.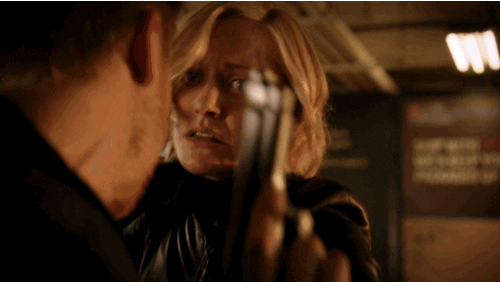 Então temos um bom paralelo acontecendo, com Brian diante das perspectivas de Piper e Eddie, sem saber qual dos dois está certo. Tirando isso, existe todo o peso de estar agindo pelas costas dos amigos que fez dentro do FBI, o que faz com que ele chegue a conclusão de que toda vez que ele os trai as coisas ficam mais fáceis. No final das contas, ele fica do lado de Piper, conseguindo enganar tanto Morra quanto a audiência, criando um morte falsa para a cientista.
De qualquer forma, o melhor momento de The Assassination of Eddie Morra – para variar – foi a conversa final entre Brian e Eddie no CDC. Quando o consultor entra, Morra pergunta daquele jeitinho dele sobre o motivo do seu pupilo tentar se segurar na pessoa que ele era antes do NZT. Por tudo que aconteceu na série, algumas pessoas podem esquecer facilmente de que o personagem de Cooper já foi o herói da sua própria história: Um escritor pobre e sem inspiração que encontrou no NZT o poder para mudar sua vida. Ele procurava por escapatória e tirou vantagem do que descobriu.
No caminho contrário, Brian não agiu dessa forma, mantendo algumas características da pessoa "derrotada" que ele era. Confuso pelas respostas de Finch, Eddie encerra a conversa com uma conclusão "Você está acima de todas as preocupações que estão te colocando para baixo, está deixando elas serem um peso. Derrote-as e você vai se sentir muito mais leve." . Talvez Brian seja forte o suficiente para ficar satisfeito com isso. Pela primeira vez essa não pareceu com uma aparição sobrenatural do Bradley Cooper, mas finamente o personagem que ele interpretou no filme transpareceu adquirir algum desenvolvimento com a série. Foi uma das minhas cenas favoritas de Limitless até aqui.
Agora é torcer para que Morra não demore a dar às caras, justamente pelo motivo de que, do outro lado do episódio, Rebecca começa a juntar as peças da verdade sobre Morra e também porque a dinâmica entre ele e Finch, por mais esparsa que seja é a melhor coisa da série. Eu achei que esse retorno foi um dos melhores episódios de Limitless até então – senão o melhor. É a primeira vez que eu estou realmente ansioda pelo o que vem pela frente!
Assista a promo de Stop Me Before I Hug Again, que vai ao ar dia 19 de janeiro:
E você, o que achou do episódio? Fique a vontade para deixar suas impressões e comentar conosco!
Observações:
– Finalmente o Senador Morra está como presidenciável!!
– Eu não acho que Sands realmente represente Morra…
– A Naz é uma com quem eu tinha implicância, mas hoje em dia eu gosto bastante dela.