Essa semana farei uma review dupla dos dois últimos episódios de Limitless, pois eu viajei no carnaval e não estive apta para fazer uma das coisas que mais gosto – assistir séries. Superado isso, coloco ordem na casa comentando os acontecimentos de Fundamentals of Naked Portraiture (exibido no dia 9) e o mais recente, Undercover!.
Já começo falando que no que tange a narrativa, o primeiro deixou a desejar e apresentou um caso da semana fraco. Quem me conhece das reviews, sabe que eu não sou muito chegada na estrutura procedural, mas em Limitless isso não tinha me incomodado ainda.Desde o começo, eles conseguiram aliar os casos da semana (sempre divertidos) com o desenvolvimento do arco principal (Senador Morra + NZT + mentira de Finch). Mas essa das memórias roubadas e os bustos reproduzindo as pessoas foi bem ruim.
Não vou dizer que não me diverti. A série já está pacificamente entre uma das mais divertidas que estrearam na última fall season – Mike, Ike e Spike! – mas bem, Naked Portraiture ficaria bem atrás se eu fosse ranquear todos os capítulos até então. De relevante mesmo tivemos apenas o fato da persistência de Rebecca com a investigação de uma possível conexão do presidenciável Morra ao NZT e a morte do moço que trabalhava na central de provas do FBI, prova cabal para desmascarar Finch.
Undercover! Partiu desse ponto, trazendo agora uma trama bem mais interessante com a ameaça de exposição de agente de campo infiltrados da mídia. Mike usa suas efêmeras habilidades para encontrá-los e posicioná-los quando ao risco, mas uma – Lucy Church – consegue fugir do radar dele, obrigando-o à ir para a rua. Quando eles se encontram, a agente está mais do que envolvida em uma investigação que começou em uma evidente lavagem de dinheiro por uma grande firma do mercado financeiro e acabou em um perigoso esquema de tráfico sexual de mulheres.
Foi fantástico ver Brian empolgado com os seus disfarces, e a construção do episódio mais uma vez ganha os meus parabéns pelas brincadeiras que faz quando o consultor está sob o efeito do NZT. Sua performance na festa foi fantástica, com os conselhos sobre relações parentais à um mafioso russo – tudo isso culminando em três pessoas em um quarto de hotel, onde a moça enviada pelos cafetões se provou uma apaixonada por realities (quem pode julgar?). O envolvimento de Brian e Lucy foi importante para trazer um pouco mais de crescimento para ele no atual contexto de "agente" que ele se encontra dentro do FBI. Como vimos desde o começo, Finch tem um forte compasso moral o que dificulta muito emocionalmente para ele viver uma vida dupla.
A estruturação das cenas ficaram instigantes, alternando os acontecimentos com os flashfowards das entrevistas de debreathing com a equipe do FBI e Lucy. A dinâmica entre os dois foi bem interessante e diferente do que ele possui com Rebecca, sendo Church mais direta ao ponto e sem dramas adicionais. Mas, como outras que foram introduzidas ao longo da temporada, essas mulheres da vida de Brian são como o vento. Parece que apenas Rebecca veio para ficar…(apesar de não gostar da idéia de um envolvimento amoroso entre os dois – me incomoda o fato de toda série precisar de um casal. Mas ok, para algo que fatidicamente vai acabar acontecendo em um futuro).
Falando na agente Harris, não sei como Sanders achou que ela aceitaria a proposta de emprego dele e, se essa foi mesmo a intenção dele. Acredito que ele não vá matá-la (ela é uma da protagonistas), mas houve um momento interessante em que ela conseguiu mostrar para ele um pouco do que é capaz. As vezes eu fico um pouco impressionada com a Rebecca, mesmo sem o NZT ela está a frente dos seus colegas e na esteira de Brian. A epifania dela sobre toda a verdade é apenas uma questão de tempo.
Outra coisa que apreendemos (do verbo apreender mesmo) foi a informação de que Sands não é do jeito que é por pura vilania. Rebecca conseguiu desvendar um pouco da vida do capanga de Morra ao revelar para nós que ele era um agente de elite da britânica MI6 e que por algum motivo que talvez venha a tona, aceitou o cheque em branco do Senador Morra. Isso tudo dá um pouco mais de profundidade para o personagem, abrindo novas possibilidades para ele dentro de Limitless – afinal, ele é a "conexão direta" com o candidato a presidência e, infelizmente, o Bradley Cooper não pode nos presentear com os seus sufocantes olhos azuis todas as semanas…Ou seja, é importante dar algum tipo de motivação para Sands estar onde está, servindo como mais uma engrenagem para a edificação da trama.
Depois disso, era óbvio que ele não iria deixar Rebecca seguir com a sua vida tranquila – mas também parece que ele não vai comprar de presente uma passagem para a cidade dos pés juntos para ela. Sands parece estar interessado em saber onde a moça pode chegar e ao final, descobrimos que ele pode ter algum tipo de conexão mais sensível com o pai dela. O que será que aquele cara das câmeras quis dizer? Qual via eles vão pegar para lidar com as incursões cada vez mais contundentes de Rebecca?
Fique agora com a promo de Sands, Agent of Morra, que vai ao ar dia 23 de fevereiro.
E você? O que achou do episódio? Fique a vontade para dividir suas impressões conosco!
Observações:
– Só notei os bonequinhos do Mike e do Ike em Undercover! Me julguem!
– Eu também acho que todo mundo fica bem de terno.
– Undercover! foi diferente pois Brian não estava sob o efeito do NZT quando ele e Lucy estavam para capturar a peça chave no esquema do tráfico de mulheres e, mesmo assim, ele foi imprescindível para a resolução "pacífica" do caso.
– Não sei se vocês assistiram ao filme Sem Limites, mas Ed Morra também se aventura no mercado financeiro, porém com motivações diferentes. A série poderia investir um pouco mais em paralelos entre os dois personagens.
– Mais uma do vocabulário Finch: Bollywood = sexo. Vamos anotando para fazer nosso dicionário!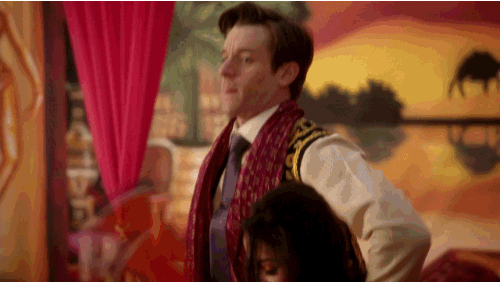 – Até semana que vem!