Amanhã (27/09), a comédia que reúne os melhores-piores detetives da TV está de volta e a equipe do Apaixonados por Séries não poderia estar mais feliz com a notícia. A série que ganhou o Globo de Ouro de Melhor Comédia logo em seu ano de estreia traz no elenco nomes como Andy Samberg, Andre Braugher, Terry Crews, Joe Lo Truglio, Melissa Fumero e Sthepanie Beatriz.
Foram duas temporadas de altos e baixos de Brooklyn Nine-Nine. No aquecimento para o retorno, reunimos aqui 9 dos melhores e mais engraçados momentos da trama. Vamos conferir?
O caso de amor e ódio entre Holt e Wuntch
Todos sabem que o capitão Holt é um dos homens mais fechados que já se tem notícia. Mas se tem uma pessoa que consegue tirá-lo do sério é a Wuntch. Ela apareceu como uma das assombrações de seu passado para se tornar o tormento do presente (e futuro). O melhor de tudo é que, quando se trata de sua "vingança", vemos Holt em sua melhor forma: com um misto de piadas minuciosamente planejadas e reações um tanto espontâneas, muitos insultos e o que nos leva ao próximo item: os flashbacks.
Flashbacks do capitão Holt
Talvez esses sejam os meus momentos preferidos de sempre. Quando o jovem Holt, seu bigode e o terno colorido aparecem, não precisa de mais nada para provocar as mais genuínas gargalhadas. Quando ele aparece com a jovem Wuntch então, melhor ainda!
O caso entre Gina e Boyle
Tudo começou com uma noite de bebedeira e o fim do relacionamento de Boyle. Mas o que era pra apenas uma noite acabou virando uma sequência de encontros entre ele e Gina. Então, na verdade, esse item equivale a uma série de momentos épicos em que dois dos melhores personagens de B99 estiveram em um romance que nenhum de nós poderia esperar – e que, no final das contas, shippar aqueles dois foi inevitável.
Johnny e Dora
A equipe tem vários métodos para capturar os procurados e os melhores são quando envolvem planos com muita atuação envolvida. Para quem no fundo torce por Amy e Peralta, o 23º episódio da segunda temporada foi um primor. O tão aguardado primeiro beijo deles aconteceu! E o melhor: não apenas um, mas vários deles. Afinal, depois de duas temporadas inteiras na base do flerte e de implicâncias bobas, eles finalmente aproveitaram um pouco do sentimento.
Os episódios de Halloween

Se tem uma coisa que B99 sabe fazer é episódio temático. Dos melhores, com certeza estão os de Halloween, especialmente o da segunda temporada. Nele, vimos a rivalidade entre capitão Holt e Peralta chegar a níveis extremos. O resultado foi uma corrida insana, trocas de aliados e um Peralta aprendendo uma importante lição: ele não pode vencer a genialidade de seu capitão.
The Jimmy Jab Games
Já ouviram que, quando o gato sai, os ratos fazem a festa? Na 99ª delegacia de polícia do Brooklyn não foi diferente. Com Terry e o capitão Holt fora, a oportunidade para a bagunça, liderada por Peralta, estava montada. E teve de tudo na sétima edição do Jimmy Jab Games – circus of fools, inclusive o Scully à frente do "cântico de abertura" dos jogos. Aliás, esse é um dos melhores episódios da série, vale a pena rever.
Kwazy Cupcakes
Na época em que o Candy Crush era uma febre, os nossos personagens preferidos não podiam ficar de fora do vício. Tudo começou com Gina, que, como já percebemos, não precisa de muito para se distrair do trabalho. Ninguém esperava que o capitão Holt seria "contaminado" por esse vício também e, claro, tentando esconder essa fraqueza de todos os funcionários. Como todo bom viciado, ele até começou a pensar a vida real como o jogo, chegando a trocar os suspeitos de lugar pra formar uma combinação.
A festa na casa de Holt
Aqui, vimos o motivo de Holt ter quase vergonha de apresentar seus colegas de trabalho para o marido – afinal, que boa impressão Jake Peralta poderia causar? Aliás, "causar" foi só o que ele fez. Mas além de todas as trabalhadas da festa e da Gina sendo amada pelos convidados (sendo um ótimo objeto de estudo), foi um dos melhores momentos porque Holt abriu eu coraçãozinho e confessou que gosta de sua turma.
Boyle dá uma de herói e leva um tiro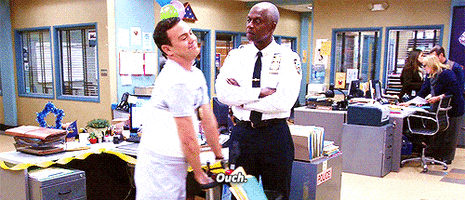 Lá no comecinho da série, na época em que Boyle era apaixonado por Rosa, ele não mediu esforços para bancar o herói e salvar a moça. As consequências foram desastrosas – para ele, porque para nós ficava cada vez mais hilário. Além de ter ficado imobilizado (o trabalho que ele deu para os colegas foi impagável!), ainda ficou sem o reconhecimento pelo seu ato de bravura. Ao invés disso, o sargento Peanut Butter levou todo o crédito. Tudo fica ainda mais engraçado quando descobrimos que o sargento, no caso, era um cavalo.
Menções honrosas:
– Todas as cenas da Gina – afinal, é só ela aparecer que o riso é garantido.
– Quando tem referências a Friends. Quem não ama referências a Friends?
– Quando Holt encontra seu sorriso.
Depois de tantos bons momentos, estão ansiosos para o retorno da série? Confira o trailer:
Agora contem pra gente: quais os momentos preferidos de vocês? Esquecemos algum na lista? E de qual personagem vocês mais gostam? Venham comentar aqui! E não percam as reviews de Brooklyn Nine-Nine toda semana aqui no Apaixonados por Séries!