Sabem aqueles hiatos que parecem longos demais? É isso que eu sinto com séries como The Walking Dead. Com temporadas não tão longas quanto o usual, sempre que um ano acaba, a expectativa sobre o futuro da história e dos personagens já começa assim que rolam os créditos. Daqui a uma semana estreia a 6ª temporada de TWD, que provalmente vai dar continuidade a ótima narrativa da ultima (para mim a 5ª temporada foi a melhor de todas) e certo de que a série está vindo novamente para bater todos os seus records, seja de audiência ou de quantidades de zumbis por metro quadrado.
Como estamos muito ansiosos por esse novo ano, reunimos todas as informações e previsões do que podemos esperar de mais uma fase na vida de Rick e sua família. Segura na minha mão e vem conferir!
O que sabemos da 6ª temporada: Rick vs o mundo
A primeira parte do 5º ano foi dedicado ao impacto dos canibais do Terminus sobre os protagonistas. Depois do Governador, isso foi a gota d'água na descontrução psicológica de Rick que passou a desconfiar de qualquer pessoa que não fosse do seu grupo. Por isso ao se deparar com Alexandria, que em tese seria a tão sonhada estabilidade para o grupo, as coisas ao invés de melhorarem, ficaram bem difíceis. Se encaixar em uma comunidade que parece não ter tido a mesma dificuldade para sobreviver foi um dos percalços que todos tiveram de lidar.
Toda tensão entre os moradores e os sobreviventes do grupo de Rick culminou na morte de Pete – marido abusivo de Jessie, por que Rick claramente sente algo. A cena representou uma virada na história, pois depois de ter seu marido morto por Pete, Deanna finalmente percebeu que o modus operandi do ex-xerife seria vital para a manutenção de Alexandria. Mas a violência do personagem deve deixar os outros moradores temerosos, criando uma divisão invisível porém palpável entre os grupos, que serão obrigados a conviver e cooperar.
Toda essa desconstrução do protagonista vai ficar ainda mais evidente com o seu reencontro com Morgan, o homem que o ajudou assim que ele saiu desnorteado do hospital e encontrou um mundo completamente diferente. Do pouco que vimos do personagem interpretado por Lennie James, vimos que ele também passou por uma jornada semelhante a de Rick. Ao perder sua família, ele se transformou em um quase maníaco suicida por causa do luto. Morgan reapareceu completamente diferente, podendo ser comparado facilmente ao mestre Yoda. Completamente zen e dando muito valor a vida, ele se colocara com um nome de peso para contrapor Rick na 6ª temporada. Rick o ouve e o respeita, criando uma dinâmica bem interessante para a narrativa.
Wolves
O W foi uma dos elementos mais presentes na 5ª temporada de The Walking Dead. Sem dizer o que era, nós vimos que quem estava marcando muros, vivos e mortos com ele, estava causando muitos estragos. Os Wolves foram uma ameaça latente e, que agora, finalmente deve dar as caras para atrapalhar a "harmonia" de Alexandria. Eles são um grupo de saqueadores que atacam Alexandria nos quadrinhos e servem para provar que as preocupações de Rick com a segurança da comunidade são reais. Porém nas HQ's o grupo não tem tanta relevância quanto outro, conhecido como Salvadores, bem maior e melhor organizados, liderados pelo famoso Negan, um homem violento que com seu grupo, subjulga s grupos de sobreviventes que encontra pelo caminho. Na minha humilde percepção, a série pode criar um mix entre os Wolves e os Salvadores, e se essa minha impressão estiver correta, preparem-se, pois é promessa de muita violência para o futuro de The Walking Dead.
Muitos Zumbis!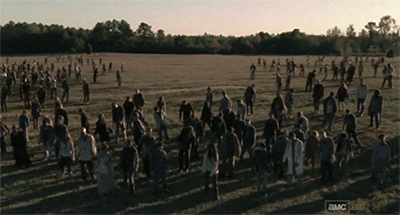 Uma das notícias muito repercutidas durante o badalado painel na Comic Con é que teríamos um número recorde de zumbis. O episódio inicial First Time Again – que terá mais de uma hora de duração – contará com uma horda de mais de 650 mortos vivos, que atacarão Alexandria. Já foi dito também que a série brincará com a linha temporal, então muito provavelmente a cena pode ser um flashfoward. Ou seja, com o decorrer da história deveremos entender os elementos que levam essa verdadeira tragédia a acontecer. Será o fim de Alexandria? Quantas vítimas esse ataque fará? Mal podemos esperar para saber!
Episódio Flashback
Nós nunca vimos muito da vida dos personagens antes do apocalipse zumbi. Na verdade, quase nada além de Rick, algo sobre o governador e do filho de Michonne. Mas isso deve mudar com a 6ª temporada. Pode ser que seja algo envolvendo a trajetória de Morgan até encontrar Rick em Alexandria, ou também podemos vir a entender como a comunidade se estabeleceu. Possibilidades são inúmeras e eles não apostariam em mostrar o passado se ele não fosse relevante para a história. A unica coisa que sabemos é que esse episódio deve ser um dos últimos antes do hiato.
Negan
Todos queremos que o Negan apareça logo na série. Especulações sobre a introdução de um dos maiores vilões dos quadrinhos sempre aconteceram, mas agora está muito mais possível, algo em torno de 99% de chance. Nos quadrinhos Negan é o lider de um grupo chamado The Saviers, usando a política do medo para comandar a sua comunidade. Ele chega até a escravizar mulheres, tendo quase um harém de esposas. Ele começa a cobrar um imposto das comunidades vizinhas a sua, e é claro que ele acabaria enfrentando uma resistência em Alexandria. Ele então acaba despejando toda sua brutalidade em cima de um dos nossos personagens mais queridos, matando-o com toda violência possível – isso deve acontecer nessa 6ª temporada. Nos quadrinhos, Jesus é o braço direito de Rick nesse confronto, sendo o único capaz de subjulgar o ditador. A escalação de ator ainda não foi feita ou está sendo mantida em segredo, mas a expectativa é grande.
Novos Personagens
A 6ª temporada parece focada em se aproximar dos quadrinhos. Alexandria é um marco muito importante nas HQ's, então nada mais justo do que nomes icônicos saltem das páginas direto para tv.
Corey Hawkins dará vida à uns dos personagem queridinho dos fãs dos gibis – Heath – que trabalhará em Alexandria na busca por suprimentos, com coragem para dar e vender. Não sabemos ainda como ele será introduzido, mas tendo em vista declarações dos produtores executivos, nós não vimos todos os habitantes da comunidade na 5ª temporada. Nas HQ's ele se relaciona com Denise Cloyd, outra personagem importante que será personificada pela atriz Merrit Wever.
Cloyd é médica e, depois da morte de Pete no season finale, ela deve se transformar em uma das pessoas mais influentes e relevantes em Alexandria. Nos quadrinhos ela é crucial para a sobrevivência de um dos protagonistas, mas ainda não sabemos se isso será contado na série – mas chutaria que sim, veremos um personagem que acompanhamos desde o princípio entre a vida e a morte.
Etham Embry se juntará ao elenco dando vida à Carter. O nome não é familiar para ninguém, já que o personagem é uma criação exclusiva para a série de tv. Scott Gimple, um dos produtores da série, revelou que ele é uma mistura de vários personagens e que não terá um relacionamento muito bom com Rick – mas isso não será algo incomum de se ver nesse novo ano…
Xander Berkeley foi recentemente adicionado também no time de The Walking Dead, mas não sabemos ainda a sua real função na história, além do fato dele ser um narcisista, focado em sua preservação e que poderia ser comparado a políticos, no que tange saber se vender. A teoria é que ele venha a ser Gregory, o líder de uma outra comunidade nos moldes de Alexandria, Hilltop. Como o nome sugere, ela fica no alto de uma montanha e tem interesse em estabelecer parcerias com outras comunidades para negócios. É provavelmente o grupo com o maior espaço físico e contam com produção interna de alimentos, roupas e armas brancas.
Apesar de todos esses novos nomes, a notícia de escalação mais comemoradas pelos fãs da série foi a do ator Tom Payne. Ele será responsável por dar vida ao icônico Jesus, outra figura de liderança de Hilltop. Paul Monroe, apelidado com o nome do filho de Deus por causa de sua aparência, é um do personagens relevantes e queridos dos quadrinhos por conta de sua personalidade e habilidades pitorescas – isso inclui usar a capoeira contra inimigos e zumbis, se desviar a là Matrix de tiros, escapar de armadilhas e se esgueirar para dentro de lugares sem ser notado. Recentemente foi revelado o fato dele ser homossexual, o que gerou muito burburinho entre os leitores dos quadrinhos, o que faz sua aparição ser algo ainda mais representativo para a série.
---
A 6ª temporada estréia dia 11 de outubro, e a Fox fará a exibição simultânea aqui no Brasil.
Confira o trailer que foi liberado durante a Comic Con:
E você? Ansioso para reencontrar Rick e Cia.? O que você espera desse novo ano? Sinta-se em casa para colocar tudo para fora!