Em agosto não se fala de outra coisa além de pokemon esportes. Até quem normalmente não acompanha vôlei, futebol, ginástica, nada, tem parado um pouco com as séries pra poder assistir o Brasil ganhando (ou perdendo também, por que não?) alguma coisa.
E pra entrar no clima, preparamos esse especial com alguns momentos marcantes das séries – tenham elas o esporte como protagonista ou não.
Friday Night Lights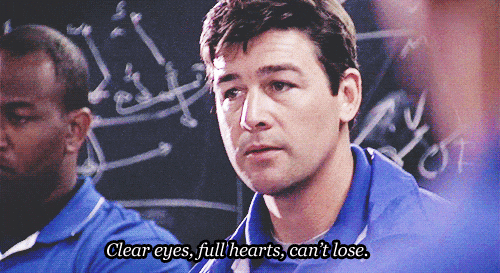 "Clear Eyes, Full Hearts, Can't Lose". Esse é o lema do Coach Taylor e que não paramos de repetir enquanto vemos a série Friday Night Lights, que tem o futebol americano como um de seus personagens principais. Um dos episódios mais emocionantes da série é o Mud Bowl (1×20) em que, por causa de um acidente, os Panthers perdem seu campo de jogo e para não terem que jogar no território inimigo, os jogadores constroem um novo campo que, devido à chuva, se transforma num mar de lama durante o jogo, que se torna um dos mais memoráveis da série. Depois de muita luta, os Panthers vencem o jogo e vão à final estadual.
por Olívia
Parenthood

O baseball sempre foi uma parte importante de Parenthood. Apesar de não aparacer muito, é com uma partida de baseball que a série começa e é com ele que ela se encerra. Quem acompanhava os Braverman sabe: eles são capazes de se divertir com tudo! Desde um almoço simples de família, até conversar sobre insetos, então imagina com uma partida de baseball? Ao longo das seis temporadas, vira e mexe vimos os Braverman juntos praticando seu esporta favorito e foi assim que dissemos adeus a série. Todos juntos, homenageando Zeek e espalhando as cinzas do patriarca pelo campo. A pedido dele, claro.
por Cristal
The Mindy Project

Se você assistir a qualquer episódio de The Mindy Project, vai logo perceber que a doutora Mindy Lahiri foge de esportes mais rápido do que o diabo foge da cruz. E também vai notar que ela é uma amiga dedicada e faz de tudo pelos queridos. É assim que a história do episódio 4×23, There's No Crying in Softball, se desenrola: Mindy tendo que jogar baseball (oops, softball) para salvar a reputação da clínica, a enquanto esconde dos colegas de trabalho que tem um novo namorado – plano que vai falhar, como em toda comédia romântica quase perfeita. Claro que Drew, além de bonito e fofo, é treinador do time de futebol americano de Princeton e justamente a pessoa que o time da Shulman & Associates precisava para colocar as coisas em ordem e fazer até a Mindy conseguir acertar uma jogada. O primeiro namorado de Mindy pós-Danny ganhou nossos corações.
por Bianca
Glee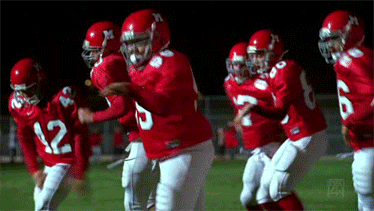 Uma das muitas lições que aprendemos em Glee é que mesmo os padrões dizendo que você não pode fazer, sim você pode fazer. Não é diferente no episódio 01×04 (Preggers), onde Kurt não saiu do armário e não sabe lidar com essa situação frente a seu pai – é quando tem a brilhante ideia (graças à Brittany) de entrar para o time de futebol americano da escola, com a ajuda de Finn. Como tudo na comédia acaba (ou começa) em música, o novo kicker da turma coloca todo mundo pra dançar ao som de Single Ladies – Beyonce e ainda marca um super gol!
por Fabíola
Grey's Anatomy

Esportes em Grey's Anatomy são raríssimos. Mas o episódio 8×07, Put Me In, Coach, é um dos melhores da 8ª temporada da série, porque ele traz realmente um momento muito especial, que acontece em quase todas as 12 (quase 13) temporadas: a tentativa de todos conseguirem trabalhar juntos, muitas vezes sem sucesso. São diversas opiniões e pensamentos muito difíceis de se unirem e formarem um consenso, mas essa é justamente a reflexão que a inclusão do esporte nesse episódio quer que nós façamos. A tentativa e o erro dos personagens jogarem baseball, as brigas, as discussões, todas fazem com que sejamos guiados até o pensamento final: "Podemos não ser sempre vencedores. Mas não somos preguiçosos. Arriscamos, corremos atrás, fazemos nossos cercos. E às vezes, sim, nós fracassamos. Mas, às vezes, conseguimos uma bela vitória.". O baseball faz com que o time de cirurgiões egocêntricos se entenda por pelo menos um minutinho que, por mais que curto, é muito em terras de Grey's Anatomy.
por Bernardo
One Tree Hill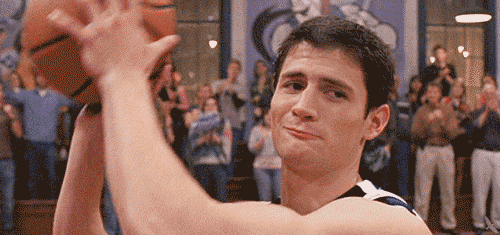 "A melhor série já feita sobre o universo esportivo tem nome: One Tree Hill (Lances da Vida). Não tem discussão. Muita gente pode até dizer que é uma série sobre um grupo de amigos em uma cidade pacata, mas ela na verdade respira basquete. Não tem como separar as histórias dos personagens com o relacionamento que eles tinham com o esporte. E aí que está o problema. Como decidir somente um momento marcante em nove temporadas, 187 episódios? Não tem como! Eu poderia escolher o brilhante 4×09 (Some You Give Away) , com a decisão do campeonato estadual pelos Ravens, que mostra Nathan quase entregando a partida para parar dívidas. Ou até mesmo o episódio piloto com a disputa de basquete de rua entre Lucas e Nathan. Mas eu preferi fugir um pouco do óbvio e escolhi o 3×20 (Everyday Is a Sunday Evening). Todo o espírito que o basquete proporciona, a mensagem motivadora dita pelo técnico e com a espetacular cesta de 3 seguida de falta no estouro do relógio de Nathan é, sem dúvidas, o melhor símbolo possível esportivo.
por Virgínia
Switched at Birth

É comum séries teen terem esportes como plano de fundo, mas Switched at Birth levou o tema pra outro nível, juntando esporte e inclusão social. A série dá um enfoque maior em pessoas com deficiência auditiva mostrando suas dificuldades e formas de superação. Uma cena linda acontece no episódio 1×20 Game On, quando Daphne está nervosa com o fim do campeonato de basquete, com medo de errar e decepcionar toda a comunidade que ela representa. E no último lance, para poder se concentrar, ela desliga o aparelho auditivo e o silêncio reina na quadra. A beleza da cena é que pudemos nos conectar com ela e com toda a situação, pois também ficamos sem ouvir nada. É muito emocionante a vitória do time!
por Aniele
Younger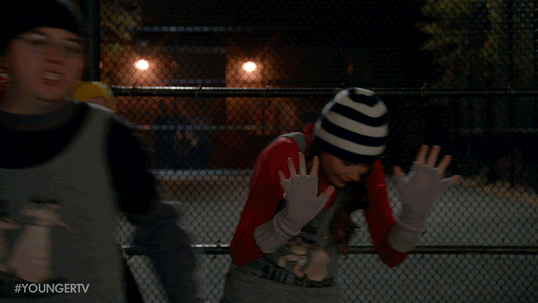 Pra quem não conhece Younger (tá em tempo!), a série conta a história de Liza, uma mulher de 4o anos que decide fingir que tem 26 pra conseguir um emprego. E quem já chegou nos 30, sabe: não há nada mais traumatizante do que decidir malhar/ir pra academia/praticar qualquer esporte depois de muito tempo parado. Liza sentiu isso na pele ao se arriscar no dodgeball (a boa e velha queimada) com o namorado Josh e o resultado não poderia ter sido diferente. Liza levou uma baita bolada na cara e saiu da partida comum baita machucado e uma história pra contar.
por Cristal
---
E você? Lembra de algum momento marcante com esporte nas séries? Vale de tudo, de drama à comédia, qual é aquele momento que você sempre acaba lembrando?