Que saudades que eu tava de House! Pra mim, o episódio já começou interessante. Quando vi que a Donna de That '70s Show seria a paciente da semana, já fiquei feliz. Depois, veio Chase, Wilson e House em um speed dating. Adorei a leveza da cena, sabe? Foi muito engraçado ver Wilson falando de câncer com todas as mulheres, House diagnosticando a policial e Chase sem sotaque! Foi uma das cenas mais divertidas que já vi na série. Além disso, pra transformar o episódio em um dos meus preferidos: be not afraid. Gente, ri muito vendo Wilson como um ator pornô. A cara de desespero dele quando o House anunciou que estava com a cópia do filme foi impagável. Adorei todo mundo do hospital fazendo chacota da cara dele, dizendo pra ele não temer. Até a secretária e a mulherzinha da cantina! E a cena final, então? Cuddy mandando a manutenção tirar o banner foi ótimo.
Falando em Cuddy, ela quase não apareceu. O que já era esperado, considerando que o episódio passado foi inteiro sobre ela. A cara de desdém dela pro House quando ele perguntou se ela queria dar uns amassos foi ótima. Fiquei surpresa em terem trazido o pai biológico do House de volta. Ele tinha sido mencionado na temporada passada (acho) e desde então nunca mais, então foi bom ver que não esqueceram que ele existe. Será que um dia vamos conhecê-lo? Espero muito que sim, pois não faria sentido algum trazerem a trama de volta e deixarem ela jogada sem servir pra nada. Gostei muito do que Wilson falou, que House procura alguém com quem possa se identificar e não consegue encontrar.
Ainda não consigo acreditar que só agora o Chase foi descobrir que é bonito. Ele nunca tinha se olhado no espelho? Eu gostei das interações dele com Wilson, os dois formam uma ótima dupla. Também tô gostando da amizade dele com a Thirteen e juro que não queria eles juntos mas tô quase embarcando nesse trem. Não consigo ver gente bonita e não achar que eles devem repovoar o mundo. Mas ainda sinto falta da Cameron e acho que vou sentir pra sempre.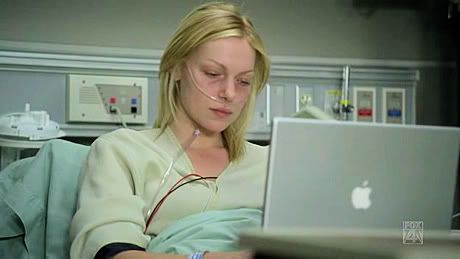 Gostei bastante do caso da semana. Foi interessante ver uma blogueira mostrada de maneira um tanto quanto realista, pois sempre que vejo o mundo da internet retratado na televisão é de um modo bem caricato. Ela devia ser mega famosa, porque pra receber até oferta de doação de rim, hein? Não sei se era porque fazia tempo que eu tinha visto House, mas juro que dessa vez achei que a paciente fosse morrer mesmo. Mas, pra variar um pouco, Wilson foi fonte de um insight bem inspirador e House descobriu o problema da mulher a tempo.
P.S.: só eu achei o marido dela parecido com o Bill de True Blood? ;P