Atire a primeira pedra quem não vê séries com o celular na mão – seja para conversar sobre o episódio com amigos, compartilhar o que está assistindo nas redes sociais, buscar uma música no Shazam, consultar o elenco no IMDb, atualizar o TVShow Time, ou até jogar Candy Crush Saga se a trama estiver chata. É nossa realidade. Do outro lado da TV, algumas produções já acompanham esta evolução e, como resposta a isso, incorporam o uso intenso dos smartphones em sua linguagem audiovisual. A tecnologia tomou conta do mundo. Tá tudo dominado.
Antes, havia três opções para o conteúdo dos torpedos recebidos pelos personagens: 1) eram mantidos em suspense, como estratégia narrativa; 2) a câmera lentamente filmava o visor do celular e do computador; 3) os personagens liam em voz alta feito idiotas. Tudo bem, muitas séries ainda funcionam assim. Mas a coisa tem mudado: hoje vemos mensagens esplanadas na tela, se esparramando pela paisagem, como uma nova ferramenta estética para contar histórias. O videografismo nos permite invadir o psicológico dos personagens e observar suas reações imediatas (e até se estão mentindo), à medida em que leem mentalmente as mensagens. (Quer dizer, quando a proposta é que nós realmente saibamos o conteúdo, vide o item 1.)
Aposto que, se houvesse um remake de Gossip Girl hoje, abusariam deste truque. Ninguém abriria mão da narradora – afinal, a voz da Kristen Bell é insubstituível -, mas as publicações da "garota do blog" provavelmente apareceriam em destaque. Talvez o clássico "XOXO", ao final de cada episódio, virasse um emoji. Sei lá, estou viajando na maionese. Mas é exatamente esse brainstorm de possibilidades que as séries precisam fazer a fim de encontrar uma identidade visual. O artifício precisa corroborar com a proposta da série – ou nem faz sentido estar lá.
Se falamos de uma comédia, como The Mindy Project, tudo bem usarem balões precários, coloridos, e botarem o personagem para narrar as mensagens em voz alta, numa entonação cômica (mesmo que o texto já apareça escrito na tela). Esta estrutura soma com a missão da série: ser engraçada. Nos episódios, Mindy (Mindy Kaling) e os amigos reproduzem verbalmente até os emojis – como "winky face" (😉) ou a famigerada berinjela…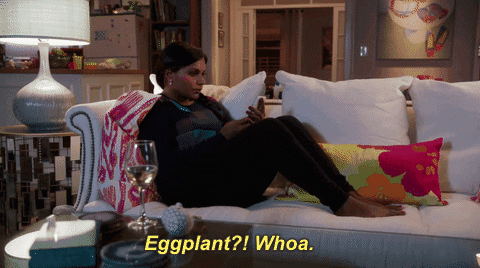 Dramas mais sofisticados, como House of Cards e Sherlock, que usam esta ferramenta com frequência, jamais poderiam seguir a linha artística de The Mindy Project. A série de Frank Underwood (Kevin Spacey) se mantém fiel aos balões com que estamos familiarizados no nosso cotidiano, com o mesmo formato e cores. Isso dá credibilidade à seriedade da trama política. A inserção dos chats contribui para a narrativa de House of Cards e amplia nosso vínculo com o protagonista, que já tem o hábito de quebrar a "quarta parede" e se dirigir diretamente aos espectadores. Ficamos, cada vez mais, dentro da série.
A apropriação do videografismo vai ainda mais longe em No Tomorrow – uma adaptação da brasileira Como Aproveitar o Fim do Mundo, da TV Globo, cuja linguagem visual não adota este modelo. A americana, exibida pela The CW, inova a estética em diversas situações. Evie e Xavier mantêm uma lista de metas para cumprirem antes do fim do mundo e, a cada item bem-sucedido, vemos a ação riscada no caderninho e também na tela.
Em outros momentos, podemos acompanhar um aplicativo de encontros de Evie, que é acionado no vídeo toda vez que a personagem encontra uma nova "alma gêmea". Parece jogo de futebol, quando a bolinha avisa que há um gol em outra partida. A brincadeira dá graça à narrativa – especialmente quando o tal aplicativo não pára de apitar, deixando a personagem constrangida. De novo: a ferramenta agrega valor à história e não é usada por acaso.
Num episódio de Jane the Virgin, acompanhamos o personagem Rafael digitar "I love you" para Jane e se arrepender, enquanto ela, do outro lado, só vê aqueles irritantes três pontinhos. É assim que a série atinge excelência na linguagem que se propõe a fazer.
Assim como No Tomorrow, Jane the Virgin não se limita a smartphones e computadores. A narradora da série cria listas e hashtags, que se destacam na tela e são fundamentais para a compreensão da trama. Me lembro de assistir ao primeiro episódio, desavisada, e quase perder um destes textos por estar distraída. Esta é uma forma de fixar a atenção dos espectadores – que, como dito no início do post, está constantemente em disputa com os celulares do mundo real.
A tecnologia não para de evoluir. Nem toda série combina ou precisa deste formato audiovisual, mas é interessante que roteiristas e diretores comecem a se adaptar à realidade. Não faz sentido que, em 2017, personagens ainda falem tanto ao telefone (e continuem sem dar tchau antes de desligar, que rude!) ou até apareçam na casa dos outros somente para trocar um diálogo bobo – mesmo que isso dê movimento à narrativa. As pessoas não agem mais assim. A inserção de mensagens na paisagem surge, nos últimos anos, como uma resolução possível. Mas não é a única. Com sorte, veremos outras propostas inovadoras daqui para frente.