Um desavisado que vir Superior Donuts, cuja primeira temporada está em exibição pela CBS, pode imaginar que é reprise de uma sitcom dos anos 1990. O cenário de uma loja de donuts antiquada, em Chicago, e as risadas enlatadas trazem esse sentimento nostálgico. E nostalgia é sempre uma ferramenta infalível para atrair o público. Não me entenda mal: nós até gostamos de novidade, mas algo totalmente novo seria desconfortável. Precisamos nos comunicar com boas lembranças também. Em tempo de séries mirabolantes, é bom ter uma sitcom simples e bem feita.
Toda essa nostalgia passa rápido e logo nos damos conta de que estamos em 2017: basta um personagem fazer piada para percebemos que a comédia está em sintonia com a atualidade. Sem receio, a maioria das falas é uma provocação ao racismo e à segurança social – e muita gente compara Superior Donuts com a também novata One Day at a Time, da Netflix. As piadas são ditas com tanta naturalidade, que nos fazem pensar sobre nossa realidade (e rir – ou seria uma péssima sitcom, certo?).
Segundo o estudioso de sitcoms Scott Sedita, uma boa "comédia de situação" segue a regra dos oito arquétipos de personagens. E Superior Donuts passou neste teste. Arthur (Judd Hirsch) é um judeu de 75 anos, dono da loja de donuts tradicional em Chicago, onde a maior parte das tramas acontece. Logo no primeiro episódio, ele contrata Franco (Jermaine Fowler), um jovem negro que toma como objetivo modernizar a loja – criar novos sabores de donuts e uma conta no Instagram, por exemplo. Arthur tem dificuldade para confiar em Franco, no início, mas garante que não é pela cor da pele: a única funcionária que a loja já teve, além do próprio dono, era sua esposa, já falecida. Com o tempo, a dupla cria uma parceria inevitável.
A rivalidade com o Starbucks, do outro lado da rua, também é ingrediente para mostrar a tradição da Superior Donuts. Nem ouse pedir uma bebida com leite de amêndoas: só tem café puro ou com leite normal. Algo me diz que o Homer Simpson não se importaria com isso, contanto que os donuts estivessem lá. Essa dualidade entre o novo e o velho (na loja e no perfil dos protagonistas) dialoga perfeitamente com o clima que a série se propõe a transmitir. A dupla Arthur e Franco já seria capaz de aplicar muitas piadas, mas o elenco é mais diversificado ainda. A loja tem clientes fixos, que estão sempre lá para o bem da narrativa.
Maya (Anna Baryshnikov), uma estudante de psicologia que frequenta a Superior Donuts porque não há Wi-Fi para a distrair, representa os "brancos privilegiados". Ela provavelmente entraria na cota de personagens materialistas, na lista de Scott Sedita. Tush (David Koechner) está desempregado e sempre disposto a fazer os bicos mais inimagináveis para ganhar um trocado, desde passear com cachorros até ser cobaia de cosméticos novos. Tá aí uma boa crítica à crise econômica americana. Sweatpants (Rell Battle) é o melhor amigo de Franco – um verdadeiro Kel para o Kenan, que só faltava amar refrigerante de laranja -, mas só aparece de vez em quando. Bom, ele já se fantasiou de donut gigante para fazer propaganda da loja, o que conta muitos pontos.
O iraquiano Fawz (Maz Jobrani), dono da lavanderia na mesma rua, começa a série insistindo em comprar a loja de Arthur a fim de expandir seus negócios. Depois parece desistir: o personagem, super racista, se transforma numa válvula para mais piadas e inquietações. Ele é um favoritos dos fãs – basta olhar os comentários no TVShow Time para ter uma ideia.
Law and order… another donut!
Em Chicago, não poderia faltar uma dupla de policiais. E, se estamos falando de sitcom, certamente um deles é meio burro – mais uma categoria indicada por Scott Sedita. Em Superior Donuts, James (Darrien Sills-Evans) é este sujeito. Ele sempre faz besteira e leva bronca da parceira, Randy (Katey Sagal), uma mulher esperta e ácida. A personagem é usada para abordar discretamente o feminismo, embora não fique claro de que lado desta bandeira ela está.
Os policiais também entram no hall de piadas da série, que não se intimida para cutucar a corrupção, o abuso de poder e a lei do armamento – uma questão muito debatida nos Estados Unidos e, mais especificamemte, em Chicago, a cidade mais populosa de Illinois, onde os personagens vivem.
É claro que Superior Donuts precisava ser uma "comédia multicâmera" na TV – que tem como característica principal um cenário partido, sem uma das paredes, para que a plateia possa assistir e aplaudir à gravação no local, como acontece com a colega de CBS The Big Bang Theory. A nova série é baseada numa peça de teatro homônima (foto abaixo), escrita por Tracy Letts em 2008.
Esse clima de arena é transportado para dentro do estúdio. A CBS e os produtores (entre eles, James Burrows, responsável por Will & Grace na NBC) acertaram no timing para levar Superior Donuts do palco para a telinha: logo agora que os americanos estão nas mãos do presidente Donald Trump. Parece um bom momento para a TV aberta escancarar como esse preconceito (principalmente racial) permeia o cotidiano das pessoas.
Você provavelmente não vai querer assistir aos episódios de Superior Donuts em maratona. Algumas piadas são repetitivas, o que deve fazer parte da estratégia – repetir até as críticas entrarem na cabeça do espectador – e pode ficar cansativo numa dose só. Mas a sitcom é ideal para assistir semanalmente, quando quiser rir dos absurdos do mundo lá fora. E pode curtir à vontade, porque já tem segunda temporada garantida pelo canal.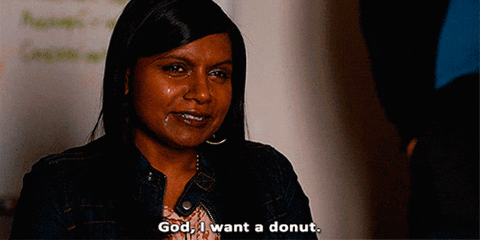 Ah! Mais uma informação importantíssima: o balcão, cheio de donuts fresquinhos, vai te deixar com água na boca para comer essa rosquinha tipicamente americana. Eu mesma estou comendo um donut agora, enquanto escrevo este texto – sorry, Arthur, o meu é do Starbucks mesmo. Cadê a filial da Superior Donuts perto da minha casa? Agita isso aí, Franco.