Melhor episódio até agora em uma temporada que só cresce a cada semana, The Darkness and the Light nos fornece 42 minutos que me lembram porque eu gosto tanto de The Flash. Se o tema do episódio anterior foi escolhas, aqui o foco esteve na consequência de tais escolhas. Barry escolheu confiar no Harrison Wells da Terra 2, escolheu dar um passo adiante em seu relacionamento com Patti, escolheu enfrentar Zoom. E escolheu não fazer isso sozinho. A chegada do novo Wells vem como um reforço ao time que, mesmo recebido com uma aversão totalmente compreensível, é necessária.
É impressionante como Tom Cavanagh tem uma presença forte em cena. Mesmo estando 4 episódios longe da ação, parece que o personagem nunca saiu de cena e o modo com que Wells lidou bem com a rejeição inicial sofrida graças as ações de sua cópia foi uma das coisas mais legais de se acompanhar no episódio. Como eu disse na abertura, é perfeitamente compreensível que Cisco, Caitlin, Barry, Joe e Iris se sintam acuados diante da presença de Wells. Por mais que o cérebro saiba que aquele não é o homem responsável pelas mortes de Ronnie e Iris, a situação é complicada. É nesse momento que Barry mostra, mais uma vez, o quanto evoluiu: Nosso velocista toma as rédeas da situação e escolhe aceitar a presença de Wells porque sabe que, de uma forma ou de outra, isso pode ser importante na luta contra Zoom.
Como já era esperado, Jay não gostou muito da ideia. O modo como o roteiro trabalhou as divergências entre os dois personagens foi válido, mostrando aquele flashback da Terra 2 como uma forma de solidificar as desconfianças de Garrick para com Wells. Assim como Eobard na nossa Terra, o Wells da Terra 2 também foi o responsável pela explosão do acelerador de partículas que deu origem aos metahumanos, ao Flash e, por consequência, a Zoom.
Eu continuo achando as motivações do vilão estranhas demais. Não acho que sua vontade de matar Barry seja apenas por um desejo de ser o único velocista no mundo todo e uma conversa em específica deste episódio, quando comentam que os metahumanos da Terra 2 tentaram matar seus sósias, me fez começar a dar mais crédito as teorias de que o Zoom da Terra 2 seria a versão de Barry de lá. Bom, pelo final do episódio, já podemos supor que não, não é Wells, já que Zoom sequestrou a filha do professor (que segundo informações de easter eggs, é uma importante personagem nas HQ's. Vamos ver como a série desenrola isso). Caso se confirme, mal posso esperar para ver Grant Gustin interpretando dois personagens opostos.
De qualquer forma, sigo bastante curioso pra ver como Wells vai se encaixar ao novo time e qual vai ser a motivação de Jay para ceder e voltar a ajudar Barry – porque obviamente isso logo vai acontecer. Inclusive, uma das melhores cenas do episódio é o momento onde todos ajudam Barry a derrotar a Dr. Luz e alguns momentos depois, Barry tenta fazer com que Jay aceite o plano de enfrentar Zoom e comenta a respeito disso. Como eu disse alguns textos atrás, eu gosto muito do potencial que a relação Jay x Barry tem porque um tem muito a aprender com o outro.
Outro diretamente afetado pela chegada de Wells foi Cisco, também nada fora do comum. Cisco foi morto pelas mãos do outro Wells e só está vivo porque Barry resetou a linha do tempo e por mais que este não seja o cara que o matou, é idêntico a ele. E a semelhança incomoda. Como se portar bem diante de alguém idêntico a seu algoz? Impossível. Mas ao menos, uma coisa boa já aconteceu. Claro que revelar os poderes de Cisco daquela forma não foi a coisa mais legal do mundo, mas pelo menos o roteiro não cozinhou essa trama por mais tempo e nem investiu em um drama desnecessário da parte de Barry e Caitlin, que entenderam os motivos do amigo e já o ajudaram a escolher seu nome de guerra: Vibro. Alegrem-se, fãs da DC! Certamente, grandes coisas estão vindo para o personagem.
E, de maneira discreta, ele ainda serviu para introduzir Kendra Saunders na história. Já tinhamos visto a personagem de relance no season finale e em promos de Legends of Tomorrow, mas agora parece que ela veio pra ficar e The Flash deve começar a trabalhar a trama para o próximo spinoff.
Finalmente, Barry conseguiu avançar em seu relacionamento com Patti! A trama do encontro foi inserida aqui e ali, de maneira a quebrar a tensão pela volta de Wells e pelos ataques da Dra. Luz, e funcionou com maestria. Que Grant Gustin é um excelente ator, não resta dúvidas há algum tempo, mas o tom cômico que o ator imprimiu ao Barry sofrendo de cegueira foi incrível. Me peguei pausando o episódio para rir dos momentos em que ele tropeçava nas coisas do laboratório ou teve que ir para o encontro com a ajuda de Cisco. A relação de Allen com a policial consegue ser muito mais interessante que todo aquele amor de infância que ele guardava por Iris e é impossível não torcer para que isso funcione. E o mais impressionante é que a história só existe há 4 episódios. Ponto para os roteiristas.
E no assunto "Namoradas de Barry", tivemos ainda o retorno de Linda. Fiquei genuinamente surpreso que a vilã do episódio, a Dra. Luz, era a Linda da Terra 2. Será que isso significa que a jornalista também vai ser envolvida por toda a trama envolvendo Zoom e metahumanos? Seria uma adição interessante. Linda tem um ótimo tom de humor, que deixa quase todas as suas cenas bem legais e fico na torcida para que isso aconteça, seja com a nossa Linda ou com a metahumana.
No final, como já de costume, tivemos mais uma bomba: Zoom sequestrou a filha de Wells e a mantém cativa na Terra 2. O que o vilão pretende com isso, continua um mistério, bem como tudo ao redor dele. Mas se eu fosse chutar, diria que logo menos as coisas começarão a se resolver, ou ao menos, se tornarão mais claras. No fim, o que importa é que a série continue mantendo sua qualidade. Pra quem, como eu, temia uma queda depois da excelente primeira temporada, podemos respirar aliviados: The Flash parece saber muito bem para onde ir e isso é um alívio. 
–
PS. Chora, Pietro.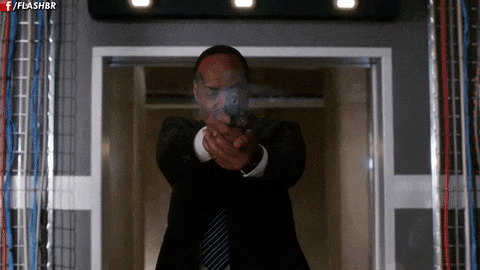 —
Outros comentários:
O bromance de Cisco e Barry estava mais legal do que nunca nesse episódio. O "That's my man!" que Cisco soltou quando Barry disse que a cor que Patti estava usando deveria se sentir honrada por ser vestida por ela foi demais.
Parece que deixaram pra trás a ideia de um romance com Iris, né? Agradecemos.
Pegaram a referência a Aquaman? Quando citam Atlantis, o Jay diz: "Um dos meus melhores amigos é de lá." <3
Barry usando a velocidade para criar as miragens foi demais. Wells já tinha usado isso na primeira temporada, mas é bom ver o Flash expandido seus poderes.
Se eu perdi alguma referência… Soltem a bronca nos comentários!
Fiquem com a promo de Enter Zoom, episódio de próxima terça, que promete ser eletrizante! Até lá.