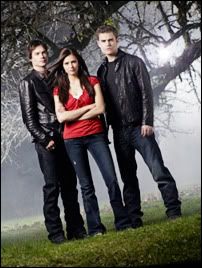 A nova série da CW,
The Vampire Diaries
, é baseada na série de livros homônima escrita por L.J Smith, em 1991. Apesar da história ser antiga, sabemos que a série chega pra embalar a onda vampiresca que assola a mídia atualmente, vide
True Blood
e
Crepúsculo
.
A trama gira em torno de Elena Gilbert, uma garota de 17 anos, típica aluna estrela, mas que perdeu os pais em um acidente de carro quatro meses antes do início da série. Após a tragédia, Elena e seu irmão Jeremy vão morar com a tia Jenna. No colégio ela conhece Stefan Salvatore, um cara lindo, educado e misterioso que, adivinhem? É um vampiro de 200 anos. Stefan foi para Mystic Falls para encontrar Elena por razões a serem mostradas ao longo da série. Os dois sentem-se atraídos um pelo outro, mas Elena não sabe o segredo de Stefan.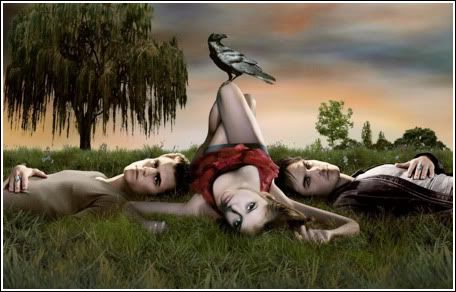 Para fechar o triangulo, temos Damon Salvatore, irmão de Stefan que também se interessa por Elena. Ao contrário do seu irmão bonzinho, Damon não vê muito problema em matar humanos. Claro que Damon também é um vampiro, não é? Os dois vão travar uma luta pela alma de Elena e de todos os residentes da pacata Mystic Falls.
O elenco não conta com nomes muito famosos. A maior estrela é Ian Somerhalder, o Boone de Lost, que interpreta o vilão Damon. Paul Wesley, intérprete de Stefan, fez algumas participações em outras séries, como Everwood e 24 horas. Já Nina Dobrev, atriz que faz a mocinha Elena, pode ser lembrada pelo seu papel na série canadense Degrassi: The Next Generation.


Assim como em qualquer adaptação, muita coisa foi mudada da história original. Por exemplo, a cidade onde a história se passa nos livros, Fell's Church, foi mudada para Mystic Falls por razões legais. Nos livros, Elena tem uma irmãzinha de quatro anos, enquanto na série ela tem um irmão adolescente. Em uma entrevista, a autoria da obra original disse que não gostou de terem transformado Elena em uma morena de olhos castanhos (ela é loira de olhos azuis no original), mas que está feliz pela boa repercussão dos seus livros, que devem vender muito com a estréia da série.
Com Julie Plec (Kyle XY) e Kevin Williamson (trilogia Pânico e Dawson's Creek) como produtores executivos e Marcos Siega (Dexter) como diretor, The Vampire Diaries é a nova aposta da CW para o público jovem. O piloto foi exibido na Comic-Con e recebeu críticas medianas. Creio que para uma série sobre vampiros, uma coisa que não falta é público e a CW tem tudo pra acertar dessa vez. A série estréia dia 10 de setembro nos Estados Unidos. É esperar e conferir.