Sempre tem aquela época do ano em que nossas séries favoritas estão em hiato ou prestes a começar uma nova temporada. Em meio a esse limbo, você tem duas opções: re-assistir tudo ou… procurar novas opções, e se você se cansar das séries com roteiros e personagens muito bem definidos, nada melhor que ir atrás de reality shows.
Existem shows que têm o único objetivo de acompanhar a vida de alguém, geralmente uma celebridade, nessa categoria entram ícones da TV como Keeping Up With The Kardashians, Here Comes Honey Boo Boo, Real Housewives e, mais recentemente, I Am Cait (que, aliás, vale cada minuto, mas isso é assunto pra outro post)
Se você, como eu, prefere um pouco mais de ação, os realities de competição estão aí pra isso e, entre novidades e shows consagrados, há opções para todos os gostos! Mas vamos falar de alguns que merecem um pouco de atenção:
Steampunk'd
Um reality que procura o melhor designer steampunk dos EUA. Mas o que é steampunk? Segundo a Wikipédia,  é "um subgênero de ficção no qual a raça humana desenvolveu tecnologia avançada, porém com os recursos da era vitoriana do século 19, portanto, computadores de madeira e aviões a vapor seriam possíveis no gênero steampunk. " Ou seja, steampunk mistura as máquinas do futuro com a estética do passado. Beleza, e o que essa galera do reality vai ter que fazer? Basicamente, eles vão receber objetos antigos de uns duzentos anos atrás e darão uma cara futurística a eles. Bem bizarro, né? Mas essa é a graça de reality de competição: nem importa muito quem tá competindo pelo quê, a gente tá aqui pra ver gente talentosa em altas tretas e jurados maldosos, e Steampunk'd promete tudo isso! Estreia  dia 19 de agosto lá nos Estados Unidos!
Skin Wars
Esse nem é tão novo, já tá na segunda temporada, mas ainda assim vale a pena. Apresentado pela eterna Mística, Rebecca Romjin (foi mal, Jennifer Lawrence), Skin Wars é uma competição de artistas especializados em pintura corporal. Assim… quem assistia ao Tudo é Possível apresentado pela Ana Hickmann na Record talvez se lembre do pintor corporal W. Veríssimo, e, honestamente, ele sozinho é melhor que todos os competidores de Skin Wars, mas não deixa de ser um programa legalzinho com uns desafios curiosos, tipo criar uma pintura que represente o conceito de mito (sim, esse desafio aconteceu na primeira temporada) que conta com a drag queen RuPaul como jurado (infelizmente, ele não se monta pra julgar os desafios) e ainda dá pra torcer e passar raiva com alguns participantes, lógico que vale a pena!
American Ninja Warrior
Outro que também não é recente, já tem sete temporadas e algumas indicações e vitórias em prêmios de TV com voto popular. É baseado num reality japonês chamado Sasuke e nada mais é do que uma mistura de parkour com corrida de obstáculos semelhante àquela que tinha no programa do Faustão há alguns anos, só que essa aqui parece muito mais difícil considerando que NINGUÉM, em SETE temporadas, conseguiu ir além do nível quatro. Esse também é bem bizarro, mas eis outra graça de reality show: quanto mais inusitada a competição, mais interessante é.
https://www.youtube.com/watch?v=FI9pis4c1FU
The Taste Brasil
Sim, existe outra competição de gastronomia na TV brasileira além do MasterChef (tem também o Cozinha Sob Pressão e o Bake Off Brasil no SBT, mas né?) The Taste Brasil teve sua primeira temporada esse ano e a segunda já está confirmada para o começo do ano que vem no GNT. A dinâmica é IDÊNTICA à do The Voice, só que com cozinheiros em vez de cantores. O candidato prepara um prato, os três mentores experimentam às cegas e apertam um botão caso tenham gostado (só não tem a parte de virar a cadeira, mas de resto é igualzinho), cada mentor monta uma equipe de quatro cozinheiros e eles vão competindo entre si até restarem dois competidores para a final. Quem curte reality de culinária provavelmente vai gostar, quem curte The Voice também.
RuPaul's Drag Race
Best for last. Com certeza todo mundo já esbarrou com um gif de alguma drag queen pelo Tumblr ou qualquer outro site (elas estão em todo lugar, sério) e provavelmente essa queen era participante de RuPaul's Drag Race. Por muito tempo esse show foi meio underground, as pessoas tinham vergonha de falar que assistiam, mas hoje está cada vez mais mainstream e drag queens nunca estiveram tão na moda, e isso graças a RuPaul e sua busca pela America's Next Drag Superstar (pegaram a referência a America's Next Top Model?). Se você ainda não assiste, eu francamente não sei o que você está fazendo da sua vida, esse programa tem de tudo! Drag queens divas, talentosas e competitivas? Tem! Jurados maravilhosos? Tem! Bordões infinitos? Tem também! Isso sem contar os gifs e todas as mensagens de amor próprio e auto-aceitação que ficam nas entrelinhas. São sete temporadas, mais um All Stars, a oitava temporada começa em maio do ano que vem e o All Stars 2 está confirmadíssimo também para 2016. Recomendo fortemente a sétima temporada que está sendo exibida no Multishow dublada (sem preconceitos, a dublagem tá maravilhosa e faz o programa ser mais hilário que a versão original, pode confiar). Reality show OBRIGATÓRIO para quem curte competições em geral!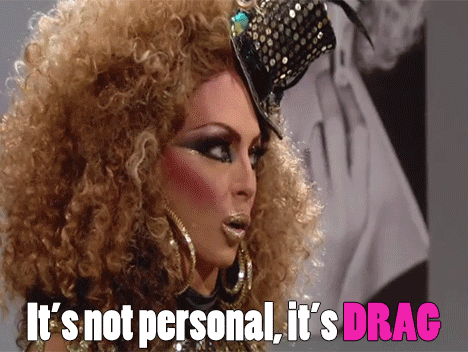 Agora eu quero saber de você! Tem algum reality show que você curta muito e eu esqueci de colocar na lista? Sem essa de guilty pleasure, assuma o amor por realities e vem ser feliz nos comentários!