Não sei vocês, mas estou amando a estadia de Max e Caroline em Hollywood. Essa viagem trouxe um novo clima pra 2 Broke Girls. Estes episódios conseguem nos prendem a atenção na história, coisa que há um bom tempo a série não consegui fazer. And You Bet Your Ass não teve toda a qualidade de And The Lost Baggage, mas mesmo assim foi melhor que a maioria dos episódios anteriores dessa temporada.
Já estou shippando muito Max e Randy (Será #Mandy, #Rax? Ajudem-me com o nome desse casal). Vê-la toda bobinha ao lado do advogado galã com direito até a risadinha apaixonada é demais, sem contar que ele entende muito bem o jeito autentico da moça e tá na cara que adora isso. Melhor que ele, somente o Deke #SaudadesDeke.
Enquanto Max está em um mar de rosas com o seu "manfriend" (como ela mesmo disse, ele é bem mais que boy), Caroline acabou sem ter muito o que fazer quando Max curtia seu namoro. Ao notar isso, Randy decide promover um encontro as cegas com Bob (George Hamilton). Não tem como não amar Bob, ele rendeu tantas piadas ótimas pela sua idade um tanto avançada e no fim até conseguiu o coração de Caroline. Afinal, como o advogado mesmo disse, idade não importa em Hollywood, a menos que você seja mulher.
Já falei o quanto eu fiquei feliz das ligações para o pessoal do restaurante, não é? Não sei o que seria de mim sem ver o Earl e suas tiradas sempre excelentes no episódio. Sem contar no momento fofo de Max fazendo de tudo pra Han não esquecê-la no melhor estilo Max de ser. A presença de Sophie em Hollywood ainda não faz muito sentido pra mim, mas a piada do curandeiro estar ocupado por uma das Kardashians diminuiu meu incômodo de vê-la num plot meio perdida. Será que Kanye West gostou da piada? Acho que não: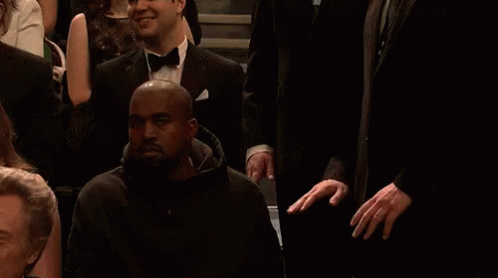 E teve Caroline sendo Caroline ao aceitar tirar Max do filme pela possibilidade de ser interpretada por Jennifer Lawrence (nessa situação, até eu ficaria em dúvida, haha). Claro que no fim ela voltou atrás, fez um belo discurso de sua amizade com ela para o Bob. Enquanto elas tiverem nesse glamour de Hollywood, aposto em escorregadas como essa da ex-patricinha que sempre acaba deixando seu egoísmo falar, porém mostrando no final a importância da amizade e da sua nova família.
E mais…
Estou em dúvida em qual foi a melhor piada sobre Bob:
"I think that's the very first Bob. It was Adam, Eve and Bob"
"I'm not gonna sleep with God's college roommate go get ahead in Hollywood"
"Bob was real? I thought he was a ghost."
"I think God is here for Bob."
"That man sure knows how to make an exit. Not from life, but from everything else."
---
Comenta com a gente o que está achando das aventuras de 2 Broke Girls em Hollywood! Como será qua vai acabar o casal #Mandy? Façam suas apostas.