Bom, antes de falar sobre o episódio dessa semana, gostaria de dividir com vocês que eu já assisti Capitão América:Guerra Civil e afirmo sem nenhuma dúvida ser o melhor filme da Marvel. Fiquei algum tempo arrebatada pelo prazer que foi ter todas as minhas expectativas abraçadas, saí do cinema como se tivesse encontrado um antigo amigo.
A pergunta que não quer calar e creio que todos vocês queiram saber é se há menção aos nossos queridos integrantes da equipe de Phil Coulson: Não diretamente. Mas isso já era de se esperar. Apesar disso, é com tom de alarme que os protagonistas debatem o fato de indivíduos com super poderes estarem aparecendo em escala exponencial pelo mundo – logo, o grau da questão acerca do descontrole sobre estes acaba sim se relacionando diretamente com o que assistimos semanalmente em Agent's of S.H.I.E.L.D.
Como o novo blockbuster só estreia dia 7 de maio nos Estados Unidos, apenas em Failed Experiments, que vai ao ar no dia 03 de maio, deveremos ter uma preparação mais concreta para o filme e só daqui à 2 semanas veremos os reflexos da grandiosa rusga entre Steve Rogers e Tony Stark nos personagens da série. Dito isso, começarei a destrinchar tudo o que vimos em The Singularity para tentar entender o que pode acontecer durante essa surpreendente reta final.
A coisa que vale previamente ser comentada é o grande passo que o casal FitzSimmons foi capaz de dar depois de tanta sofrência (solta o Pablo aí, DJ!). Depois de temporadas de uma tensão e discussões que não estão no gibi (literalmente), eu até fiquei na dúvida se valia mesmo a pena, pois sempre temo que os personagens se percam em romances que restam sendo um entrave ao desenvolvimento da trama. Mas não, depois da franqueza e do apaixonado beijo de Simmons em The Team deu a deixa para que o envolvimento entre eles ganhasse um belo de um fôlego.
Em The Singularity por fim eles conseguem se desenrolar do receio que sempre tiveram, some-se a isso o fato de Elizabeth Henstridge e Iain De Caestecker funcionarem muito bem juntos – desde sempre. Então se eu disser que não fiquei contente de vê-los, ao que tudo indica, bem resolvidos quanto aos sentimentos um pelo outro, estaria mentido. Foi tudo muito natural e franco, desde a conversa deles usando termos científicos até a constatação que – a partir do momento em que eles ficassem mais íntimos ( ͡° ͜ʖ ͡°) as coisas nunca mais voltariam a ser como antes. Então vê-los se entregando ao final do episódio, depois de tudo o que aconteceu na trajetória deles até ali, foi algo gratificante.
A única crítica que eu faço aos momentos FitzSimmons é que, na altura do campeonato, todo corte de cena para a trama do novo casal acabava por quebrar o ritmo da narrativa principal. Depois da conversão de Daisy pela Hive, tudo o que não queríamos era nos afastar deste novo e insólito cenário. Mesmo assim, o título The Singularity faz menção clara à fala de Fitz sobre o futuro do relacionamento deles com Simmons, deixando bem claro que este seria um dos centros do episódio. Então vê-los estabelecidos por ora, significa que não haverá mais espaço para esse drama nos momentos decisivos para o desfecho da temporada.
Vejam, não estou reclamando, mas é que depois da conclusão do arco inicial, com Fitz salvando Jemma de Maveth, ambos foram deixados em 2º plano, diria até isolados do resto dos personagens. Claro que eles contribuíram com os seus conhecimentos durante a missão, mas nada de muito relevante. Com otimismo, creio que agora que eles se alinharam quanto aos seus sentimentos, os dois podem ser reintegrados à série como casal recém estabelecido.
Dito isto, o resto do episódio foi uma continuação não muito significativa dos acontecimentos que estremeceram os alicerces da S.H.I.E.L.D. – mais uma vez, literalmente. Tirando FitzSimmons, não vimos as coisas caminharem muito para frente –  The Singularity, em uma macroperspectiva, foi um filler daqueles. Não tivemos muita ação – para não dizer nenhuma. Coulson, Lincoln e May buscam por pistas para encontrar Daisy, FitzSimmons e Mack vão atrás de um médico transhumanista na esperança de uma cura para a infecção da Hive, enquanto o vilão e sua nova seguidora dividem alguns momentos de conexão e procuram por mais inumanos para fazer parte dessa ameaçadora seita.
Daisy e Ward funcionaram muito bem. Brett Dalton mais uma vez se reinventa dentro do mesmo personagem. Ele está completamente diferente do que já foi anteriormente, conseguindo emplacar mais um carismático vilão. O fato dele ter as camadas de – eu diria – centenas de humanos sacrificados para garantir a sua existência – proporcionou ao personagem uma bagagem emocional que o faria engajar os seus seguidores, mesmo que ele não os contaminasse. Daisy sabia que quem estava com ela não era o Ward e o fato deles, como o mesmo explicou, serem partes de apenas um organismo, faz com que a simbiose entre ambos seja patente em cena.
A nova dupla vai então atrás de James, o canastrão australiano que ela procurou junto com Lincoln em The Paradise Lost. Para a nossa surpresa, o orbe não era tudo o que ele tinha roubado do Afterlife, tendo sob sua posse um misterioso artefato que – segundo a própria Hive é a única coisa que pode destruí-lo. A dúvida é apenas como, pois é apenas uma questão de tempo para que isso caia nas mãos da S.H.I.E.L.D. correto?
E não é só isso, como bem comentaram na review anterior, James não apareceu em vão. Eu mesma disse que para fazer com que a ameaça de uma horda de inumanos se tornasse mais palpável, precisaríamos – é claro – de mais espécimes dos descendentes Krees. Daisy então, em uma atitude completamente intempestiva, o expõe aos cristais terrígenos roubados durante sua fuga da base da S.H.I.E.L.D.
Eis que vimos nascer Hellfire. Nos quadrinhos, James Taylor James não é um inumano, mas um descendente de Carter Slade – herói do oeste conhecido como Cavaleiro Fantasma. Seus poderes decorrem de forças sobrenaturais e consistem em canalizar o fogo produzido por uma corrente herdada do antigo herói. Ele também fez parte dos Guerreiros Secretos, porém na série o seu futuro ainda é incerto, apesar do fato de achar que seria interessante ter mais alguém com poderes dentro da equipe.
Tanto a Hive quanto FitzSimmons estavam atrás da mesma pessoa, por motivos diferentes. Enquanto os agentes da S.H.I.E.L.D. queriam que o médico os ajudassem à encontrar uma cura para Daisy, o inumano ancião – que afirmou ser o primeiro espécime criado pela experiência dos Krees com humanos – busca uma forma de aprimorar as pessoas comuns, para que essas possam fazer parte da comunidade que ele busca criar, sem passar pela mortal terragênese.
Bem, claramente The Singularity serviu apenas para preparar o terreno para o que está por vir, colocando arreios em nossas expectativas depois de tudo o que vimos semana passada. Diria que o entrave foi dar tanto espaço para FitzSimmons, tendo que encaixar muitos elementos de forma corrida e superficial. Para ter uma noção de quão rasas as coisas ficaram, ao final do ato, a HYDRA (sim, a entidade que foi uma das principais ameaças do MCU) aparentemente foi inteiramente desmantelada e isso aconteceu completamente fora de nossas vistas. O pior de tudo é pensar que isso nem será mencionado em uma escala maior – leia-se nos filmes.
Para não dizer que as coisas não funcionaram, diria que tivemos mais um avanço em nos aprofundarmos mais no personagem de Phil Coulson. Ele que esteve presente desde o nascimento do MCU, sempre manteve uma aura enigmática sobre si. Mesmo nos episódios em que ele passou dos limites, sempre houve um consenso de que ele o fez em prol de que seria a coisa certa a se fazer. Porém, desde que ele matou Ward, Phil tem cometido intransigências eu diria que até destrutivas.
Veja a hipocrisia dele durante a conversa com May, sobre uma eventual necessidade de chegar às últimas consequências com Daisy – ainda mais depois de dar um verdadeiro colete bomba para Lincoln, sem mencionar a inabilidade do atual diretor da S.H.I.E.L.D. – quem o implacável Nick Fury considerou um substituto natural ao seu cargo – de conseguir ser racional APENAS quando se trata de Daisy. Essa é a principal falha de Coulson e, quem sabe, pode significar uma verdadeira tragédia em um futuro muito próximo. Se entre salvar a vida de alguém e impedir Daisy de tirá-la, for Phil o responsável pela decisão? Drástico, né?
Em suma, foi isso. Mesmo com o pé no freio há uma certeza de que agora a marcha foi colocada em ponto morto em cima de um desfiladeiro – uma fatalidade acontecerá em uma curta questão de tempo, basta saber quem vai conseguir se desviar dos estilhaços dessa bomba relógio.
Fique agora com a promo de Failed Experiments (#Choquei), que vai ao ar dia 03 de maio nos Estados Unidos:
Felizes com o acerto entre FitzSimmons? E qual vai ser da Hive brincando de The Sims? Fique a vontade para comentar e complementar a resenha!
Área Reservada para Marvelmaníacos:
– A Marvel mais uma vez mitou com a sua genialidade. Nos últimos dias ela criou nas mídias sociais a página da rede de notícias WHIH Newsfront (jornal da Christine Everhart – Facebook e Twitter), onde são comentados diversos fatos que estariam acontecendo na realidade dos filmes e séries.
Obedecendo a linha temporal respectiva aos Estados Unidos, essa semana um dos posts noticiou a derrocada da Hydra pela ATCU, sob o comando de Talbot (os comentários valem a pena – interação fantástica):
– Fizeram também uma postagem repercutindo a atitude do Presidente Ellis frente ao crescente número envolvendo ocorrências com pessoas superpoderosas. Se vocês não se recordam, vimos em Agent's of S.H.I.E.L.D. um pronunciamento do mesmo sobre a ameaça alienígena, tendo o ator William Sadler participado de alguns episódios desta temporada. O ex-general Ross, que possui um importante papel em Guerra Civil, surge como principal peça neste novo rearranjo social e político – será que teremos um impeachment em breve? Rs.:
– O fato de Coulson admitir seus sentimentos paternais para com Daisy foi muito tocante mas, não obstante disso, mais importante ainda foi admitir que isto é uma falha dele como chefe e diretor da S.H.I.E.L.D.
– Eu gritei quando vi o escudo produzido pela mão biônica de Coulson! Referência clara ao do Capitão América, ídolo do direitor. A conclusão dele sobre mais essa funcionalidade também foi fantástica – ""I thought it'd be cool if the director of S.H.I.E.L.D. had a shield. Fitz agreed, so…."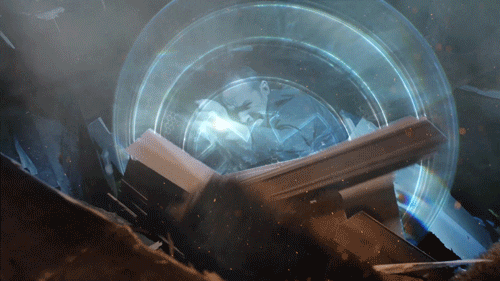 – Hellfire é um dos principais Guerreiros Secretos nos quadrinhos, inclusive se relacionando com Daisy Johnson, guardando até uma similaridade de caráter com Lincoln. A série conseguiu trazê-lo à vida de forma interessante, algo como um Gambit – mutante que está sob domínio da Fox.
– A completa dissolução da HYDRA (??) quase passou despercebida, como Coulson bem disse, antigamente isso seria comemorado como uma grande vitória mas, atualmente existem preocupações maiores do que com uma organização que tenta há décadas dominar o mundo.
– Ainda sobre isso, não acredito que a HYDRA tenha sido eliminada completamente. Primeiro porque ela sempre consegue reaparecer de alguma forma e também por ser algo muito intrínseco ao universo Marvel. Com o início da fase 3, as ameaças começarão à ficar mais complexas – vide a própria Hive dentro de Agent's of S.H.I.E.L.D. – mas a HYDRA acaba por sempre estar sempre presente, mesmo que de forma latente.
– Basta lembrar do fato que Darren Cross negociou sua fórmula com a HYDRA em Homem Formiga e que eles conseguiram ir embora levando algo que pode muito bem ser trabalhado na próxima aventura de Scott Lang.
– Em Guerra Civil a HYDRA também é citada, afinal o Soldado Invernal foi algo desenvolvido por ela.
– O Dr. Holden Radcliffe também existe nos quadrinhos, como um ambicioso cientista e empresário, fundador da Holden Radcliffe Corporatios. Ele sempre foi obsecado em desenvolver androides para combate. Ele então contrata Aaron Isaacs, que desenvolve a inteligência artificial chamada A.D.A.M., uma versão beta de inteligência artificial. Adam foi programado com falsas memórias de uma falsa infância e uma mãe que morreu por conta de uma doença.
Depois de uma vida aparentemente normal, Adam começa a sofrer com os defeitos do seu software, que depois de um tempo faz com que ele próprio de descubra como um android. Depois de se autodestruir para não cair nas mãos de Radcliffe, Adam é reconstruído como adolescente e passa a integrar a Academia dos Vingadores – ele fica conhecido como Machine Teen.
@JohnHannah berperan sebagai #HoldenRadcliffe, karakter penjahat dari komik #MachineTeen. Rabu depan #TheSingularity pic.twitter.com/6uPiB6uJ5G

— Avengers Indonesia (@TheAvengersIndo) 22 de abril de 2016
– Será que a retirada de Inumanos da agenda dos cinemas vai afetar a série de alguma forma? Segundo a Marvel o filme vai acontecer, apenas mais para o futuro…
– Gostei do Lincoln usando os poderes dele. Pela primeira vez acho que ele pode ser relevante dentro da equipe, pois como o mesmo disse, depende de Daisy para se equilibrar. Ou seja, pode ser que isso sirva como uma imunidade à influência da Hive.
– Foi divulgado um pôster bem legal para a reta final da série, que faz uma clara referência a capa da edição 121 de The Amazing Spider Man:
– Olha que legal o vídeo falando sobre o treinamento dos agentes figurantes:

– A Netflix e a Marvel confirmaram a série solo do Justiceiro. Muito provavelmente conheceremos Microchip, colega de Daisy nas épocas de Hacker e assistente do Frank Castle.
– O Imdb colocou Peggy Carter e May na lista de heróis e vilãs favoritas.
– Mack s2
– No episódio que vai ao ar dia 10 de maio, ou seja, depois/durante os acontecimentos de Guerra Civil, a equipe será pressionada a revelar o seu envolvimento com os Inumanos.
– Olha quem apareceu nos quadrinhos de Agent's of S.H.I.E.L.D.: