Esta semana foi atribulada e eu acabei tendo que lidar com o fato de demorar um pouquinho para assistir o season finale da 3ª temporada de Agent's of S.H.I.E.L.D.. Diante da perspectiva que se instalou na reta final e o retrospecto da série em concluir seus arcos de forma sempre impactante, sabia que o que eu veria seria mais uma vez fantástico e, novamente, não me decepcionei.
Uma coisa que eu gostaria de fazer notar é como, no passar do tempo, a trama da série foi ficando cada vez mais macro. No começo tínhamos as coisas no âmbito da agência, meio engessadas pelo esforço de provar que tudo o que assistíamos estava no mesmo contexto do fenômeno do MCU. Gosto sempre de comentar como parei de assistir desiludida depois de uns 5 episódios – e foi somente depois de assistir Capitão América: Soldado Invernal nos cinemas que eu resolvi tentar novamente, e não me arrependi.
A queda da S.H.I.E.L.D. foi o centro de um dos principais filmes do estúdio nos cinemas e poder ver ela de dentro foi algo maravilhoso, mas com a 2ª temporada iniciou a história de origem de mais uma super heroína. Com a abordagem surpreendentemente simples, nós vimos os inumanos invadirem as nossas vidas, convenientemente suprindo a (baita) falta que os mutantes fazem por estarem sob tutela da FOX atualmente. Skye virou Daisy Johnson – a hacker bobinha e piadista que conhecemos lá no começo viu a sua história ser reescrita, e com ela camadas e mais camadas foram sendo adicionadas à personagem.
Mesmo tendo em Daisy o centro da história nos últimos tempos, Agent's of S.H.I.E.L.D. conseguiu desenvolver bem os paralelos. Todos que estão ali em cena importam para os espectadores – até o recém-chegado Radcliffe (por favor, confirmem John Hannah como regular para o 4º ano!) – então a pesada publicidade acerca da morte de um deles já nos fez vir para esse finale com mais reticência, pois ninguém gosta de sofrer e perder qualquer um deles de forma permanente (afinal, alguns são persistentes para driblar a viagem para a cidade dos pés juntos), acho que me fez adiar mais um pouquinho o momento em que eu teria que ficar olhando para TV sem palavras e sem saber o que fazer da minha vida depois.
Por ser um finale duplo, é muito bom poder ter uma espécie de telefilme – o que propicia uma continuidade muito gostosa de ver. Absolution começa com a Daisy sentindo muita dor na alma por ter feito tudo o que fez quando estava sob a influência da Hive. Ela, que desde que desabrochou como inumana, sempre fez questão de usar os seus dons para o bem e se ver usada de forma monstruosa a deixou completamente desnorteada. Quantas pessoas morreram porque ela era possui uma condição genética muito louca, porque ela deve conseguir superar tudo se o estrago foi feito e milhares de pessoas (senão o mundo) estava ameaçado a virar aqueles seres primitivos criados orgulhosamente com o sangue dela.
Chloe Bennet fez um trabalho fantástico. Sua evolução como atriz é visível e eu, que raramente me emociono, vi meus olhos se encherem! Enquanto toda a equipe se arriscava para tentar recuperar a ogiva e impedir a Hive de dar seguimento ao seu plano, ela estava ali – poupada por questões de segurança – e recebendo tratamento de ponta na sua recuperação. Essa batalha dela contra qualquer possibilidade de rendição foi bem colocada. Estava bem claro que todos sabiam que as coisas que tinham acontecido não era culpa dela e essa certeza não foi algo apenas da boca para fora.
O problema é que Daisy não quer ser perdoada. A cena em Mack vai lá conversar com a sua parceira me arrebatou bonito. Henry Simmons e Bennet tem uma química incrível em cena, e devido a crescente importância dele dentro do time, é completamente compreensível ter sido o ele os braços (e que braços!) que envolveram Daisy quando ela não queria nada além de rejeição. Pode parecer bobo, mas as vezes perdoar à si próprio é muito mais difícil do que ser perdoado. Foi exatamente isso que as palavras de Mack provaram para a jovem: Que mesmo que ela não quisesse, eles ainda amariam e fariam de tudo para vê-la bem novamente.
Voltando a falar dos acontecimentos de Absolution e Ascension: Teve de tudo! Drama, humor, romance, cenas fantásticas e uma conclusão épica e muito bonita (isso sem falar dos ganchos para o futuro), terminando como começou – com aquela sugestiva cena da explosão que abriu a temporada. Todos os episódios da reta final foram construindo o caminho que culminou neste cenário melancólico. Lembro muito bem quando essa cena apareceu e todos nós ficamos sem saber o que estava rolando, mas havia uma certeza: Algum membro da S.H.I.E.L.D. se despediria ali.
Toda publicidade sobre a morte de um dos protagonistas é algo bem problemático. Se um dos mais queridos morrerem, os espectadores poderiam se revoltar – mas se fosse alguém B, seria considerado uma decepção. Eu tinha na minha cabeça, talvez por conta de especulação toda que se instalou nas redes, que May estaria se despedindo. Eu nunca torci por isso, eu simplesmente amo a Cavalaria e a forma com que ela é uma das mulheres que mais chutam bundas na TV. Na minha cabeça sempre fez muito sentido que Lincoln acabasse morrendo, no melhor dos cenários. A questão foi que, apesar de não ter sido Phil, Jemma, Fitz, Daisy, May ou Mack – a construção da despedida do Pikachu acabou por se tornar um dos momentos mais emocionais de Agent's of S.H.I.E.L.D. até então.
Conforme eu já tinha comentado com os leitores nas reviews anteriores, Lincoln era a escolha mais óbvia para perder a vida na explosão do espaço – Joey e Yoyo têm potencial, mas não apareceram o bastante para tornarem-se relevantes. Mack tornou-se um eixo essencial para o grupo e uma eventual morte traria novamente a discussão sobre como personagens negros saem insistentemente de cena na TV. Coulson nem se fala, a despeito do protagonismo de Daisy, o (ex) diretor é o pilar da série. Fitz e Simmons seria causar uma dor muito grande aos que torceram pela felicidade dos nerds desde a primeira temporada. Lincoln era o que fazia mais sentido, estes vários motivos e por Daisy ter concatenado à ele toda sua transformação em uma inumana forte e segura de si. O sacrifício final dele, assim como Tripplet em What They Become, significou mais uma (surpreendente) virada na vida da personagem. Se para ela a dor foi excruciante (mais uma vez Chloe Bennet me deixou desolada), para nós Lincoln foi a escolha menos sofrida.
Falando agora da ação, o season finale foi um prato cheio, desde seus primeiros minutos. Quem gosta de heróis e do universo Marvel – apesar das restrições orçamentárias – provavelmente se empolgou em diversas sequencias de Absolution e Ascension. Efeitos especiais bem executados e cenas de luta muito bem coreografadas fizeram das quase duas horas de exibição um banquete aos espectadores. A narrativa voou, em um ritmo empolgante, para contar os momentos decisivos do ameaçador plano da HIVE.
E quem diria que Ward teria um papel interessante na luta entre a S.H.I.E.L.D. e o poderoso inumano. Quer dizer, não só o agente, mas como os outros hospedeiros do monstro. Ao usar a máquina da memória, vimos todas as pessoas de quem ele usurpou o corpo voltarem com seus dramas e traumas de uma vez. Grant Ward se despede da série (finalmente) com todos os louros possíveis. Ele conseguiu se reinventar diversas vezes, entregando uma pessoa que no começo não parecia ser mais do que um homem pedante – mas que se transformou em algo elementar para o aperfeiçoamento da história. Caso vocês não lembram, Agent's of S.H.I.E.L.D. deu seus primeiros passos como uma série procedural sobre os bastidores da agência mais importante dentro do universo Marvel. Olhem no que ela se transformou.
Absolution fica marcado pelo trabalho em equipe e momentos de muito entretenimento. O que comentar da parceria entre FItz e o (ótimo) Talbot. Foi divertido demais ver o fofo do engenheiro tentando personificar um sisudo general. Além disso, mais uma vez May rainha deu seu show ao lutar contra os primitivos. Tudo isso sendo recompensado com o sucesso da captura da Hive em um daqueles tanques de gel que a ATCU usava para colocar os inumanos em estase. Se te uma coisa que a série consegue fazer extremamente bem, assim como as outras obras do MCU, é aliar o humor e o trabalho em equipe bem executado.
A condução da Hive para dentro da base foi um movimento muito ousado, claramente realizado para proporcionar um merecido enfrentamento entre uma Daisy cheia de remorso e o ser que subjulgou a jovem, fazendo com que ela agisse contra tudo o que acreditava e amava. Podemos considerar que a luta de Daisy e Hive foi edificada no caminhar das 3 temporadas. Cada chute, soco ou tremor nos atingiu também como se fôssemos nós que estivéssemos ali no lugar da inumana. Daisy e Ward se conheceram no começo e foram se conectando de diversas formas, tanto como par romântico (cheio de fãs pela internet) quanto como oponentes. O momento provavelmente agradou à todos os entusiastas (ou não) de Agent's of S.H.I.E.L.D.
O legal de Absolution/Ascension é que não só Daisy, mas todos os seus amigos (ou não), entregaram grandes momentos – cada um com as suas particularidades. Jemma com sua genialidade, conseguiu concluir sobre a relação da temperatura com a visão dos primitivos. Fitz descatou os elaborados gadgets para colocar um ponto final na história de Giyera, depois de mais uma demonstração de que aquele menino acuado de outrora ficou para trás. Yoyo salva Mack ao tomar tiros por ele (aliás, o que foi a cena do maçarico?) e ele finalmente pode colocar em ação a sua arma machado, em mais uma cena fantástica de trabalho em equipe.
Se você também não vibrou com o momento em que Coulson ficou "cara a cara" com Hive, em sua forma verdadeira (mandaram bem no efeito especial!), eu realmente não vejo porque continuar à escrever. Fazia tempo que o Diretor não entregava uma fala tão genial quanto áquela. Phil passou parte da temporada enfrentando a contradição de trabalhar com inumanos e a sede de vingança pela morte de Rosalind, um amor que – creio eu – não convenceu ninguém. Em uma cartada final, permeada de bom humor, ele ainda conseguiu tirar a licença poética de fazer mais uma referência ao amor do personagem (e de todos nós) pela saga Star Wars – "Help me, Obi-wan Kenobi, you're my only hope." – Maravilhoso!
A partir daí, o arco emocional da temporada termina onde começou, com mais um pesado golpe no emocional de todos. Pode ser que o casal Daisy e Lincoln não tenha conquistado à todos, mas perda do Pikachu definitivamente despedaçou não só ela, como a própria S.H.I.E.L.D. – que, aparentemente, teve a sua atual organização desmantelada depois dos acontecimentos do season finale.
Aliás, com o salto temporal de 6 meses, nós vimos que Daisy finalmente foi batizada com o seu nome de heroína: Quake/Tremor – só que a jovem não está usando seus dons para salvar o mundo, mas sim roubando bancos e causando tremores pela cidade. Um abatido Coulson e Mack agora são parceiros ao encalço de Daisy, mas esta não foi nem de longe o principal cliffhanger para o próximo ano. A bomba para mim foi realmente tomar ciência de que Phil não é mais o diretor da S.H.I.E.L.D., o que abre espaço para apostas sobre quem está ocupando a posição e o motivo que fez com que isso acontecesse.
Daisy, por outro lado, parece não estar agindo movida por nenhum tipo de vilania. Ela está apenas cumprindo a promessa que fez para Chales Hilton, o inumano que tinha o dom de mostrar o momento da morte para as pessoas e, em um momento ma-ra-vi-lho-so, ela consegue escapar do cerco da S.H.I.E.L.D. utilizando os seus poderes para pular muito alto (quase voar). A cena final da personagem me lembrou muito os pulos de Jessica Jones, espero realmente que ela aproveite seus poderes melhor do que a heroína da Netflix….
A cena "pós-creditos" trouxe mais um poderoso gancho. Radcliffe conseguiu se ajeitar com a justiça – e também aparenta continuar sua relação com os nerds da S.H.I.E.L.D.. É dessa sequência que fica implícito qual deve ser um dos principais pontos da 4ª temporada: A vida artificial. Não tenho muito o que falar no momento, porque nós já vimos algo muito similar em A Era de Ultron. Realmente espero que a série não nos decepcione e transforme tal perspectiva em algo surpreendente.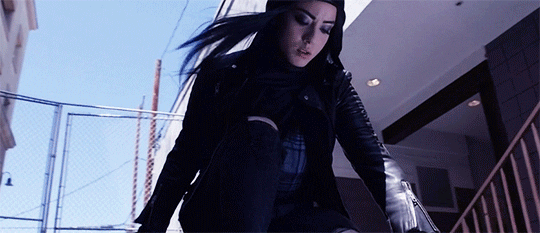 Agent's of S.H.I.E.L.D. mais uma vez encerra uma temporada de maneira mais do que satisfatória. Ao longo das minhas reviews apontei algumas falhas (Lash, Guerreiros Secretos…), mas exaltei o que deu certo. O balanço final se mantém o mesmo dos anos anteriores: A série é sim a melhor do gênero, no que tange televisão e – mesmo sendo deixada em segundo (terceiro?) plano pela Marvel – ainda tenho a impressão de que, para os que assistem, ela é sim uma experiência muito enriquecedora.
Mais um ano se passou e mais uma vez agradeço a companhia de todos vocês nessa jornada. Eu realmente amo a série e espero que tenha agradado com as minhas análises. Ainda não sei se vou continuar escrevendo sobre ela na 4ª temporada (eu quero bastante), mas quero dizer um muito obrigado por tudo.
Área Reservada para Marvelmaníacos:
– John Hannah fantástico. Uma adição surpreendentemente positiva para o elenco da série – espero que ele continue firme e forme na próxima temporada.
– Digo o mesmo de Talbot e Yoyo, que eles sejam confirmados como regulares!
– A cena de Lincoln e da Hive foi muito bonita. Ambos os personagens abraçaram o trágico de destino de forma muito serena.
– Ao que tudo indica, nós veremos os LMD (Life Model Decoys). Falando deles, onde anda os agentes Koenings?
– O nome dela é A.I.D.A., nos quadrinhos uma mesma inteligência artificial foi criada e acabou tendo uma espécie de relacionamento com o seu criador.
-Alguns espectadores ligaram Aida à Jocasta. Ela foi uma android criada por Ultron, que inclusive fez parte dos Vingadores. Eu espero que eles deem passos para frente e não para trás – pois Ultron já é fato superado dentro do Mcu.
– Espero que James também entre para o time da S.H.I.E.L.D. Não tivemos a sua corrente em chamas no season finale, mas eu espero vê-la novamente em ação.
– "Like, betting on Wrestlemania stupid." – Talbot
– O que foram Fitz e Simmons planejando as férias em Seychelles? Definitivamente não creio que ele tenha pensado em mergulho quando Jemma disse que fariam algo que o deixariam sem fôlego!
– "It's a science hunch." – Radcliffe fazendo uma releitura de "It's Science Bitch".
– Não entendi muito o look gótica suave da Daisy, espero que essa fase emo não perdure ou que fosse apenas um disfarce.
– Meu Odin! Quando foi que ela começou a pular daquele jeito?
– Quem é o novo diretor da S.H.I.E.L.D? O site ComicBook sugeriu 5 nomes: Maria Hill e Tony Stark (ambos já foram diretores nos quadrinhos, porém muito dificilmente veremos Robert Downey Jr. Nessa posição.), Talbot, General Ross… ou até o Nick Fury…
– O crucifixo da Yoyo rodou mais do que batata quente.
– Mesmo sem nunca ter espaço, o resto dos agentes da S.H.I.E.L.D. receberam uma devida atenção, com Coulson se sentindo culpado pelo que aconteceu com eles no hangar. Fora 28 pessoas transformadas em Primitivos.
– A cena final foi mais uma releitura da despedida entre Peggy e o Capitão. Emblemática e linda.
– Por onde anda o Deathlok? Pergunta ainda não respondida nesta temporada.
– A 3ª temporada de Agent's of S.H.I.E.L.D. chega à Netflix em Junho!!
– Adorei que, da mesma forma que o Demolidor, Daisy foi capa do New York Bulletin! Será que Karen Page escreveu algo sobre ela?


– "Every time I see his face I want to punch something." – May
– "I can tell from your moustache that you are a man not to be trifled with!" – Radcliffe
---
Quer ficar por dentro de tudo que acontece na série? Curta Agent's of S.H.I.E.L.D. Brasil no Facebook!