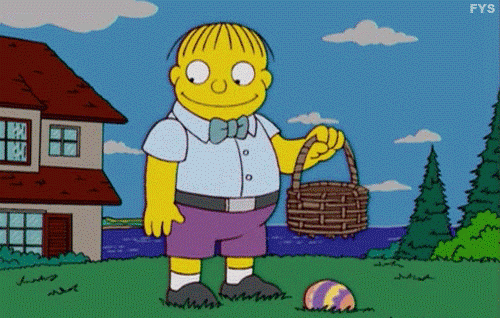 O coelhinho já te visitou hoje? Então, enquanto você se delicia com chocolates, te convido para ler a história dos famosos Easter Eggs (ovos de Páscoa, na tradução) – que não têm nada a ver com cacau. É assim que chamamos as mensagens que roteiristas escondem nas séries, em referência a elementos da cultura pop ou da própria narrativa. O apelido Easter Eggs deve-se à tradicional caça aos ovos e à surpresa que geralmente há dentro deles. A Páscoa não costuma ser representada na TV, igual a outras datas festivas – como Natal, Réveillon, Halloween e Thanksgiving -, mas a homenagem está aí.
Por ora, esqueça tudo que você já aprendeu sobre a origem da Páscoa. No mundo geek, essa história começa com o vídeo game Atari 2600, em 1979. O criador da linha Adventure, Warren Robinett, cansado de não levar crédito por seus trabalhos, inseriu o próprio nome no meio do jogo, sem ninguém saber. O segredo foi muito bem escondido (para descobrir, era necessário carregar uma ponte para dentro do castelo e causar um tilt na imagem, a fim de revelar uma sala secreta!) e, somente meses após o lançamento, um fã esbarrou na mensagem de Robinett. O americano Adam Clayton, de 15 anos, foi o primeiro a zerar a brincadeira e acionar a Atari: ele enviou uma carta, junto com um "mapa do tesouro" para encontrar o tal Easter Egg, imaginando que ganharia algum prêmio. E merecia, vai?
Na época, Warren Robinett já havia se demitido, e a Atari pensou em consertar o problema. Mas, como o reparo custaria 10 mil dólares, a empresa preferiu não mexer nos bolsos e manteve o crédito de Robinett. É claro que os jogadores, alucinados, passaram a buscar outras mensagens secretas, o que forçou a empresa a ser mais criativa dali para frente. A caça aos Easter Eggs virou uma gincana para o público e, mais tarde, o cinema e as séries também adotaram a brincadeira.
Friends já aprontou com a plaquinha de "reservado", diante do sofá em que o elenco se senta, no Central Perk, para justificar como eles sempre conseguiam o melhor lugar do café. How I Met Your Mother cansou de inserir Easter Eggs debaixo do nosso nariz. No episódio Bad News, da segunda temporada, há uma contagem regressiva, que vai de 50 a 01, até o momento em que Marshall descobre que seu pai morreu. Os números aparecem na TV, na porta do apartamento, na garrafa de cerveja, e é preciso estar super antenado para captar todas as pistas. Em outro episódio, no bar que os amigos frequentam, acompanhamos toda a vida de um casal, enquanto o quinteto protagonista nos distrai com piadas sobre o Canadá para zombar da Robin. O casal se conhece, casa, tem filho, o garoto se forma na faculdade, e o homem morre – tudo em segundo plano, no fundo da cena central:
Talvez você já tenha reparado que os personagens das séries, quando dão seus telefones, geralmente passam um número começado por "555". Isso é um acordo dos roteiristas para evitar que fãs perturbem o dono da linha de verdade, querendo falar com um personagem fictício da TV. Mas sempre tem um fã para tentar a sorte, e alguns se deram bem. Em 2004, quando Gilmore Girls ainda estava no ar, quem ligasse para o telefone de Luke Danes ouviria uma gravação do ator Scott Patterson com um pedido de doação para o hospital infantil Johns Hopkins Children's Center.
The Office, Breaking Bad e Lost anteciparam seasons finales sem a gente perceber (pelo menos, não à primeira vista). No último episódio de Michael Scott, em The Office, finalmente vemos a cena em que ele ajeita o troféu, que aparece na abertura desde a primeira temporada. A pista de Breaking Bad está nos títulos dos episódios 1, 4, 10 e 13 da segunda temporada, que formam uma espécie de código: "737 down over ABQ". Se pararmos para pensar, eles estavam nos indicando que o Boeing 737 cairia sobre a cidade de Albuquerque (ABQ), onde acontece a série. Em Lost, o nome da funerária da terceira temporada é um anagrama para "flash-foward", provando que os criadores já haviam planejado o desfecho da série para dali a três anos:
Agora, temos de aproveitar o feriado de Páscoa e revirar nossas séries favoritas, atrás dos Easter Eggs. Com Netflix e DVDs, é mais fácil manter a atenção, pausar e voltar o vídeo para conferir as pistas. Fica a dica: Community, Arrested Development, Seinfeld, Game of Thrones… Há muitos segredos espalhados por aí. E inclusive neste post: quem já reparou no presente que eu deixei ao longo do texto? Compartilhem seus achados, logo abaixo, na caixinha de comentários.