Spoiler Alert!
Este texto contém spoilers pesados,
siga por sua conta e risco.
Todo mundo recuperando o fôlego depois do esperado retorno de Game of Thrones para sua 6ª temporada? A espera acabou e o episódio não trouxe a confirmação do mistério que ronda o finado Jon Snow – Apesar disso, outros acontecimentos surpreenderam e impressionaram os espectadores que já começaram a teorizar sobre o que virá nas próximas 9 semanas. Quer saber o que o elenco tem à declarar sobre o que vimos neste domingo (24)? Leia agora mesmo e, obviamente, o post contem spoilers! Mais de um aviso nunca é demais, né?
Carice van Houten reage à revelação de Melisandre ao final do The Red Woman: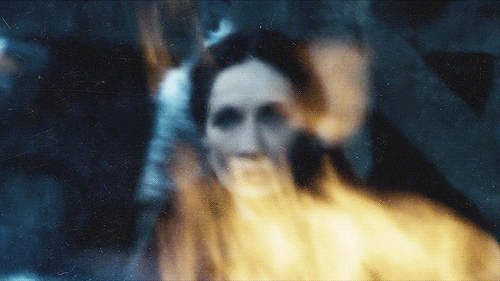 O final do episódio deste domingo (24) deixou bem claro o que motivou o título The Red Woman. O mais do que esperado retorno do fenômeno da HBO concluiu com uma revelação chocante, quando a controversa Melisandre (Carice van Houten) retirou pela primeira vez – em 6 temporadas – a enorme gargantilha do seu pescoço. Nua e sem a sua jóia inseparável, vimos a real Sacerdotisa Vermelha pela prmeira vez – muito velha e provavelmente uma anciã.
Pistas sobre a idade de Melisandre já haviam aparecido anteriormente. Van Houten uma vez declarou durante a 2ª temporada que sua personagem teria por volta de 400 anos – Em outra entrevista ela sinalizou que ela seria centenária – mas os produtores David Benioff e Dan Weiss apenas deram certeza à atriz durante as filmagens da 5ª temporada.
"Eu fiquei muito feliz quando eu li que nós iríamos revelar esse ano" contou Van Houten ao Enterteinment Weekly. "Eu não acho que as pessoas estarão esperando por isso, que a deixa imediatamente mais vulnerável, mas também, mais sábia e misteriosa. Mas há uma vulnerabilidade em sua idade"
A atriz considera que essa revelação ajudará a contextualizar o fato de Melisandre ter insistido pelo sacrifício de Shrieen Baratheon para, potencialmente, salvar Stannis e o seu exército. A idéia de matar uma criança é trivial para Melisandre, pois ela já viveu tempo sufiviente para ver pessoas de todas as idades perecerem em diversas guerras. A Mulher Vermelha pensa em salvar milhares, não apenas uma pessoa. "É por isso que ela foi capaz de afirmar 'Essa é apenas uma pequena guerra comparada à uma batalha maior que nós vamos enfrentar'. A idade dela faz tudo mais certo. Definitivamente, é daí que saem todas essas coisas."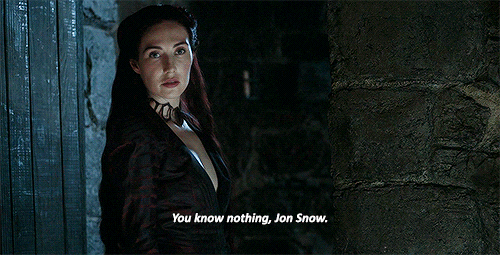 A virada do colar junto com o desastre com Shrieen ano passo, também sugere que os poderes de Melisandre estão mais limitados do que ela deixa à entender. "Ela não faz ideia como ela faz isso" afirmou Houten sobre as habilidades mágicas da sacerdotiza. "Um colar mágico? Uau!". Anteriormente, a atriz já havia dito ao site americano que a sua personagem teria uma direção diferente na 6ª temporada. "Está mudando e eu realmente gosto disso. Nós a veremos em uma perspectiva diferente a partir de agora. Nós veremos alguém cuja todas as crenças começam a desmoronar. Ela está completamente confusa e eu realmente gosto de interpretar isso. Depois de toda segurança, força e orgulho, agora veremos algo completamente diferente. Eu estive esperando por esse momento".
Liam Cunninghan também comenta virada de Melisandre:
Liam Cunningham, mais conhecido como o leal Davos, conversou com exclusividade com o The Hollywood Reporter. O Cavaleiro das Cebolas, que marca presença em Game of Thrones desde a 2ª temporada, é um dos poucos que conhecem os verdadeiros inimigos dos Sete Reinos, apesar de ainda não saber lidar com a ameaça.
Sobre Davos pesam vários fardos. Ele perdeu seu rei e a sua protegida princesa Shireen, as duas pessoas mais importantes da sua vida. Então o seu plano B caiu por terra, com a enfadonha traição e morte de Jon Snow no final da 5ª temporada. Este ano começou com Davos tomando ciência do destino de Jon, recuperando e protegendo o seu cadáver de seus traidores, com exíguos recursos. Nem é necessário dizer que o relacionamento entre ele e Melisandre é complicado, com um histórico sangrento – mais sangrento até do que ele sabe, já que ela foi responsável direta pela porte da filha de Stannis. Nos momentos finais de The Red Woman, a Sacerdotiza de Asshai revelou a sua verdadeira forma.
Um dia depois da premiere mundial de Game of Thrones em Los Angeles, Cunninghan sentou para conversar sobre a situação imediata de Davos depois da morte de Jon, a atual aliança com Melisandre e a sua opinião sobre a maior revelação da noite, bem como a latente ameaça dos White Walkers. Confira a entrevista:
No passado, você declarou que Davos viu em Jon Snow um potencial parceiro. É por isso que Davos não hesita em agir quando ele vê o corpo de Jon?
Ele é certeiro, esse homem. Ele tem essa lendária decência e lealdade, e sabe o que é o certo a se fazer. Ele vê isso em Jon… O que é óbvio depois da partida de Stannis e ainda mais que, antes da sua morte, o irmão de Robert Baratheon declarou 'Ele é um bom garoto, filho do Ned Stark. Ele é para valer.'. Então isso dá a deixa para Davos se dedicar. Ele não vai se alinhar com os Boltons, ou qualquer um dos Lannister, pois eles têm uma fome feroz pelo poder.
Mesmo se a melhor escolha para sua sobrevivência for se curvar à liderança de Thorne, apesar de não de acordo com o seu compasso moral?
Não, isso nem é uma questão. Até na premiere, quando o o confronta, ele afirma 'Ele está mentido. Eu estive perto de homens assim a minha vida inteira. Não há nenhum bem do outro lado da porta. Eles vão entrar para nos matar.'. Então, as coisas estão bem claras para ele. Mesmo em um mundo confuso, a resposta para Davos é sempre 'faça a coisa certa.'. Ele sabe a coisa certa a se fazer em qualquer situação. É uma das alegrias de poder falar as essas belas palavras, sempre apropriadas.
Nos vimos a verdadeira Melisandre no final do episódio. Davos teve um relacionamento complicado com ela no passado…
Para não dizer pior!!
Qual seria a opinião de Davos, caso ele descubra o segredo dela?
Não há necessidade… novamente, ele é uma daquelas pessoas que não sentem necessidade de vingança, pena ou algo do gênero. Ele será passivo-agressivo com a Melisandre. Ele não vê função nisso. Eles são companheiros de viagem no mento. Estranhos domindo no mesmo teto. Ambos perderam o motivo de estarem na série. Ela viu a grande batalha em Winterfell sob a liderança de Jon e agora, ele está morto. Ele se foi. O mundo está falhando em fazer sentido. Então assistimos àquele momento notável, quando a humanidade dela aparece.
Muitos fãs teorizaram sobre o fato de Melisandre ser mais velha do que aparentava, mas eles vão se surpreender com a real aparência dela…
Os pobrezinhos que fizeram amor com ela…
Você tem alguma ideia sobre como aquela cena foi idealizada?
A cena notável onde ela está olhando para você… é a Carice, da cabeça para cima. Ela passou muito tempo fazendo os testes de cabeça. Houve muito trabalho em colocar todas aquelas próteses. Ela me mostrou uma fotografia; eu não estava lá quando filmara. Foi algo feito discretamente. Ela me mostrou uma foto dela montada e, quando eu vi pelo telefone, eu achei extraordinário. Eu sempre quis fazer algo como aquilo. Eu amaria ter algo ter feito aquilo, mergulhar em um personagem dessa forma. Mas ela achou que foi bem estranho. Acho que ela gostou bem mais do que esperava – de ser maquiada. A coisa que ela vestiu… deve ter levado umas 6 horas ou algo assim. Ela fez
Mas ela é está sempre contraída em seu figurino, bem como no lugar que filmamos pois Carice não gosta de frino. A ironia é que Melisandre não sente frio, então é desafiador para ela. Nós temos que mantê-la aquecida. Deixamos ela coberta por edredões por um tempinho. É claro, a idosa que veio interpretar o corpo da Melisandre… aquele momento fantástico no final. É uma revelação que ao final vai te deixar 'Mas o que?!'. Mas é isso que eu amo dessa série: O momento em que ela sobe na cama, com um olhar bem triste, reconhecendo que algo se perdeu.
Por um momento, você pensa se Melisandre está voltando à ser ela mesma para então poder conjurar uma grande magia – para mostrar o poder dela, como Davos fez alusão ao falar com os irmão da Patrulha da Noite. Mas não, ao invés disso, ela se enfia na cama.
O mundo dela está estremecido. Nós vimos a verdadeira Melisandre. É por isso que o episódio se chama The Red Woman (A Mulher Vermelha). Ela está tendo que lidar com tudo. Sua fachada está no chão. Isso é notável para mim. Qualquer coisa que esteve ali por 5 temporadas, se foi. E ela não precisa nem tentar mostrar; os espectadores sentirão isso nela. Tudo que ela fez foi uma mentira. Não é a Melisandre  verdadeira. Nós vamos sempre assistir para saber quando a revelação vai acontecer – se acontecer. É fantástico. Um bom drama.
Olhando para frente, há uma boa fala de Davos em um dos trailers: "A verdadeira guerra é entre os vivos e os mortos…"
"… e os mortos estão vindo.".
Isso da a entender que a politicagem e os conflitos dos Sete Reinos não significam nada se comparados com a ameaça além da Muralha.
E a Mulher Vermelha já viu isso. Ela disse, creio que no final da 4ª temporada, que essas tolas guerras dos Lannister contra quem quer que seja – os Starks, os Boltons, a Khaleesi e etc – isso tudo é muito briga de escola, enquanto a verdadeira guerra está em um exército de milhares de zumbis.
Davos acreditou nela naquela época? Ele nunca foi próximo de Melisandre, mas os eventos recentes abriram a sua cabeça, não?
Foi em Durolar (Hardhome). Quando ele descobriu sobre isso, vendo do que os White Walkers são capazes, ele entende a dificuldade de enfrentar esses caras. Eles estão cada vez mais próximos das muralhas e continuam vindo. Eles não serão impedidos por arcos e flechas. Esse é o grande inimigo em quem ninguém está prestando atenção. É quase bizarro dizer, mas é até uma metáfora para as mudanças climáticas. Os White Walkers são as mudanças climáticas. Pessoas estão jogando bombas no oriente médio, enquanto o grande problema vai nos dar um chute na cara e ninguém importa. É uma loucura!
Uma metáfora especialmente interessante, quando você pensa que os White Walkers estão se dirigindo diretamente para uma camada de gelo que protege…
Sim! Vai ser silencioso. Nossa derrota será silenciosa, como um balde de água fria.
Gwendoline Christie comenta retorno heróico de Brienne: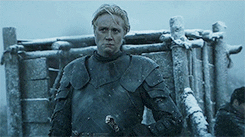 Depois de tanta dificuldade e desapontamentos, Brienne de Tarth finalmente conseguiu cumpri uma das suas promessas à Catelyn Stark. Na premiere deste domingo, a guerreira resgatou Sansa de ser recapturada pelos homens de Ramsay Bolton e foi aceita pela ruivinha como sua guardiã. "Depois da 5ª temporada, pessoas vinham falar comigo na rua lamentando por Brienne não fazer mais, e eu dizia 'Eu sinto muito, eu não decido isso'", disse Gwendoline Christe à EW. "Foi animador ver Brienne forte novamente. Eu amo vê-la lutando. Há muito mais ação e é excitante me dedicar ao momento de superar esse obstáculo e resgatar Sansa."
O diretor Jeremy Podeswa contou que ficou particularmente orgulhoso da cena – que fez com que a platéia se animasse na premiere em Hollywood no início do mês – já que ela funcionou de várias formas. Brienne salvando Sansa é a ação principal daquela cena, mas também é mostrado o sentimento dela. "É ótimo quando você pode casar algo em há muita ação com algo tão emocional" declaroi Podeswa. "Theon mostra providência para proteger Sansa, e você tem Brienne vindo com tudo, derrubando um cavalo com as suas próprias mão e então há o juramento."
Para Christie, o juramento entre Brienne e Sansa é o maior momento da jornada da sua personagem. "Quando ela faz seu juramento para Sansa e deita sua espada, eu acho tudo muito tocante. Eu tenho tantas boas memórias do trabalho com Michelle Fairley (Catelyn Stark). Esse é um reflexo daquela promessa e agora Sansa a aceita, depois de ver o quão dedica Brienne é com ela. É gratificante carregar uma promessa para Catelyn Stark e finalmente encontrar uma das jovens Starks para tentar deixá-la em segurança."
---
Já conferiu a resenha do episódio? Corre aqui, pois é lugar perfeito para comentar sobre os acontecimentos sem ter que dar spoiler para os amigos!
E fique atento, pois o Apaixonados acompanhará de perto a esperada 6ª temporada de Game of Thrones!