Spoiler Alert!
Este texto contém spoilers pesados,
siga por sua conta e risco.
Os fãs de Game of Thrones já se provaram verdadeiros detetives no que tange os mistérios construídos dentro da série. Desde teorias e análises, todos os momentos são sempre estudados minuciosamente para que nada passe em branco aos espectadores – já que uma coisinha pode significar algo importante no futuro. Em The Broken Man, exibido no último domingo (5), não foi diferente.
Ao se ver em dificuldades para conseguir apoio dos nortistas que não passaram para o lado dos Boltons, Sansa claramente procura uma solução escrevendo uma mensagem para ser enviada através de um corvo. Não que o destinatário seja uma grande surpres – mas os detetives foram ainda mais longe, buscando decifrar o que estava escrito no pergaminho da filha de Ned Stark com os prints da sequência.
Foto: HBO/Youtube pic.twitter.com/bditdAHE83

— Flávia (@fkr_comunicacao) 7 de junho de 2016
Carta desvendada por usuários do Reddit pic.twitter.com/k2KPUQF1yH

— Flávia (@fkr_comunicacao) 7 de junho de 2016
Na imagem acima, as partes legíveis estão em branco, as não legíveis (com suposições baseadas nas palavras vizinhas) em vermelho – as palavras "north" (norte) e "rewarded" (recompensado) aparecem legíveis quando Sansa vai selar a carta. As interrogações indicam palavras ainda duvidosas, mas que provavelmente estão corretas.
Claramente escrevendo a carta sem que o irmão saiba, eis algumas partes do que Sansa escreveu:
"[…] para me proteger. Agora você tem uma chance de cumprir sua promessa. […] Cavaleiros do Vale estão sob seu comando. Ande para o norte rumo a Winterfell. Empreste-nos sua ajuda e eu garanto que você será [bem/apropriadamente] recompensado."
A partir dessas informações fica claro para quem Sansa está escrevendo: Mindinho Ele está em dívida com Sansa, após fazê-la se casar com Ramsay. A pista foi dada no último episódio quando ela estava no campo e foi distraída por um pássaro – símbolo da casa de Petyr Baelish. Agora, todos ficarão sabendo que é ele quem controla os Cavaleiros do Vale – ele, inclusive, já havia oferecido ajuda a Sansa anteriormente.
Certamente Baelish atenderá ao pedido de Sansa, já que, segundo o ator Aiden Gillen, o personagem está realmente se sentindo mal em relação ao que aconteceu com Sansa. Aiden disse ao EW: "Para mim, o momento de fazer jogos acabou, há um nível de expiação em relação a Sansa e meu mau julgamento de Ramsay Bolton. Muito do que estou fazendo é expiação e realmente tentando me aliar com as pessoas certas… Eu deixei Sansa casada com um psicopata. É provavelmente a única vez que vimos Littlefinger cometer um deslize. Ele realmente não sabia sobre ele. Ele deveria saber."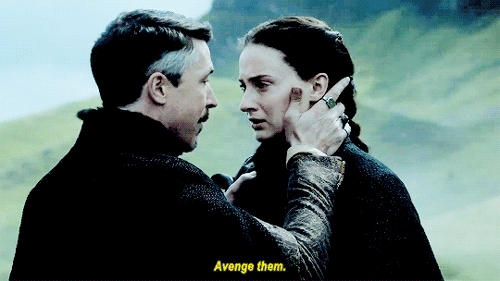 Título dos dois últimos episódios confirmados:
Depois de muita especulação e rumores, a HBO confirmou o título dos dois últimos episódios da 6ª temporada:
Episódio 9 – The Battle of the Bastards (A Batalha dos Bastardos) – exibição 19 de junho
Episódio 10 – The Winds of Winter (Os Ventos do Inverno) – exibição 26 de junho (episódio com 69 minutos de duração)
---
Fique ligado no Apaixonados, pois estamos acompanhando de perto as novidades da reta final de Game of Thrones!