Spoiler Alert!
Este texto contém spoilers pesados,
siga por sua conta e risco.
Depois da exibição de Home (exibido no último domingo, 1º de maio) , segundo episódio da sexta temporada de Game of Thrones, a Internet ficou em polvorosa: pela felicidade de uma certa ressurreição e, depois, para entender como isso aconteceu.
A partir da retomada do fôlego de Jon Snow, vários usuários do Reddit e fãs da série da HBO, dedicaram seus preciosos tempos para traduzir a prece de Melisandre nos últimos momentos do episódio. Ao que consta, o Alto Valiariano está sendo muito procurado nos cursinhos de línguas do mundo inteiro! Leia:
"Pedimos ao Senhor para nos iluminar, e conduzir uma alma para fora da escuridão. Suplicamos ao Senhor para partilhar a sua chama, e acender uma vela que se extinguiu. Da escuridão, luz. Das cinzas, fogo. Da morte, vida."
Vale lembrar que a Feiticeira Vermelha não foi a primeira a conseguir o feito na série. Durante a 3ª temporada, vimos o sacerdote Thoros de Myr trazer Beric Dondarrion da cidade dos pés juntos.
Um novo visual para Jon Snow:
De todo o buzz criado em cima dos flagras dos bastidores da 6ª temporada de Game of Thrones, um deve deixar os fãs realmente surpresos: O cabelo de Jon Snow deve ficar diferente em breve!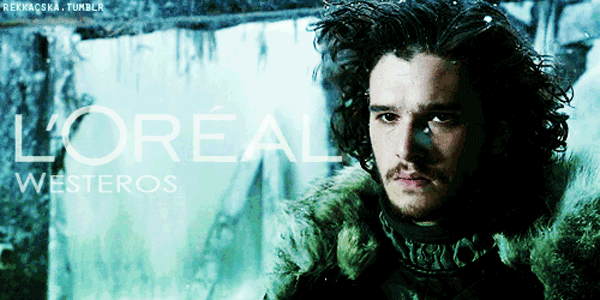 O Enterteinement Weekly não deu muitos detalhes, para evitar spoilers, porém lembrou que Kit Haringtou deixou as madeixas mais curtas depois de gravar a morte do seu personagem na 5ª temporada – gerando muita especulação sobre a sua permanência (ou não) na série a partir do seu visual.
O ator não foi liberado para falar a verdade pela equipe da série mas, sobre seu cabelo, aparentemente ele foi honesto ao declarar que "Eu queria vender a história que eu estava deixando a série de forma mais contundente. Eu sei que esse visual é quase sinônimo da série e que eu disse no passado que cortaria o cabelo quando pudesse. Queria aparecer com ele mais curto para vender a mentira."
Então, no início das gravações no ano passado, a produção decidiu que iria radicalizar ainda mais. O Jon Snow que vimos no domingo estava usando megahair, o qual vimos Melisandre cortar para a cena da ressurreição. "Nós cortamos bem mais curto nesta temporada, fazendo com que o novo estilo de cabelo aparecesse  para repercutir". Essa repercussão, contudo, se deu quando uma foto do Set vazou no ano passado:
O problema, se podermos chamar assim, é que o novo corte de cabelo acabou não sendo tão relevante para o público. Com um certo cumprimento, as pessoas acabam por não reparar se ele estava diferente ou não, pois continuou "comprido" – mesmo que mais curto. Apesar disso, na perspectiva de Harignton, o cabelo do bastardo de Ned Stark agora é curto (comparado ao que era antes). "Ninguém notou que eu estava com o cabelo mais curto. Nós tiramos boa parte dele e as pessoas continuavam 'Olhe, ele ainda está com os cabelos longos', ou seja, isso não funcionou muito bem.".
Ainda sobre a já icônica cena da ressurreição, Carice van Houten revelou que as suas gravações foram muita intensas e que o diretor queria que tudo ficassem perfeito. Isso significou passar muitas horas limpando e tocando no cadáver do Jon Snow, ou seja, em um Kit Harignton praticamente pelado. "Levou uma vida para ressuscitar ele! Era uma cena tão importante e filmamos por muitos ângulos. Eu acho que limpei o corpo umas 50 vezes. Devem haver pessoas que ficariam com muita inveja, incluindo minha mãe e irmã. Fiquei fazendo piadas sobre isso com ele  – 'Se a minha mãe pudesse me ver agora'- e ele adorou". contou Van Houten.
O ator não reclamou sobre passar dois episódios deitado, especialmente porque os seus dias no set geralmente envolvem cenas de ação exaustivas em um frio congelante. "Foram dois episódios muito fáceis, eu adorei, em um quarto quente – o que não é usual.". Sobre a experiência com Von Houten, ele confessou "Foi muito estranho, como um sonho molhado de um adolescente – você deitado lá com Carice Von Houten te limpando."
Como muitos do elenco da série, a intérprete de Melisandre não tinha idéia de que Jon Snow não ficaria permanente morto – pois, inclusive, o Kit Harington se despediu do elenco no final da 5ª temporada. "Eu acreditei por um bom tempo que ele iria morrer. Então escutamos pessoas dizendo que ele provavelmente voltaria, mas não tínhamos muita certeza sobre isso. É engraçado porque no Twitter, quando ele morreu, muita gente que gostaria de me ver morta, voltou e disse 'Nós vamos te perdoar se você ressuscitar o Jon Snow'". Apesar disso, na época em que Mother's Mercy foi ao ar, ela realmente não sabia se isso aconteceria. Depois da exibição de Home, a atriz acabou publicando uma mensagem aos seus seguidores:
Happy now? 😜

— Carice van Houten (@caricevhouten) 2 de maio de 2016

Siiiiiiiiiiiiiiiiiiiiiiiiiiiiiiiiiiiiiiiiiiiiiiiiiiiiiiiiiiiiiim!
Teoria sobre Tyrion ganha força entre os fãs de Game of Thrones:
Todo mundo está careca de saber sobre a teoria envolvendo a ascendência de Jon Snow – onde ele seria fruto do trágico amor de Rhaegar Targaryan e Lyanna Stark – ou seja, resumindo em seu sangue a essência das crônicas de gelo e fogo. Toda essa suposição deve ser confirmada (ou não) durante Oathbreaker, que vai ao ar no próximo domingo, 8 de maio. Com isso, os fãs deslocaram os seus pensamentos para outra suposição que é remoída há muito tempo: Seria Tyrion Lannister um Targaryan?
Durante uma bonita cena em Home, Tyrion realizou um sonho de infância ao chegar perto dos dragões de Daenerys – conseguindo, inclusive, uma bela interação com Viseryon e Rhaegal. Com isso, a possibilidade do querido anão ser um familiar da sua Khaleese ficou muito mais em voga do que antes.
Como já foi mencionado na série e nos livros, o falecido Tywin Lannister foi a respeitada Mão do Rei louco Aerys, o pai de Daenerys – morto por Jamie durante o cerco a King's Landing. Aos que leram os livros e conhecem a mitologia de George R.R. Martin é sabido que Aerys nutria um desejo doentio por Joanna Lannister, a esposa de Tywin e mãe de Tyrion, sendo até indiscreto com ela na noite de seu casamento.
Acredita-se que tal ânsia perdurou durante o reinado, quando Joanna esteve na corte por ser uma das damas de companhia da irmã do rei – que, fora de si, pode muito bem ter continuado com as suas investidas à esposa de Tywin e até gerado um filho desta malfadada relação.
No livro A Dança dos Dragões, existe um diálogo enigmático entre Daenerys e Sor Barristan:
"Havia alguma mulher que [Aerys] amasse mais do que a sua rainha?"… 
"Não… amar não. Talvez querer seja uma palavra melhor…
O Príncipe Aerys… quando era jovem, ele se sentiu atraído por [Joanna].
Quando ela e Tywin se casaram, seu pai bebeu vinho demais na festa do casamento e ouviram-no dizer que era uma pena que o direito do rei à primeira noite houvesse sido abolido.
Uma brincadeira de bêbado, nada mais do que isso, mas Tywin Lannister não era o tipo de homem que se esqueceria dessas palavras ou das… das liberdades que seu pai tomou durante os rituais do casamento"
Outro indício é que como Jon e Daenerys, a mãe de Tyrion também morreu no parto – sendo o caçula Lannister e a rainha dos dragões constantemente acusados pelos irmãos de amaldiçoar a família. Caso essa teoria se confirme, bem como a paternidade de Jon Snow, os três representariam as cabeças de dragão presentes no estandarte da família Targaryan – destinados à trazer uma nova era para Westeros, como seus antepassados.

---
E você, empolgado com a 6ª temporada de Game of Thrones? Fique de olho no Apaixonados, pois acompanharemos a série mais badalada do momento bem de pertinho!