Ontem foi noite de Golden Globes, já conferiu a lista completa de ganhadores?
Pra relembrar os melhores momentos, separamos algumas das melhores interações entre os atores: desde o tapete vermelho até o fim da premiação. Lembrando que, como somos um site de séries, só incluímos a galera da TV. Vem com a gente!
10. Oscar Isaac e o único Oscar de Leonardo di Caprio

Ainda no tapete vermelho e antes de ganhar seu Globo de Ouro pela série limitada Show me a Hero, Oscar Isaac protagonizou um dos melhores momentos da noite: sem fazer ideia disso. Ao cumprimentar Leonardo di Caprio, a internet foi a loucura com as imagens de Leo e seu tão esperado "oscar". Um trocadilho bobo mas que rendeu muitos memes na premiação de ontem à noite.
9. America Ferrera e Eva Longoria

America Ferrera (Superstore) e Eva Longoria (Telenovela) apresentaram o prêmio de melhor ator em série de drama e chamaram atenção pra uma questão importante: racismo e xenofobia em Hollywood. Na mesma hora, o twitter da MTV australiana deixou clara a necessidade da discussão, twittando que as duas precisavam de legenda. O IMDb também não ficou pra trás e colocou Benicio Del Toro, no lugar de Wagner Moura, na montagem com os indicados ao prêmio. Afinal, latinos são todos iguais, certo?
The winner is… Jon Hamm for #MadMen https://t.co/qxAJJmansm #GoldenGlobes #IMDbGlobes pic.twitter.com/fwpeD1mgsn

— IMDb (@IMDb) 11 janeiro 2016
8. Melissa Benoist e Grant Gustin

Esses dois não precisam fazer muita coisa para ganhar nossos corações, mas foi lindo vê-los entrando de mãos dadas para apresentar o prêmio de melhor ator de comédia. Os dois atores são amigos e são sempre carinhosos um com o outro quando estão divulgando suas séries: Supergirl e Flash. Quem não queria completar esse trio, hein?
7. Ken Jeong, Kevin Hart e o microfone

Chamados no palco por Ricky Gervais (e sua piada -ofensiva?- sobre os dois poderem ser adotados por Brad Pitt e Angelina Jolie), Ken Jeong (Dr. Ken) e Kevin Hart toparam com um adversário na hora de começarem sua apresentação da categoria de melhor atriz em série limitada ou filme para a tv: o microfone. Baixinhos, os dois tiveram que esperar o microfone descer alguns centímetros antes de começarem a falar.
6. Jaimie Alexander e o teleprompter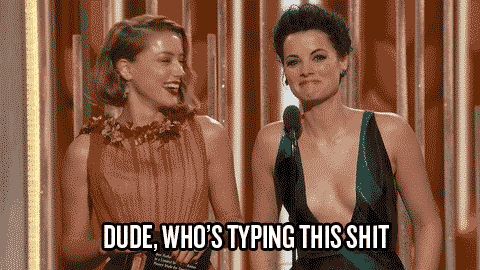 Jaimie Alexander, protagonista de uma das melhores estreias da temporada, Blindspot, não deu muita sorte ao apresentar o Globo de Ouro pela primeira vez. Ela e Amber Heard tentavam apresentar a categoria "série limitada ou filme para a tv" mas aparentemente o teleprompter não estava funcionando corretamente. Sem saber o que falar, Jaimie soltou: "quem está digitando essa merda?".
5. Rachel Bloom e seu Globo de Ouro
Raise 'em up if you're enjoying the #GoldenGlobes tonight. 🙌 pic.twitter.com/gYEuTkZFFt

— Entertainment Weekly (@EW) 11 janeiro 2016

Uma das maiores surpresas da noite foi a premiação de Rachel Bloom. A protagonista de Crazy Ex-girlfriend brindou a plateia com um discurso emocionado de quem teve sua série rejeitada 6 vezes em um único dia para, meses depois, estar recebendo um Globo de Ouro. A ex-Youtuber agradeceu principalmente ao presidente da CW, Mark Pedowitz, que tornou aquilo tudo possível. Vale lembrar que esse é o segundo prêmio seguido da CW na categoria, que ano passado premiou Gina Rodriguez (Jane the Virgin).
4. Lady Gaga e Leonardo di Caprio

Quando passava para receber seu prêmio de melhor atriz em minisérie ou filme por AHSHotel, Lady Gaga esbarrou na cadeira do queridinho da Internet Leonardo di Caprio. Até aí nada de mais, se não fosse a olhada que Leo soltou para Gaga. Minutos depois o vídeo do esbarrão já tinha sido transformado em GIF e viralizado. O barulho foi tanto que hoje diCaprio já se pronunciou:
"Oh lord – that's trending, huh? I just didn't know what was passing me, that's all!"
3. Aziz Ansari e Jeffrey Tambor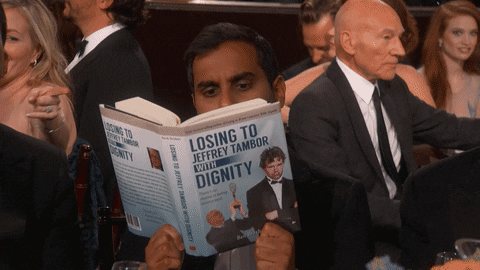 Protagonista de uma das melhores comédias da Netflix, Master of None, Aziz  Ansari provou nesse Globo de Ouro que consegue ser engraçado em 5 segundos de aparição entre os indicados. O ator parecia acreditar que Jeffrey Tambor levaria o Globo de Ouro para casa (o que seria um resultado muito mais justo do que ocorreu, por sinal) e preparou um livro especialmente para a ocasião: como perder para Jeffrey Tambor com dignidade.
2. Tajari P. Henson a platéia do Golden Globe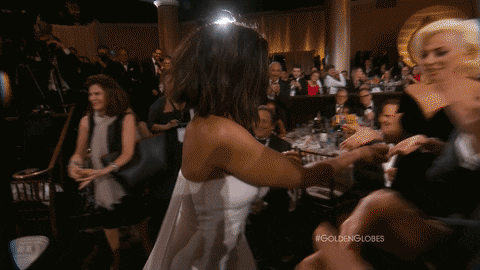 Quem não assiste Empire deve ter ficado sem entender nada quando Tajari P. Henson puxou alguns biscoitos e começou a distribuir em seu caminho para receber o Globo de Ouro de melhor atriz de drama. Sua personagem na série da FOX se chama Cookie, por isso os "cookies" distribuídos para a platéia. A atriz ainda coroou o divertido momento com um discurso cheio de bons drinks.
1. Wagner Moura e todos nós
99% dos brasileiros que assistiam o Globo de Ouro ontem torciam pela vitória de Wagner Moura. Independente do ator estar fantástico como Pablo Escobar em Narcos, toda premiação em que há brasileiros disperta um sentimento de torcida coletiva, e com o Globo não poderia ser diferente. Azarão absoluto entre candidatos mais tradicionais, nem o próprio Wagner acreditava que tinha chances e disse em entrevista no tapete vermelho que não tinha preparado discurso e acreditava na, igualmente merecida, vitória de Jon Hamm por Mad Men. E foi o que aconteceu.
Quem também sentiu uma pontinha de esperança pra Wagner Moura ao ver duas latinas apresentando o prêmio? o/
---
E você, lembra de mais algum momento bacana da noite? Conta pra gente!