Spoiler Alert!
Este texto contém spoilers pesados,
siga por sua conta e risco.
Os últimos segundos de Home, exibido no último domingo (1), retrataram aquilo que os fãs de Game of Thrones vêm especulando à meses  (para ser mais exato 10!), depois dos fatídicos acontecimentos de Mother's Mercy.  E, mesmo com tudo o que vimos na premiere da semana passada, foi pelas mãos de Melisandre que o Lorde Comandante da Patrulha da noite voltou à vida, gerando uma reação imediata de alegria e alívio em todos os meios de comunicação possíveis.
Por conta disso, logo após o episódio, o ator Kit Harignton falou ao EW sobre a verdadeira epopeia que viveu por conta desse segredo tão badalado. Atores geralmente precisam atuar diante das câmeras mas, para proteger essa virada de Jon Snow, os produtores da série pediram que ele fizesse isso fora do set – como um ator que tivesse recém saído de um programa que virou sensação mundial.
Confira o vídeo:
A primeira coisa que Harington quer que os espectadores escutem depois de assistir ao episódio "Me desculpem!" – pediu o ator – "Eu gostaria de pedir desculpas por mentir para todo mundo. Eu fiquei feliz com o fato das pessoas terem ficado tristes por ele ter morrido. Penso que meu maior medo era que ninguém se importasse ou que elas se conformassem 'Tudo bem, Jon Snow está vivo. Parece que houve um luto geral, como depois do Casamento Vermelho. Isso significa que algo que estou fazendo – ou que a série está fazendo – está certo".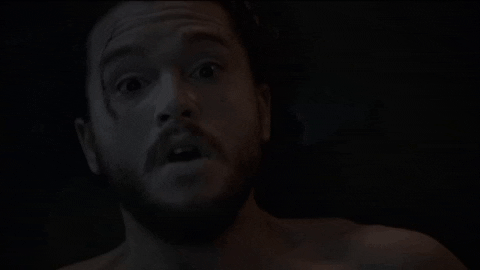 Iwan Rheon comenta as atitudes de Ramsay:
Ramsay Bolton conseguiu se superar – não tínhamos certeza se isso seria possível, mas depois do episódio desse domingo, o sadismo do jovem chegou ao nível de uma chacina da família Bolton em prol de um direito de sucessão que lhe parecia incerto. Ramsay apunhalou o pai no coração e matou sua madrasta Walda – porém o seu principal alvo era o irmão recém nascido, filho legítimo de Roose Bolton.
"Isso mostra um nível de ambição que nós ainda não havíamos visto" disse Iwan Rheon, intérprete do personagem. "Ele resolve os problemas de uma maneira básica. É algo bem similar com o modus operandi de muitos dos ditadores totalitários para se livrar de pessoas que entram nos seus caminhos, com uma forma bem Stalinesca de fazer.
Ramsay poderia ter esperado para saber se o pai continuaria apoiando o seu filho ilegítimo. Mas vamos combinar: Ele não é uma pessoa que fica confortável com incertezas ou demonstra paciência. "A madrasta dele deu a luz à um menininho, fazendo soar ali um alarme, seu pai o avisou [sobre o seu lugar incerto na família depois de perder a noiva Sansa]. Ao invés de tentar esperar para ver, foi algo do gênero 'Você precisa ir, cara, desculpa".
O roteirista de Home, Dave Hill, disse que Ramsay sempre considerou a possibilidade de matar o pai. "Ele nunca deixou isso claro. O que mais importa para ele é o poder. Enquanto ele fosse único filho e herdeiro, estava tudo bem.". No que tange a sua madrasta, Walda foi uma casualidade que Hill afirmou ter surpreendido até Rheon na leitura do roteiro. "Ele não atura a madrasta e nunca iria. Ela é uma mulher muito doce no lugar errado, na hora errada." explica.
Rheon ressalta que, diferente de outras atitudes de Ramsay, essa em particular não foi premeditada – e também não foi completamente sem um custo emocional. "Não foi calculado, foi uma reação. E teve um efeito sobre ele que não era esperado.". Dave Hill concorda: "Ramsay está triste, ele não é um completo psicótico. Ele se arrepende de ter matado o pai. Ele realmente vai tentar viver sob os ensinamentos dele, para se tornar o homem que ele esperava dele – do jeitinho sociopata assassino que só ele tem.".
Isaac Hempstead-Wright compara seu personagem ao Doctor Who:
Depois de 2 anos ausente, Bran Stark retornou à Game of Thrones neste domingo (1), com uma das histórias mais intrigantes até então. Tendo estudado sob a batuta do Corvo de Três Olhos, Bran começa usar seus poderes para explorar o passado, presente e futuro de Westeros e Essos. Como resultado, os fãs poderão ver cenas da mitologia da série que nunca imaginaram, enquanto Bran evolui para o primeiro personagem da série a ter uma perspectiva de espectador que nós tivemos durante todos esses anos.
O EW conversou com o ator Isaac Hempstead-Wright em outubro, durante as gravações da temporada e algumas semanas atrás, depois da premiere em Hollywood. Confira: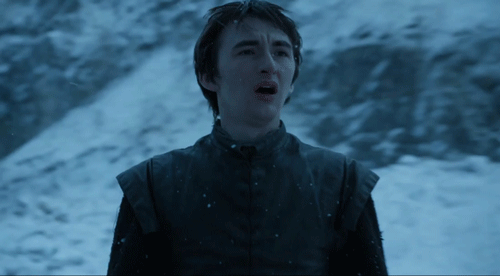 EW: OK, para começar. Qual o seu papel na 6ª temporada?
A 6ª temporada é superba. As coisas estão começando a se amarrar. Todas outras temporadas tiveram essa ótima maneira da desenvolver uma complexa linha de histórias por todos os lugares. Agora dá para sentir que elas chegaram ao seu auge e começam a convergir para um foco, tendo uma conclusão épica.
Quando você colocou as mãos no roteiro, qual foi a reação ao caminho do seu personagem?
"Oh, essa é a melhor cena que eu já fiz… Essa outra é ainda melhor!"
Então esta é a melhor temporada do Bran?
Definitivamente. As suas duas primeiras temporadas foram reações as outras histórias. Então ele começou a ter a sua própria com seus sonhos e viagem para o norte, mas não tínhamos certeza para onde estávamos indo. Agora nós sabemos que a história do Bran é muito importante. Eu amo muito essa temporada. Ele tem estado ilhado na sua narrativa. Agora ele sabe que ele tem esses sonhos pois ele precisa salvar Westeros. É tudo muito legal.
O que podemos esperar das suas visões?
Bran está bem perto de se tornar o Corvo de Três Olhos agora. Previamente, ele tinha apenas visões rápidas do futuro ou passado, mas nunca com o controle de agora. Ele consegue ver eventos muito importantes do passado, presente e futuro deste mundo e Bran está começando a juntar as peças como um detetive, quase como se ele estivesse assistindo à série. Igualmente, ele está descobrindo o quão crucial pode ser na Grande Guerra. É quase um Inception. O poder dele não está apenas nos contando uma história, mas também pode ter um grande impacto no futuro.
Então os poderes dele progrediram desde a última vez que o vimos.
Começou como sonhos perturbadores e a descoberta de que ele poderia controlar os lobos. Então ele descobriu que poderia wargar em humanos. Então ele começou a ter essas visões estranhas. Agora ele vai começar a fazer uso dessas visões e descobrir que pode interagir com o passado. Ele é como o Doctor Who – É o Doctor Bran!
Nas visões de Bran, pelo que vimos nos trailers, ele está de pé. Foi uma mudança revigorante?
Nos dois primeiros dias foi tipo 'Oh sim, estou andando e fazendo coisas'. Então eu fiquei 'Quer saber? Podemos voltar para caverna para eu deitar novamente e relaxar?'. Mas não, tem sido bom ficar um pouco de pé nesta temporada.
Você está trabalhando com Max Von Sydow (Corvo de Três Olhos), que tem uma história de vida considerável.
Ele é um homem charmoso. Algumas linhas você pensa serem apenas fillers, falas que você crê não serem imperativas em nenhuma história, como 'Ele está ali'. Mas quando Max Von Sydow as fala, parece que são a coisa mais importante que você já ouviu. Ele simplesmente amplifica o senso de criatividade e é realmente algo para se estar perto. Até falas curtas, que eu não tenho a menor noção de como fazer de forma interessante, ele consegue isso sem esforço e ele é um homem adorável.
Qual foi sua reação quando soube que ficaria um ano fora?
Quando eu ouvi a notícia, os produtores quiseram conversar comigo. Eu fiquei "Ah não!". Geralmente quando você recebe uma ligação deles é para saber que você está morto. Então, comparando isso ao fato de ficar um ano fora, fique "uhul!"
Você sentiu saudades da série? Ou é bom tirar umas férias?
A coisa mais importante foi que eu pude focar completamente na escola, pois esses são os meus anos mais importantes. Mas também, tenho feito a série pelos últimos 5 anos, talvez 6 se contarmos o piloto, e é bom tirar um ano fora. Foi meio um choque conseguir dedicar todo meu tempo para escola, pois isso foi inédito. Mas no fim eu estava "Sinto falta de Thrones, sinto falta de Belfast". É bom estar de volta.
Qual foi sua perspectiva da série durante esse tempo?
Eu vi o quão grande ela era. Estar de fora e ver todos os posters e repercussão, foi algo meio bizarro.
Como foi assistir a 5ª temporada?
Eu ainda não vi!
Como isso é possível?
Foi exibida no meio das minhas provas e eu não tive oportunidade de ver. Estive tão ocupado. Eu genuinamente teria assistido feliz as 10 horas na noite passada, então eu acho que vou fazer isso no meu voo de volta. Assisti algumas partes aqui e ali. Eu deveria mesmo ver pois o Bran tem esse senso de sabedoria sobre tudo. Ele tem noção do que está acontecendo em todos os reinos.
Você fez algo para se preparar para voltar ao seu personagem?
Eu tenho feito desde os 10 anos, eu nunca nem registrei que estava atuando. Era sempre 'Venha aqui, leia essas falas, coloque o figurino'. Foi somente nessa temporada que a ficha caiu e que eu realizei que eu posso me divertir e fazer coisas interessantes com o personagem. Tratei essa temporada como se o Bran soubesse de tudo o que estava acontecendo.
Qual foi o momento de maior conexão com o Bran?
Eu tive uma existência tão ínfima se comparada aos horrores que o Bran passou. Primeiro ele perdeu as pernas, depois a família o deixou e o pai morreu. Então a sua casa foi queimada, então sua mãe e irmão morreram. Aí ele fugiu, tendo que deixar o seu outro irmão. Foi sequestrado, atacado por zumbis, terminando em uma caverna com uma pessoa estranha numa árvore. Não há muita necessidade de me conectar com ele mas eu senti algo acerca do seu arco por completo. Eu me senti conectado com o que o Bran passou nos termos de seguir um chamado fora da série, não importa o que ele teve que passar. Uma jornada dolorosa e miserável para chegar nessa caverna e ele teve a oportunidade de desistir. Ele poderia ter corrido para o Jon na fortaleza do Craster e dito "Jon, me leve para casa. Não posso mais suportar isso. Só quero descansar e ser cuidado". Mas ele não o fez. Ele lutou contra todas as adversidades e perdeu a maioria das pessoas com quem se importava. Foi como 'Agora vamos fazer isso'. Então eu acho que foi isso que eu consegui tirar dele – se há algo que você realmente ama e sente que é você, então você segue, não importa o que aconteça.
---
Perdoou o Kit? Chocado com o Ramsay ou com o fato do Isaac não ter conseguido ver a 5ª temporada? Que tal dar uma lidinha na resenha e comentar tudo? Clique aqui.
Fique atento, pois o Apaixonados acompanhará de perto a esperada 6ª temporada de Game of Thrones!