O tempo diegético – que acontece dentro da série, independentemente do nosso calendário aqui fora – está desgovernado em Girls. O bebê de Hannah passou de 6 para 8 semanas desde o episódio anterior, então calculemos uma elipse de 2 semanas entre Gummies e hoje. Esse tempo parece uma eternidade para Elijah ainda não ter se desculpado por chamar a amiga de "péssima mãe". Enquanto isso, Adam já terminou de gravar e editar um filme de 47 minutos. Marnie aparentemente estava muito ocupada com pilates para contar à Hannah sobre seu rompimento com Ray. Mas a gente perdoa essa baguncinha – especialmente se nos dão um episódio com tanta trama para discutir como Full Disclosure.
E não há tempo a perder: estamos num período de transição entre as 5 temporadas anteriores e o que vai acontecer no futuro, quando os personagens deixarem a tela da HBO pra sempre. A gravidez ainda é o assunto central da série (e provavelmente será até o final). Descobrimos que Hannah apostou na técnica ineficaz do "coito interrompido" durante sua relação com Paul-Louis, daí a fecundação inesperada. A essa altura, todos os personagens já sabem que Hannah vai ter um bebê. O título do episódio confirma: "full disclosure" significa que tudo está exposto e não há segredos. Imagino que alguém já tenha fofocado para Ray e Shosh, certo?
Me senti abraçada pela cena em que Elijah e Hannah fazem as pazes. Uma prova de que essa é a amizade mais madura na vida da Hannah. Ela não fica enraivecida com o xingamento de Elijah (que tem um pingo de verdade), mas assustada com a possibilidade de a gravidez realmente afetar o vínculo entre eles. Ponto para a química impecável entre Lena Dunham e Andrew Rannells. Agora Elijah se refere à criança como "nosso bebê" e nós já podemos ser felizes novamente. Vou torcer por um season finale daqueles bem cafonas, com direito a flashfoward para a vida da dupla nos próximos anos.
A única pessoa que vai comprar luva de couro às 18h é um assassino.
Elijah começa a considerar a ideia de virar gente grande, sob os trilhos de Hannah, e repensa sua carreira. Ele é vendedor de luvas numa loja granfina de Nova York e ainda não descartou o sonho de se tornar ator. A epifania vem quando ele ajuda uma colega a memorizar o texto de uma peça: Elijah reconhece que também pode ser um ator comum, em vez de esperar eternamente pelo papel ideal nos palcos da Broadway.
A breve participação de Tad e Keith parece facilmente descartável, mas serviu para balancear a extensa trama de Loreen na semana passada. É bacana ver como Hannah aceita o novo relacionamento do pai e ainda escuta os conselhos de Keith, que talvez tenha feito sua maior aparição em Girls hoje. Keith sugere que Hannah conte ao surfista Paul-Louis sobre a paternidade, enquanto Tad faz aquela cara boba de sempre.
Ninguém me avisou que, se Ray e Marnie terminassem o namoro, a gente ficaria com a guarda da Marnie, e Ray sumiria do roteiro. Tudo bem, eu deveria ter suspeitado, já que a série se chama Girls. Pelo menos, Hannah falou sem piedade que a amiga tratava Ray feito lixo (e tirou esse peso das nossas costas). O sonho da música vai mal para Marnie, mas seguir carreira solo não está nos planos: significaria não ter quem culpar pelo fracasso. Sem querer, ela incentiva o mesmo comportamento de Ray no episódio anterior: a garota força a barra até o parceiro, aqui Desi, pular fora do barco e deixá-la sozinha, com cara de vítima. Marnie é obrigada a subir ao palco junto da mãe para fazer o show, sob o nome artístico de The Michaels Sisters (impossível não rir!), e ainda ver Desi sugerir que ela sorria para a plateia. O futuro de Desi está incerto, mas espero que ele fique bem.
Embora a reação de Marnie à gravidez de Hannah seja uma montanha-russa de sentimentos, o saldo é positivo e ela já se considera madrinha da criança. A frase "vai ser bom ter outra pessoa para considerar" soa como um conselho que a terapeuta deveria falar para Marnie e ainda não falou. Suspeito que essa terapeuta excelente seja a Jessa, hein? Jessa está no grupo de personagens que insiste em viver na Terra do Nunca. Arrasada por saber do bebê através de Adam, ela deseja reatar a amizade com Hannah, mas Hannah já deixou claro que quer seguir adiante. Afinal, ela está grávida. Danem-se Jessa, Adam e o filme.
Ou quase isso.
Hannah já escreveu um artigo sobre seu relacionamento com Adam e Jessa, que deixou todo mundo orgulhoso no episódio All I Ever Wanted. Ela não quer reviver tudo novamente assistindo ao maldito filme (e ainda aproveita para cutucar outra série da HBO, The Wire). Mas Adam precisa da opinião da garota sobre o curta-metragem, cujo título Full Dis:closure faz uma brincadeira com o próprio episódio. "Closure" vem de "close" – é a sensação de encerramento que Adam busca, desde que terminou com Hannah, a fim de tocar a vida sem rancor. Ironicamente, tudo indica que o casal ainda não se esqueceu. Adam fica incrédulo quando Hannah "vomita" a informação de que está grávida (aliás, digitar isso me fez pensar que ela ainda não teve enjoos matinais); e Hannah finalmente aceita assistir ao filme.
Que ótimo. É um filme pornô.
Oi, Hannah, bem-vinda à cabeça de todo mundo que assiste Girls. Isso só nos faz querer ver o filme na íntegra. Os olhos de Hannah encaram o personagem de Adam, através do laptop, e parece que o roteiro dele tirou nota dez. Ao invés do sentimento de final, que tanto queriam, os dois sentiram saudades do amor que viveram juntos. Opa, precisamos falar sobre isso, senhora. Senhora?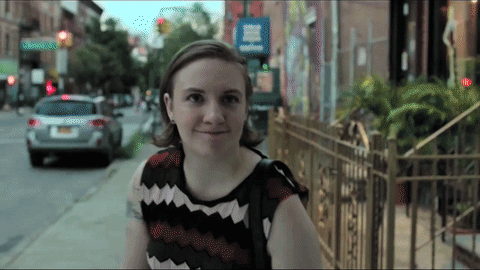 Num guentei e criei este GIF. Se quiser mais GIFs de Girls, a série tem um acervo oficial, atualizado a cada episódio.
Coleção de letreiros
Se não for menina ou o menino mais gay do mundo, é claro que eu vou pirar.





---
No próximo episódio de Girls…